Saturday's Stash
Yesterday I cut some fabric for a new quilt, and as I cut it, I thought of my sister and remembered that I only bought it because she told me about the sale.  I smiled to think that thanks to her, I have this beautiful fabric, and the memory of sharing it with her.  After a quick phone call to thank her for sharing this beautiful hobby with me, I decided I'd like to document my fabric stash a little more.  So here we go!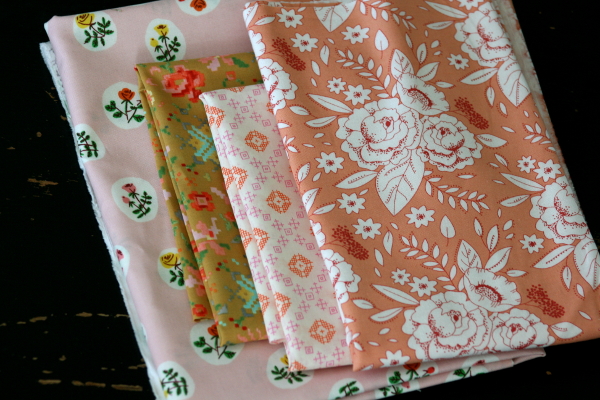 The above pieces come from local quilt shops.  I bought the last of the Tiger Lily floral on the left along with a couple of pieces of lawn (middle two) from

Broadbent's Quilt Shop

in Lehi.  They sponsor the

Utah County Modern Quilt Group

, which I love being a part of.  The piece on the right came from

Just Sew

in Highland.  I've been drawn more lately to softer pinks, corals and even browns.  Usually I prefer cool colors, but these warm prints have been sitting together for a few weeks because I love looking at them.  I think a quilt in this color scheme needs to happen soon!




I also owe a huge thank you to

Missouri Quilt Company

.  I searched online to find a source for these

Radiant Girl bunny prints by Koko Seki

, and was lucky enough to find them there.  The Bread 'n Butter jelly roll was one of their

daily deals

( you should always check those out; they're awesome).  I placed my order and watched my email and on the day that my local post office said they delivered the package, nothing arrived.  They never located my package and I was disappointed.  After a few weeks I sent an email to Missouri Quilt Company and to my total surprise they resent the package, no questions asked, at no charge to me!  I was VERY impressed with their customer service.  I would not have spent the money twice to order these items, and so am grateful to have them.  They're so pretty!  You can bet I'll order from them again.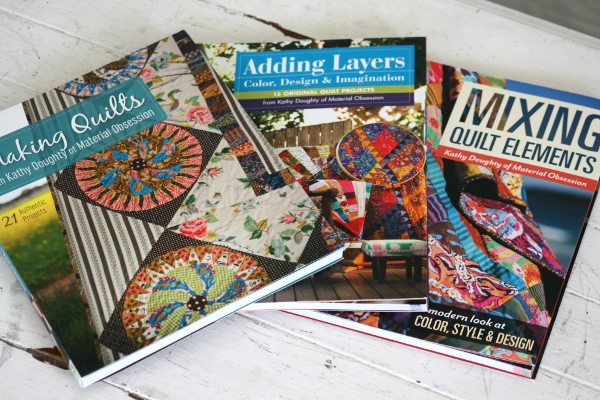 Finally, I've added three of Kathy Doughty's quilt books to my library.

Making Quilts

, published in 2013, has 21 projects in a wide range of styles.  It's the first quilting book in a while that I think I'd like to make everything in it.  It's fantastic.

Adding Layers

is a book I saw when it was newly released and although I didn't immediately purchase it, it kind of got stuck in my head and was #1 on my wish list.  I've already started on the Vintage Spin quilt in that book.  And

Mixing Quilt Elements

is the newest release, all about mixing all the techniques and elements you know to find your own voice and create quilts that are uniquely YOU.  This resonates deeply with me and is a journey I'm excited to begin.

Taking her class

in May was a great experience for me and I saw many of the quilts featured in these books in person.  They are so very beautiful.  I love the way Kathy uses color and pattern in unexpected ways.  I was fortunate to purchase two of the books before the workshop, and she graciously signed them for me.