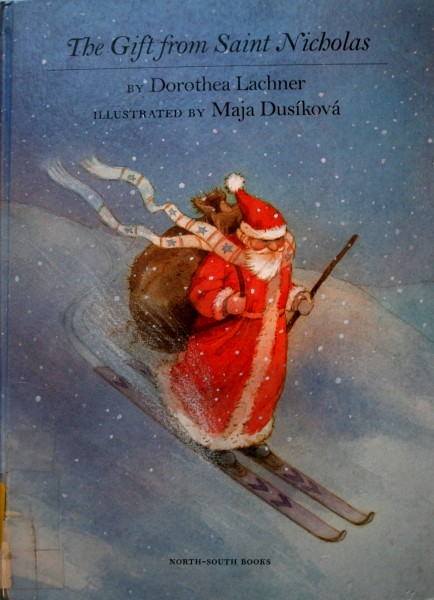 Oh, this is a beautiful story, one that I especially love to read my children because it sends just the message I hope my children will learn about gifts and gift giving.   The Gift from Saint Nicholas by Dorothea Lachner and illustrated by Maja Dusikova is the story of a village with two little children living in it.  On this Saint Nicholas Eve the villagers are all in their own houses as a massive snowstorm continues to dump snow.  It's too deep for the postman to deliver mail, or for anyone to make it to a ship.  The book says, "They just stayed in their houses and watched the snow pile higher and higher."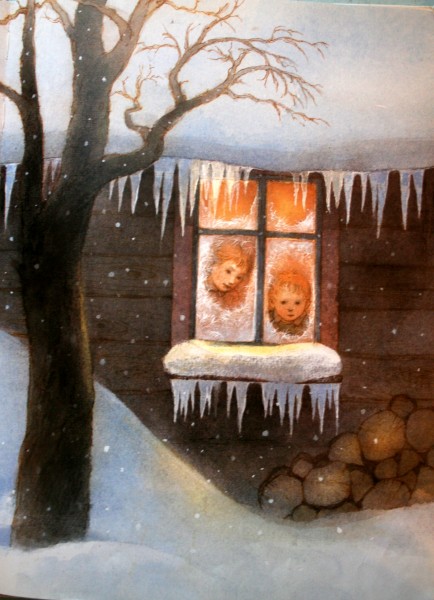 The children are worried.  They're tired of being indoors and so they decide to make a wish.  "If only Saint Nicholas would blow a path through the snow!"
The wish made it to Saint Nicholas, who went searching through his storeroom for the perfect thing.  Not anything would do on a year like this. It had to be something special.  He found it.  "It was an old thing, not much to look at.  But it was exactly right."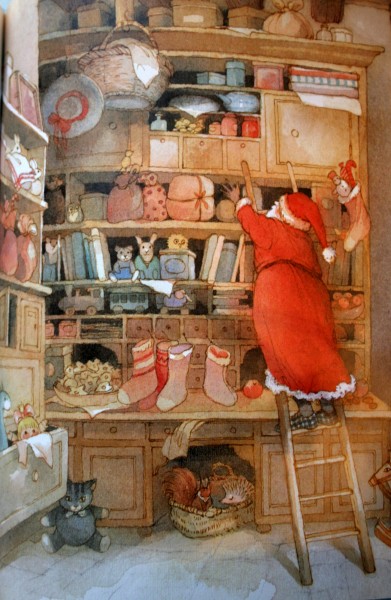 Here is where I really fall in love with this book.  Look at that workroom!  Doesn't it melt your heart?  I love the idea of Saint Nicholas hunting around for the perfect thing, and coming up with something that ISN'T brand new and sparkling and expensive.  I love that the perfect thing can be old and not much to look at.
And so Saint Nicholas gets on his skis and in the dark of night he leaves a large bag in the middle  of the village.  The villagers awake the next morning, see it, and begin digging walkways through the snowdrifts to get to it.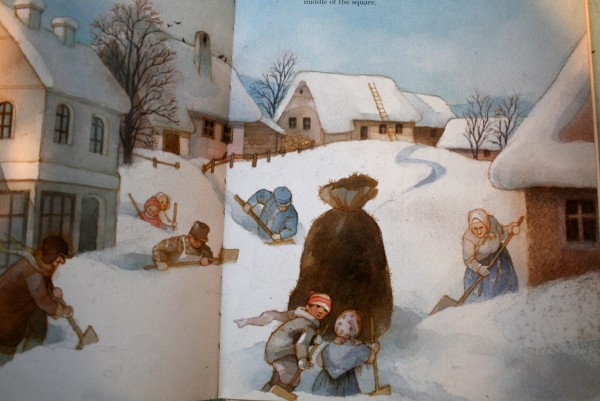 So Saint Nicholas didn't blow a path through the snow.  What he did was give the villagers a reason to shovel their own paths.  They meet in the middle and begin what turns out to be a process of discovering what is in that brown bag.  It turns out to be something none of them wished for, but it's just the thing they NEED.  It sparks their hearts and the villagers end up with a Christmas to remember.
I just love this book.  I love what it teaches.  Sometimes what we need and what we think we need (usually code for what we want) are different things.  I love that the answer to their wish lay in their own effort.  I love the way the villagers accept this gift with happy hearts.  Most of all, I love the idea that bringing people together is the best gift of all.  I particularly delight in reading this book to my children and hope that as they hear it over the years it's message becomes a part of them.  The Gift from Saint Nicholas was published in 1995 and is now out of print, but used copies are readily available.  Our copy is an ex-library copy that has held up well for years.  A special addition to any Christmas library.