Hang on!
I don't know about all you other mothers out there, but it's the middle of May and I feel like I just might die before school is out.   It's a wonderful time of year, when suddenly the weather is pleasant, but for me it means exhaustion.  (Pregnancy doesn't help.)  This is the month when every activity my children are in crescendos to a feverish pitch.  The sports teams are in tournaments, the music and performing arts activities must have recitals, the teachers at school must assign end-of-year projects.   There are field days, field trips and end-of-year programs that happen at such a frequent rate that you wonder if you should rent a camper and set up residence in the school parking lot so you can make it to all of them.  The fact that you rarely get even 24 hours notice concerning these activities makes you feel like you should sleep in your clothes so you don't have one of those mornings and end up at the school in your pajamas!  The preschool has a graduation.  The sports teams have try-outs for next year.  The school needs registration information for next year.  If you don't sign up for swimming lessons now, you won't get to sign up at all.  Summer schedules and vacations must be finalized.  Kids can't fall asleep because it's still light outside.  I swear that almost our whole year as a family gets decided during May.   As a little girl, I remember thinking that a May day celebration would be so much fun.  As a mother, I wish I had a radio I could use to cry out to the world:  mayday! mayday!  I feel like I'm going down!
My youngest son recently had the chance to take a pony ride.  He was so excited about this moment.  T-shirt, shorts, and cowboy boots were the order of the day.  (I no longer fight my kids about clothes at this age as long as they are clean and appropriate for the season.)  When his turn finally came, the pony he ended up on was a lot bigger than his little legs could get around, so he ended up doing the splits in the saddle.
When the pony started to walk, all bravado ceased and he leaned forward to lay on the pony's back and hug the saddle for dear life!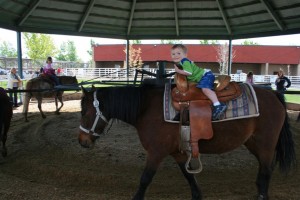 The only trouble was, the longer he rode, the more he started to slide to the right side of the horse.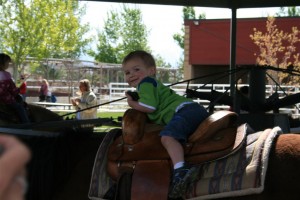 Pretty soon, cute as he was, I was thinking "Hang on!" and I started pondering what I would do if he really slid before the ride ended.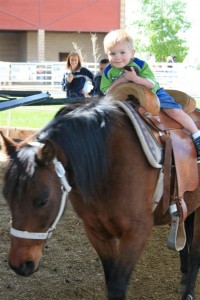 Thankfully, his death grip on the saddle kept him relatively upright until the ride was over.  Then he sat up straight and felt like a champion.
When I was growing up, my parents gave me six months of horseback riding lessons for Christmas one year.  I really loved it.  Most of my lessons went without a hitch,  but there was one night that got a little interesting.  When they brought me my horse, no one realized that they hadn't tightened the girth on the saddle and I didn't yet know enough to check or even wonder if everything was ok.  I was pretty light, and got on the horse without budging it.  But a little while later, when it was time to canter, the speed of the horse caused the saddle to slide to the side, and in about 5 seconds I was hanging off the side of the horse with my foot caught in the stirrup.  Gratefully, the horse was mellow enough to slow down, and my instructor quickly got to me before I was under the horse!  The whole thing happened so quickly that I never had time to be frightened.
Right now I feel like I'm hanging off the side of my horse in life, wondering if I can hang on until the end of the month when school gets out and life slows down.  But I realize that although I'm doubting my ability to last until the end of the ride, it will be over quickly and we can regroup.  It doesn't have to be pretty, but we'll make it.  And to anyone who knows how I feel, hang on!  You can do it!