Strawberry Freezer Jam
It's strawberry season, and I can't think of a more welcome taste right now.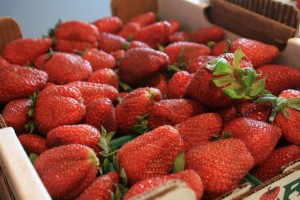 I love strawberries.  (Who doesn't?)
Time to make some strawberry freezer jam.
My family loves this stuff.  Last year I made enough freezer jam that we've had homemade jam to eat all year long.  It's been great, and I have every intention of doing it again this year.
I'm making my jam today using the basic recipe that comes in the pectin box.
Last year I discovered liquid fruit pectin.
I'll never go back.
Today I'm using Ball liquid fruit pectin, which comes in a box with two pouches.
Here is our cast of ingredients: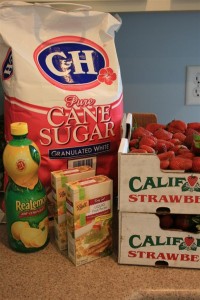 Pretty simple: pectin, lemon juice, sugar and strawberries.
And the other fabulous thing I discovered last year: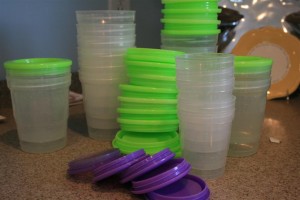 These fabulous new freezer jam containers.  I've saved them through the year as we've eaten jam,
and now they're washed and ready for another round.
These, too, are made by Ball and can be found at many supermarkets or stores like WalMart.
So, here we go.  First, wash your fruit.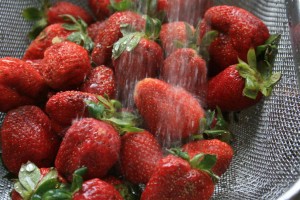 Now, on this next step I will freely acknowledge that the proud recipe developers at Ball, not to mention my great-grandmother, would probably be ashamed of what I'm about to do.
But I'm trying it anyway, because I have dinner to make and soccer practices to get to.
I cut off the tops and plopped the strawberries in my blender.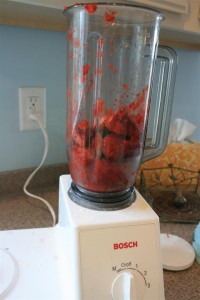 Then I turned my blender on low and let it run just until there weren't any more whole strawberries.
They aren't completely pureed.  There are still chunks.
And as far as I'm concerned, I'm happy to have just taken 2 minutes to eliminate a 20 minute cutting and mashing job.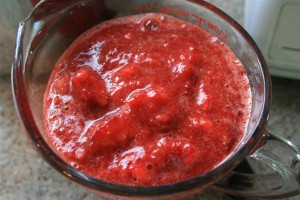 You need two cups of crushed strawberries.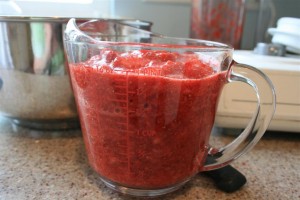 And a mixing bowl with four cups of sugar in it.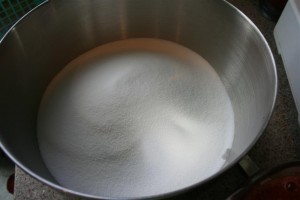 Pour the strawberries into the bowl of sugar and mix thoroughly.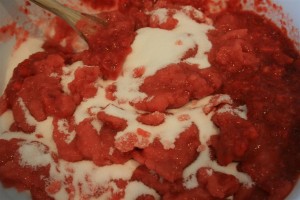 When it's all mixed together, set the bowl aside and set your timer for ten minutes.
And if you're like me, and you need far more than one batch to satisfy your family, this ten minutes is when you get another batch started.  (That's why I use the timer, so I can keep track of everything.)
After the ten minutes, add one pouch of liquid fruit pectin to the bowl.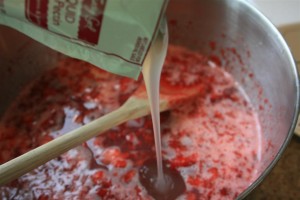 And add 2 tablespoons of lemon juice.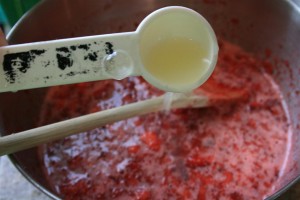 Now stir the jam for 3 minutes. (I set the timer again.)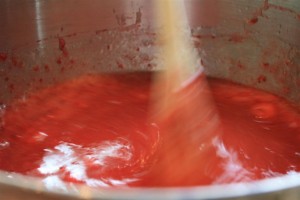 My daughter liked taking that picture.
After three minutes, ladle the jam into containers.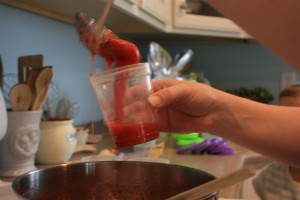 Remember to leave about 1/2 inch headspace at the top of your container so the jam has room to expand when it freezes.
Wipe any drips off the container with a damp towel, put the lids on, and you're set!
You have 3 options:
Serve immediately (you will be tempted!)
Refrigerate for up to three weeks
Freeze for up to 1 year
Here's an important reminder:  use whatever measurements (sugar, lemon juice, crushed strawberries) come in the instructions for the pectin you choose to use!
No matter what you choose, enjoy!  It will be delicious!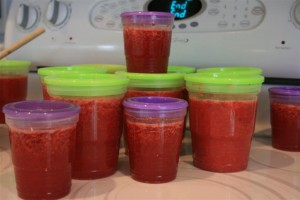 Yum!  Now I'm craving some homemade bread!