This jam is my all-time favorite!  I fiddled with the recipe last year, gave it away for Christmas, and had about a dozen phone calls this fall for the recipe.  This jam is truly delicious.  And it's gorgeous, too.  The cinnamon in it gives it the loveliest color.
To make it, you need ripe pears (fresh off the tree is best!), pectin, sugar, lemon juice, cinnamon and vanilla.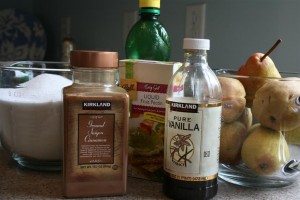 Begin by washing the pears.  Be sure to pause a moment and appreciate their beauty and aroma!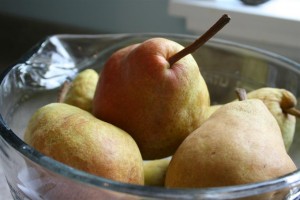 Peel, core and finely chop pears until you have 4 cups of chopped pears.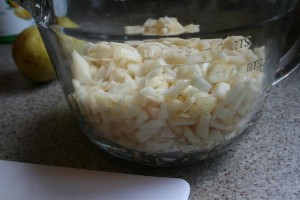 Add 1/3 cup of lemon juice to the pears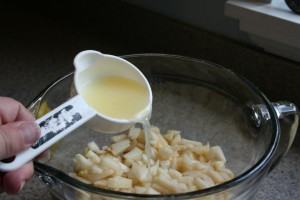 and 1 1/2 teaspoons of ground cinnamon.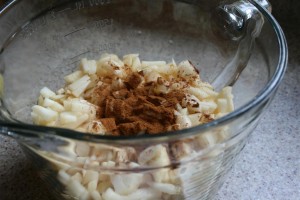 Stir it up!  Looks yummy, doesn't it?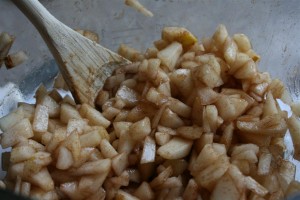 Put this in a large pot with 7 1/2 cups sugar.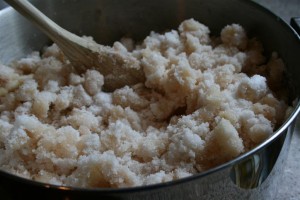 Stir it up, and begin heating it on your stove.
I like to add a teaspoon of butter to my jam to reduce foaming.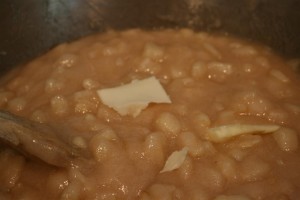 Bring the jam to a rolling boil, and then pour in 1 packet of pectin (I use the Ball liquid 3 ounce pectin)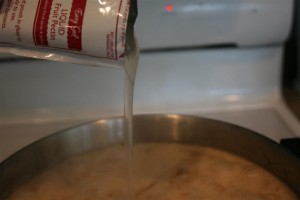 Return to a rolling boil, and then cook 1 more minute.
Remove from the heat and stir in 1 teaspoon vanilla extract.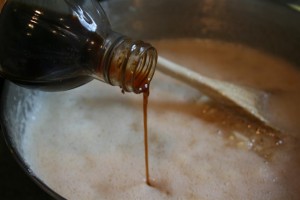 Skim the foam, and ladle into sterilized jars.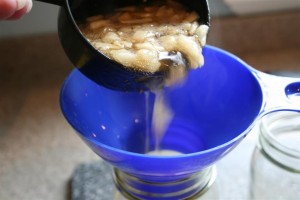 Fill jars, leaving 1/2 inch headspace.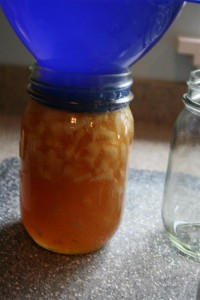 Wipe jar rims with a clean, damp cloth.  Place lids and bands on jars and process in a hot water bath 10 minutes.
Enjoy!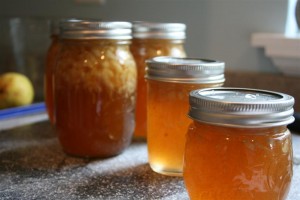 Hopeful Homemaker's Cinnamon Pear Jam
4 cups peeled, chopped pears
7 1/2 cups granulated sugar
1/3 cup lemon juice
1-1/2 teaspoons ground cinnamon
1 packet pectin (I use Ball liquid pectin.  Each pouch is 3 ounces)
1 tsp. vanilla extract
1 tsp. butter (optional, to reduce foaming)
Peel, core and chop pears.  Add lemon juice and cinnamon.  Place in large pot and add sugar.  Stir together, add 1 teaspoon butter if desired,  and bring to a rolling boil.  Add pectin.  Return to rolling boil and cook for 1 minute.  Remove from heat.  Stir in 1 tsp. vanilla.  Skim foam off jam.  Ladle into sterilized jars.  Place lid and band on jar and process in hot water bath for 10 minutes.  This recipe yields 6-7 half pint jars of jam.