Homegrown Cherries
Just a few months ago, I was celebrating the

tiny bits of green

that had appeared on my cherry trees.
In such a short period of time, we went from green to blossoms to cherries.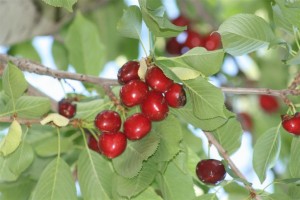 We came home from vacation and our yummy cherries had turned into deep red,
dripping with sweetness, dribble juice all over you cherries.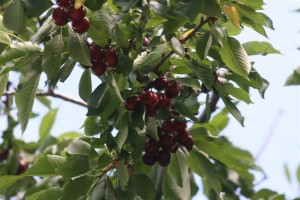 Beautiful cherries.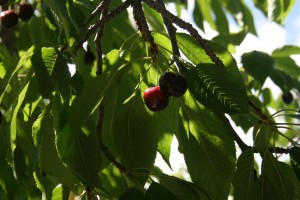 We started picking.  Filling buckets and trays.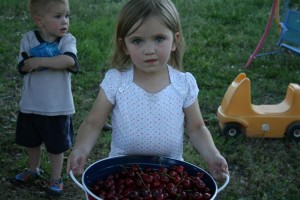 But it didn't even look like we'd picked.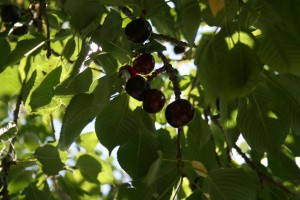 I've always enjoyed preserving fruit, making jams and sauces,
dehydrating and bottling.  But it's never come from my own backyard.
I'm fortunate to live in an area where there are multiple orchards around me
and I can buy from the growers.  This time, to be harvesting from our own trees
is really a pleasure.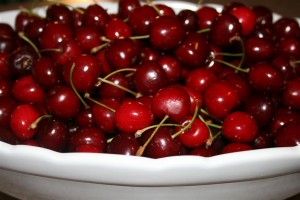 I've been bottling cherries and making jam.
I've never had cherry jam before, but we've learned that it's really tasty.
Freezer jam and cooked jam both.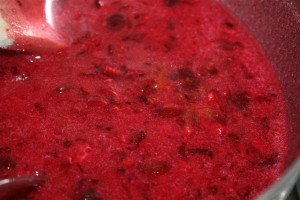 It's a lot of work, but for me it's work that brings a real feeling of satisfaction.
So much of what I do has to be redone several times a day.  But I love the feeling of lining up
the food I've preserved and knowing that because of my efforts my family will enjoy it in
months to come when the fresh food is no longer available.  And we've only harvested from one tree!
I still have another to take care of this week.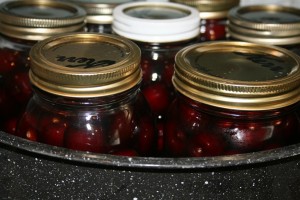 I also find that working with fruit helps me slow down, relax, and notice more of the
simple joys of life.  I start looking at the lovely shades of color in the fruit, pondering life
in a day and time when work such as this meant survival.   Today I noticed the lovely color of the foam as I cooked some cherry jam.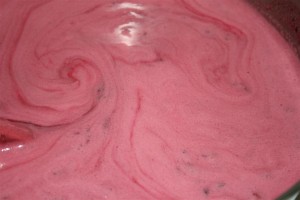 And how beautiful it was when it reached a full boil.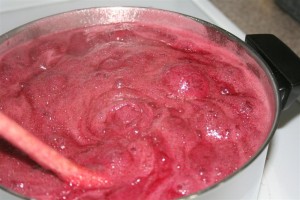 I feel more grateful for the bounty that God has given us, marveling at the genius of a God who created trees that can bring us such delicious pleasure, and such blessings.  I am reminded that God's economy is one of abundance.
Taking advantage of such abundance, expressing my appreciation for it by putting it to good use and sharing it with others, just feels right.  And that's an awfully good feeling to carry around in your heart.
Jennifer