I have some big dreams.  We all do.  Some of them, I believe, will come true along the way, some will never happen, some will evolve into different pictures and weave their way into my life at least partially.  Every once in a while the world feels scary and fear grips my heart as I wonder how we'll make our dreams come true for our children, especially.  Of course, all we can do is our best, leaving the future to the Lord.  But with so many big things out of our control, I'm learning that I am happier if I notice the little dreams that come true in my life.
Last weekend I made my family our favorite fall dessert:

my rustic pear tart.

I pulled up my post to make sure I remembered the measurements correctly and a sentence in that post caught my attention.  "Pears at the end of the summer, fresh from a local orchard."
My heart stopped for a minute.  That's not the story of this pear tart.  This pear tart carries the tag, "Pears at the end of the summer, fresh from my backyard tree."  A feeling of warm happiness washed over me as I realized with total clarity that the fulfillment of a dream is embodied in that statement.  It's not a huge, grand dream, and it certainly isn't a dream that most people have.  It won't pay for college or be the defining characteristic of my children's upbringing.  A lot of people I know grew up with it like I grew up with a lawn in my yard.  They would never label it a dream; it was just part of life, something they didn't have to think about, always there.   But I had it, the happy picture in my heart of my home with fruit trees in back.  The happy picture of our family carrying baskets of fruit inside together.  This is why I love my cherry tree so much.  It's part of the picture I treasure.  But pears?  Pears are something special.  A little dream, come blissfully true.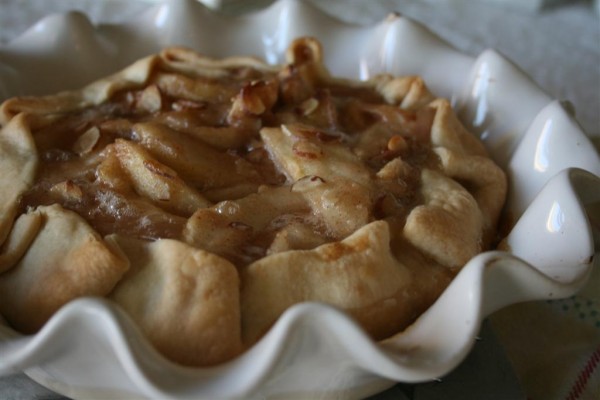 When we sliced that tart into ten pieces and ate it together, what I felt was reverence.
Another little dream:
Saturday afternoon my daughter and I began harvesting my lavender for the last time this season.  I let it go too long, but I was enjoying the sight of the bees so much, and leaving the color in the yard made me smile.   The plants have done well this summer, growing large and beautiful, covered with more lavender than I anticipated.  Harvesting lavender is a happy activity.  There you are, arms, hands and face surrounded by the heavenly scent of fresh lavender, enjoying the silvery green color of the stems against the rich purple blooms while the bees work around you in happy companionship.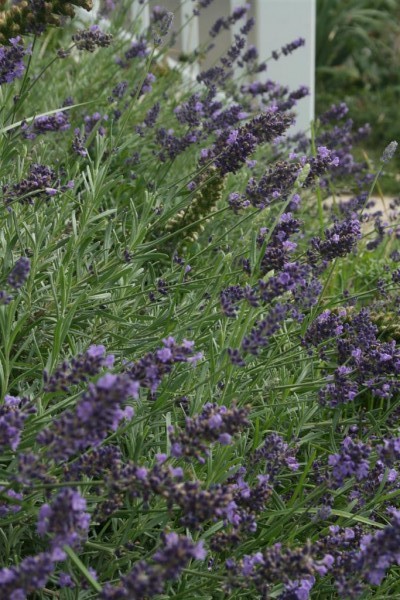 Saturday night I popped into a local shop for a minute.  The owner came up behind me to say hello as I placed an order for a favorite drink to take home and share with my husband.  We talked about some tempting lemon cookies on the counter and then her face grew serious as she put her arm around me and told her girls behind the counter about my

lavender shortbread cookies

.  I smiled and promised to bring her some, then said, "Just this afternoon I was outside cutting my lavender for the last time this year."  I watched the look on her face and realized, "I'm living a dream.  It's a small dream, on a small scale.  It's not a lavender farm, but it's my lavender.  It doesn't help with the laundry or the cleaning, but it's a dream and I'm lucky enough to live it."
I walked to my car feeling terribly blessed.
Those two realizations opened my eyes to so many more little dreams come true.  The joy of a three year old curled up in my lap reading Goodnight Moon with me.  The discovery of a book that moved me to tears.  The happy closeness of my husband who is my life's greatest dream come true.  The dream of motherhood come true all around me, growing and bulging until it's so huge I sometimes forget it's a dream.  A stack of freshly washed and folded white towels.  Having a guest room to share with family.  Pumpkins on the front porch.  Driving down a tree-lined street in the fall.  Prayed for growth and development happening in a child's life.  A quiet evening at home laughing and playing UNO with my family.  When I really look for them, I realize there are little dreams come true all around me and it fills my heart with gratitude.
Gratitude is a nice feeling to live with.