Standing Out
Something about this yellow tulip caught my eye and my heart.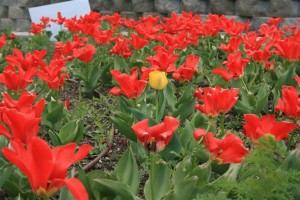 There it stood, in the middle of a huge planting of almost spent red tulips.
But it was yellow.
And just beginning.
It made me wonder:  did they do that on purpose?
Was it a yellow bulb that somehow ended up in a bag of red ones?
How did it happen?
I love the way the yellow tulip stands out.  Somehow it is more beautiful because it is different.
And having it there makes the whole picture more beautiful, as well.
If it had been a planting of all red tulips, I would have admired it from afar, but one yellow tulip in the center was what drew me away from the sidewalks to the edge of the scene.
I thought of life.
I'd like to stand out like a yellow tulip.
But sometimes I'd like to blend in like the red ones.
And perhaps, to some, the yellow one is a drawback instead of a standout.
Perhaps someone thought it was a shame when they saw it.
It's interesting that the yellow tulip didn't bloom when the red ones did.
I remembered my cherry trees, how they stand side by side and yet have their own schedule for growth and blooming.
Like people.
I guess life gives us all  the chance to experience both colors, to learn what can be learned from standing out AND blending in.
I hope we all can have the sense to use good judgment and know when it is time to ditch the red crowd and stand alone, to stand for something worthwhile, something true.
And the more we influence others for good, the more we are surrounded by goodness.
Isn't that the point?