Granola Bars
My children love snacks, and homemade granola bars never last long in this house.
They are a simple thing to make, and what I love about them is that they're so versatile; I can use what I have on hand and they always taste great.  They start with a few basic ingredients, and you can be creative from there.
Begin with 1 cup of margarine or butter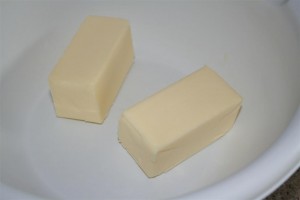 Melt the butter and add 2 cups brown sugar.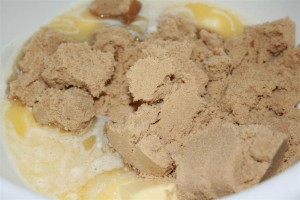 Pour in 1 cup light corn syrup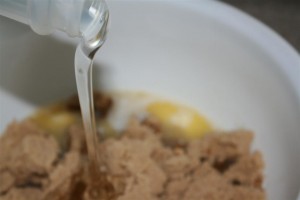 and 2 teaspoons vanilla extract.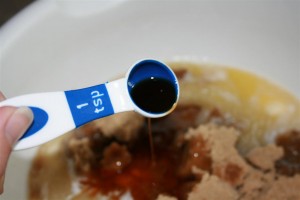 Next, add 1 1/2 cups creamy peanut butter.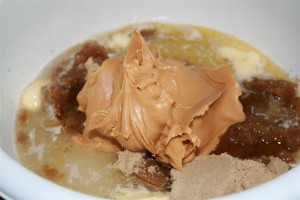 Stir the ingredients together until it forms a sort of smooth paste.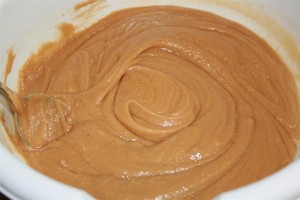 Add 1 cup shredded coconut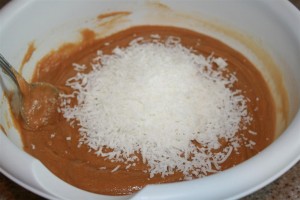 and 5 cups oatmeal.  (You can also do half oatmeal and half rice krispies for variety.)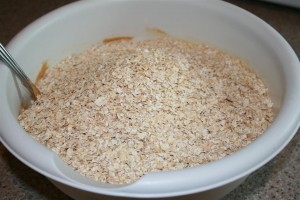 Stir together, and then start adding whatever your family will like.
In this batch, I added some chopped smoked almonds (about 1/2 cup)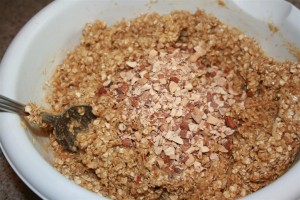 I also added 1/2 cup flax seeds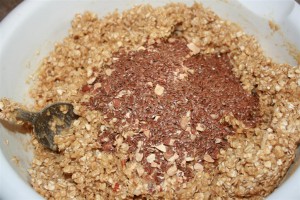 and 2/3 cup sunflower seeds.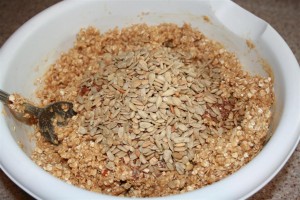 Finally,  I added about 1/3 cup miniature chocolate chips.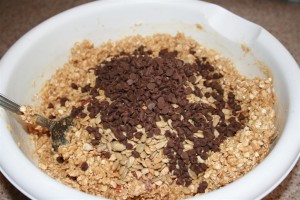 Stir well.  The key is to have the mixture sticking together in large clumps.
As long as you do that, you can add whatever you'd like.
I like to add wheat germ, but I'm out of that today.  My family likes nuts, so I always add some.
You can also add raisins or other dried fruit, or any other flavor that you love in granola bars.
Next I dump the mixture onto a lightly greased cookie sheet.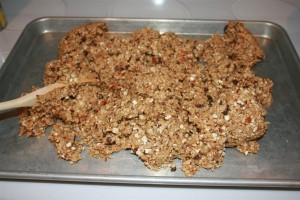 I usually save the wrappers from the butter and I use them to help spread and pack down the mixture a little before I bake it.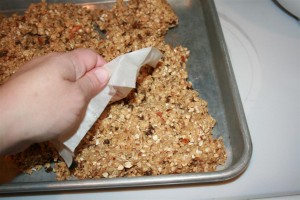 Spread the mixture to the edges of the pan.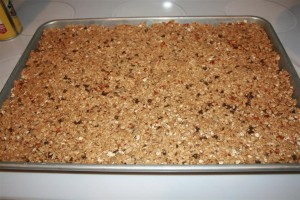 Bake at 350 degrees for about 20 minutes or until the edges are bubbly and the granola bars are just beginning to brown a little bit.
Remove them from the oven and let them cool.
Now, my family always manages to get permission to cut them while they're still a little bit warm.
They're yummy warm, but I must warn you that they fall apart more.
If you let them cool for several hours or even overnight, then they will cut well and hold their shape without crumbling.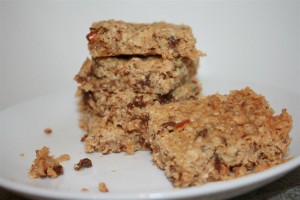 These granola bars are really yummy and they're also filling.
Granted, they have brown sugar, butter and corn syrup in them.
But I also tend to pack them with other healthy nuts so my kids are eating something with a lot more substance then most store-bought granola bars.  Furthermore, the children love them because they're delicious!
These store well.  When school is in, I usually make a bunch and wrap them individually for quick and easy lunch assembly in the mornings.  If I don't cut them up and store some quickly, the whole pan disappears before I know it!
Hopeful Homemaker's Granola Bars
1 cup melted butter or margarine
2 cups brown sugar
1 cup light corn syrup
2 tsp. vanilla extract
1 1/3 cups creamy peanut butter
1 cup shredded sweetened coconut
5 cups oatmeal (or a combination of oatmeal and rice krispy cereal)
sunflower seeds
wheat germ
nuts of any kind
raisins
chocolate chips
any other flavor you'd like to supplement!
Preheat oven to 350.  Grease cookie sheet.  In large bowl, melt butter and combine butter, sugar, corn syrup, vanilla and peanut butter.  Stir well until mixture forms a good paste.  Add coconut and oatmeal and stir well.  Start adding in whatever ingredients you want, as long as the mixture sticks together in large clumps.  Press onto cookie sheet and bake for 20 minutes or until edges are bubbly and it is beginning to turn golden brown.  Cool completely and cut into bars.
For a 9×13 pan, cut this recipe in half.