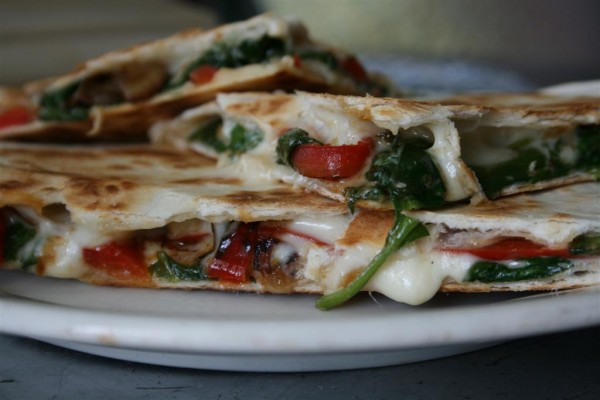 Every once in a while I pause and make these quesadillas as a snack, side dish, or for lunch. Each time I do, I wonder why I don't think to make them more often.
Ingredients:
1 tsp. olive oil
1 cup thinly sliced red pepper
1 cup thinly sliced onion
1 garlic clove, finely chopped
2 cups fresh spinach leaves
4 flour tortillas, 8 or 10 inches in diameter
1 cup monterey jack cheese
Instructions:
Heat oil in a medium skillet over medium high heat. Add pepper, onion and garlic. Cook, stirring constantly until onions begin to brown and veggies are crisp-tender. (You can also add fresh mushrooms to the pan if you like them.) Add spinach and cook for 1-2 minutes or until spinach is just beginning to wilt.
Spray a frying pan with non-stick spray. Place one tortilla in pan. Spread half of the veggie mixture onto the tortilla, then sprinkle with half of the cheese. Place a second tortilla on top. Cook on each side until tortilla is golden brown. Repeat with remaining ingredients.
Cut into wedges, and serve with salsa. Makes 4 appetizer servings.
I should note that these are thick, filling quesadillas. They're also very tasty! Enjoy.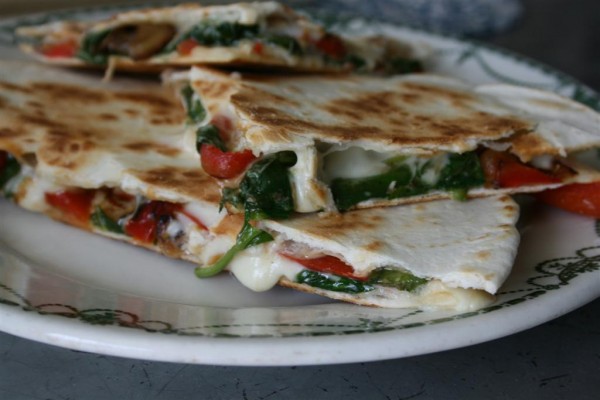 Hopeful Homemaker