Heather Bullard's Casino Butter
One of the delights of starting a blog has been poking around a little bit to read and see what others are doing.  Like every hobby or interest, I had no idea what a big world there was out there!  I've enjoyed learning from many creative people.  One of the blogs I discovered (all by myself, even!) is

Heather Bullard's.

I

really

love her photography.  It's so beautiful!  Recently she posted pictures of her new

baby chicks

… in teacups!  Um, cute.  You should check it out if you haven't already.  I think you'll enjoy it.
I found this recipe on Heather's blog, and had to make it.  In fact, it looked so good that I tried it out on guests without having made it before.  The verdict:  it's fabulous!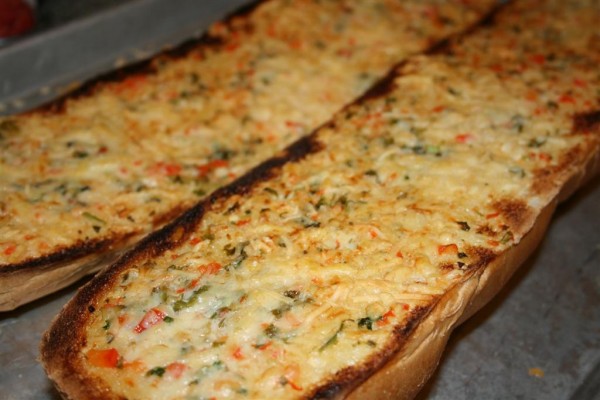 Here is the recipe for how I made it:
Heather Bullard's Casino Butter
1 pound butter, softened
2 Tb. fresh lemon juice
1-2 tsp. hot sauce (I used Frank's hot sauce)
2 cloves garlic, finely chopped
4 green onions, finely chopped
1/3 cup red bell pepper, finely chopped
1/3 cup fresh Italian parsley, chopped
salt & pepper to taste
Heather chops everything finely, then puts it in a food processor.  I have only a tiny food processor and so I would have had to do 4 or 5 batches.   I put the butter in a mixing bowl and used my hand mixer to whip it a little bit.  Then I chopped the garlic, onions, pepper and parsley and pulsed them in my processor.  I then added everything to the mixing bowl and again used my hand mixer to combine it all really well.  I think it worked.
Heather takes half the butter, rolls it in wax paper and freezes it.  Then she uses the other half on a loaf of french bread.  It was the french bread I wanted to try.  I spread butter over both halves, sprinkled with Parmesan cheese, and broiled it.  I think I only used 1/4 of the casino butter, though, instead of half.  I rolled up the rest in wax paper to freeze for another use.
Here is the

link

to Heather's recipe, explanations and directions.  (She also puts wine in hers, which I omitted.)  And her pictures are far lovelier than mine.
Can I say that this became an instant family favorite?!  It was the YUMMIEST garlic style bread I've ever eaten.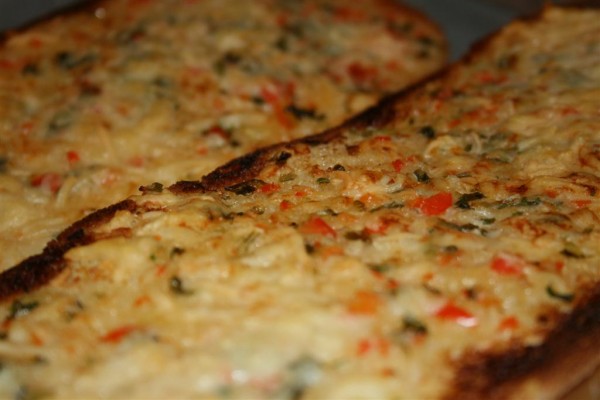 Please, do yourself a favor and treat yourself!  It's delicious!  Thanks for sharing, Heather!