Ham & Cheese Biscuit Bites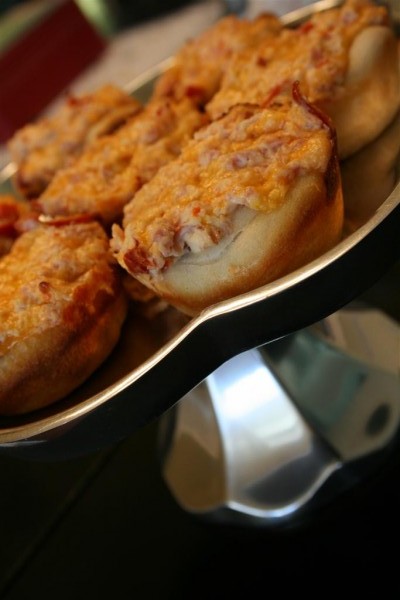 I like to serve these biscuits as appetizers, after school snacks or as a side for soup.   If you want to, you can make homemade biscuits for use in this recipe, but it's nice to be able to put them together in just a few minutes.  When I use refrigerated biscuits it's also easy to involve my children in preparing this dish.
Ham & Cheese Biscuit Bites
2 tubes refrigerated biscuits (20 total)
8 oz softened cream cheese (I prefer neufchatel)
1 cup grated cheddar cheese
1 cup diced fully cooked ham
1 small can diced green chiles OR 1/2 cup chopped roasted red peppers
In a bowl, mix cream cheese.  Add cheese, ham and chiles or peppers.  Stir to combine.  Spray 2 muffin pans with non stick spray.  Open biscuits and flatten each biscuit.  Place in muffin pans and press to make sure each biscuit covers the bottom and at least 1/3 inch up the sides of each mold.  Scoop a spoonful of cream cheese mixture into the center of each biscuit, distributing mixture evenly between all 20 biscuits.
Bake at 350 until biscuits are cooked and mixture is bubbly, approx. 12 minutes.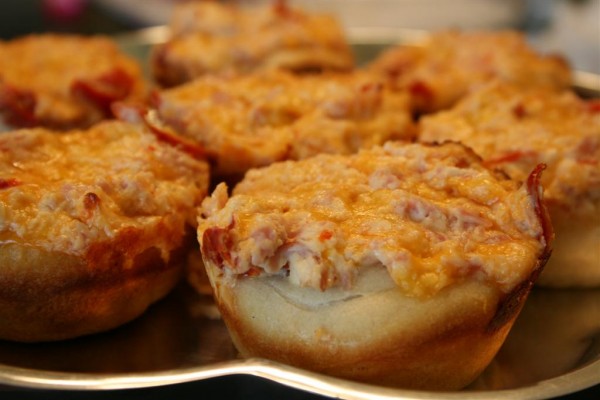 Remove from oven and let cool 2-3 minutes.  Remove from pan and serve warm.
Yum!
Hope you like them!