Oreo Ice Cream Cake
Last week my oldest turned 12.
He was having a birthday party but really isn't a cake guy.
He much prefers to have me make him an ice cream cake of some kind.
This year's version features Oreo cookies.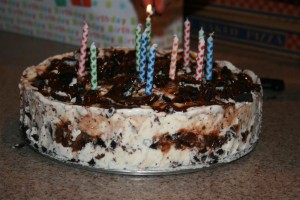 It's a simple recipe that can be used with countless combinations of ice cream flavors, cookies, nuts, toppings, or whatever you prefer.  For this cake, Oreo cookies were the request.
Start with almost 1/3 of a package of regular oreo cookies and chop them up.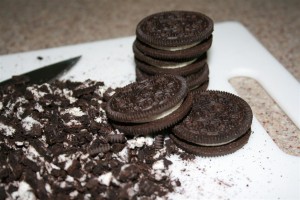 I should note here that I am using a 10 inch springform pan.  You could also use a cake pan or whatever dish you'd like.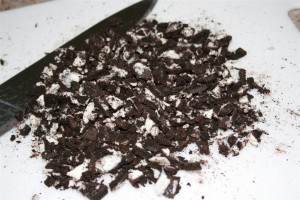 Don't chop them too finely.  Sprinkle them over the bottom of the pan unti it's well covered.  Having the cookies on the bottom will make it a lot easier to get the pieces out of the pan when you serve it.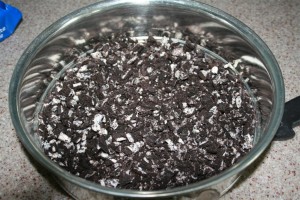 Now cover the cookies with a thick layer of ice cream.  I used chocolate chip.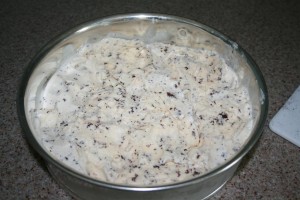 Then I chopped another layer of Oreo cookies (again, about 1/3 of the package) and drizzled with hot fudge sauce.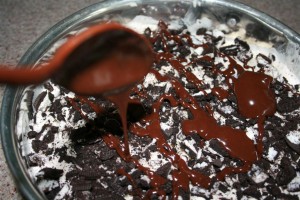 Keep adding chocolate sauce until it looks like this: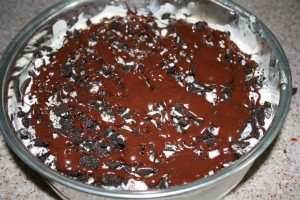 Now add another layer of ice cream and a sprinkling of cookie crumbs.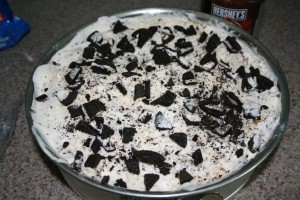 Drizzle with a little bit more chocolate for decoration.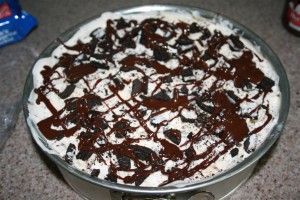 I added some caramel topping for fun.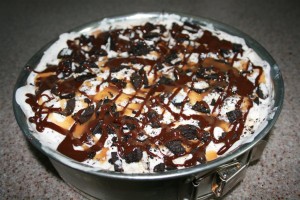 Now freeze for at least 2 hours before serving.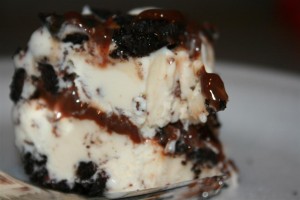 Yum!  So good, especially for a summertime birthday celebration.
Enjoy every bite, because this is what will happen before you realize it: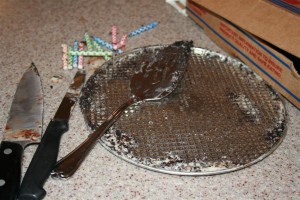 This is one of those treats that can be thrown together so easily, and is a great make-ahead treat.
I also love that I can take the basic idea and change flavors for a different cake every time.
Start thinking about your favorite combinations of ice cream flavors and toppings and you've got a recipe.
For example, this is the birthday cake I made in March for another son.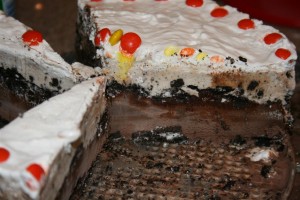 For this cake, I used Oreo cookies on the bottom, and chocolate ice cream for the first layer.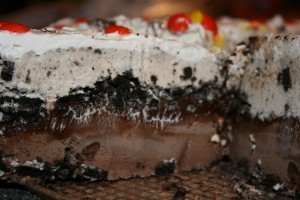 Then I put on a thicker layer of hot fudge sauce and added a layer of Oreos on top of the sauce.
I then put on a layer of oreo cookie ice cream and finished with a layer of cool whip.  A sprinkling of Reese's pieces topped it all off.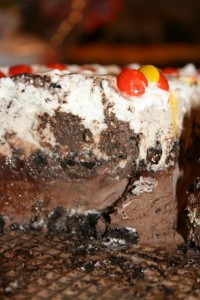 And let me tell you, it was just as yummy!
Try making one of these today!  You'll love it.
HH