I did not expect to love this blackberry pie recipe so much.  Maybe it's the time of year, or perhaps it's because I really needed to bake something beautiful.  Regardless, we all enjoyed it.  I learned recently that Abraham Lincoln served blackberry pie at his first inaugural luncheon, and I'm sure that's what planted it in my head.  So when I saw delicious looking blackberries at the store on a snowy February day, I did what any sensible person would, and bought some.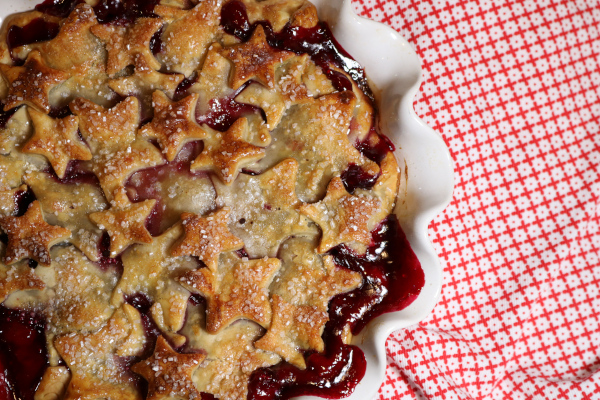 Now we have a new favorite pie recipe that I'll probably make every February.   Yum!  More than that, I feel like if I'm doing things at home to celebrate and discuss holidays like President's Day and Martin Luther King Day, then my kids will be more likely to appreciate the "why" of these important days.  Baking this blackberry pie created an opportunity for good discussions about what these men have contributed to our country, and how we can honor them as citizens today.   I want these holidays to be more than just a day off school for them.  And of course, it helps that everyone loved the pie so much.  (My oldest son came to wake me up and thank me for it when he got home from work and tried it.)  So, now I'm sharing it with you!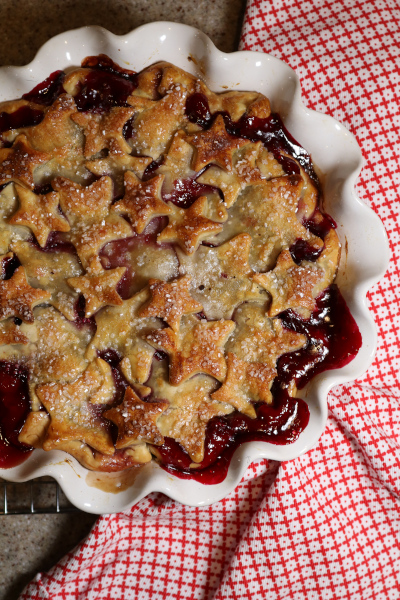 I'm going to share my recipe, with a couple of thoughts.  I used instant tapioca in mine to thicken the filling but you could substitute corn starch.  Also, I increased the berries because my favorite pie dish is my

Emile Henry ruffled 10″ ceramic dish

and I wanted more filling.  For a regular pie dish, only 4 cups of berries should suffice.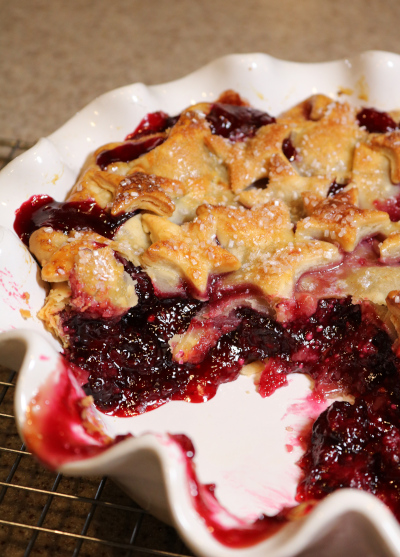 Blackberry Pie Recipe

5 cups fresh blackberries, rinsed
1 cup sugar
1/3 cup instant tapioca
1/4 tsp salt
1/4 cup water
1 tsp lemon juice
2 Tb butter
Dough for double pie crust
1 egg
Cinnamon sugar or sugar crystals
In medium saucepan, combine the sugar, tapioca, and salt.  Add 1 cup blackberries, 1/4 cup water, and lemon juice, then mix gently.  Cook and stir over medium heat until the berries burst and the mixture is gently boiling.  Remove the pan from the heat and gently stir in remaining berries.
Roll out one pie crust to 1/8″ thickness and gently place in pie pan.  Spoon berry mixture into pie crust and dot with the butter.
Roll the second pie crust to 1/8″ thickness.  Using cookie cutters or a knife, cut stars of various sizes and place them over the berry mixture until it is covered.  I started with larger stars, then medium, and used the smallest stars to cover tiny holes at the end.
Beat the egg in a small bowl, and brush over the pie crust gently.  Sprinkle with cinnamon sugar or sugar crystals.
Bake at 400 degrees for 35-40 minutes or until crust is golden brown and the filling is bubbly.  Cool on a wire rack, and serve with ice cream or whipping cream.  It is delicious warm or cold!
(recipe adapted from Taste of Home)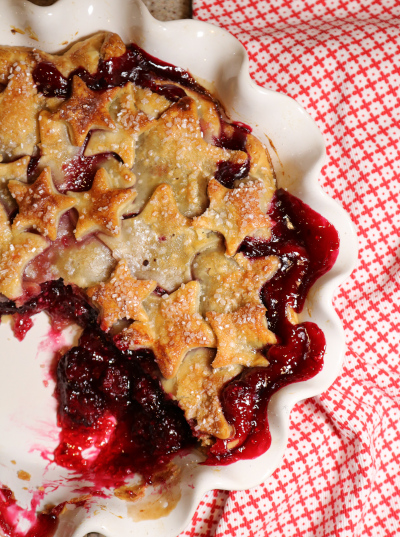 I hope you enjoy this blackberry pie!  Happy baking!