(No-fry) Fried Ice Cream Dessert
My mom started making this dessert when I was a girl, and we still love it.  It has the delicious crunch and taste of fried ice cream, except there's no frying involved and you can make it in 20 minutes.  This no-fry fried ice cream dessert is one of my favorite go-to recipes when hosting a party or taking dessert to a gathering.  The ingredient list is short and simple, it can be made in advance, and everyone always asks for the recipe.  Today it is my gift to you.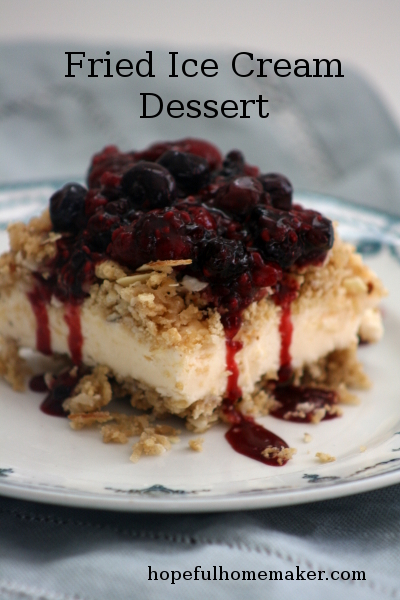 No-fry Fried Ice Cream Dessert

Ingredients:
3 1/2 cups crushed Rice Chex cereal
3/4 cup butter
1 1/2 cup brown sugar
1 cup shredded coconut
1 (8 ounce) package slivered or sliced almonds
1/2 gallon vanilla ice cream, softened (the kind in the box works best)
fresh or frozen fruit, or chocolate sauce for topping
Directions:
Remove ice cream from freezer to soften.  Crush cereal and set aside.   In a large saucepan, melt butter over medium-low heat.  Add brown sugar and mix well.  Remove from heat and stir in coconut and almonds, then add cereal and mix well to be certain everything is coated with sugar mixture.  Spread half of the cereal mixture into the bottom of a 9×13 pan and press gently.  Open box of ice cream by unwrapping box from around the ice cream.  With a large knife, slice ice cream into slices about 1″ thick and lay across the cereal mixture in pan.  (I usually have to cut the last slice or two into smaller segments to fit.)  Sprinkle remaining cereal mixture over ice cream.  Cover and freeze for at least 3 hours before serving.  Serve with fresh or thawed fruit, hot fudge, or any other topping.  Serves 15-20, depending on serving size.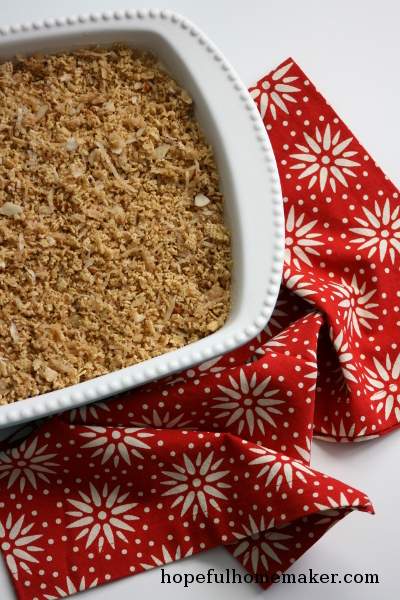 A few notes:  When preparing this dessert, I usually check in advance with guests to be sure there are no allergies to almonds.  If you need to omit the nuts, simply add a little more coconut to the pan.  In the summer, we eat this with fresh fruit.  In the winter I serve it with hot fudge sauce and berries so my guests can choose their topping.  It looks especially pretty in an

Emile Henry pan

(my favorite baking dishes, which also make lovely gifts).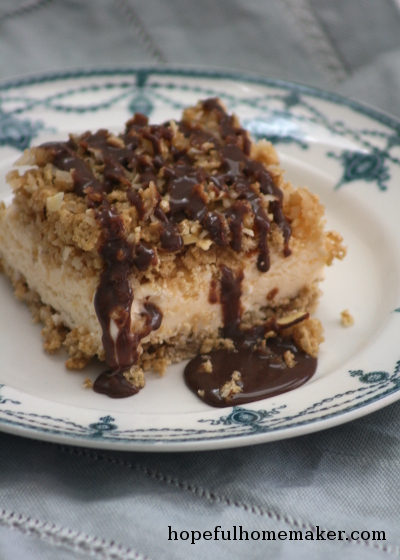 This no-fry Fried Ice Cream Dessert is always a crowd pleaser.  It's also a win for the hostess:  it looks beautiful when served, feeds a crowd, can be prepared in advance and in just a few minutes, and has a short and inexpensive ingredient list.  It's a winner!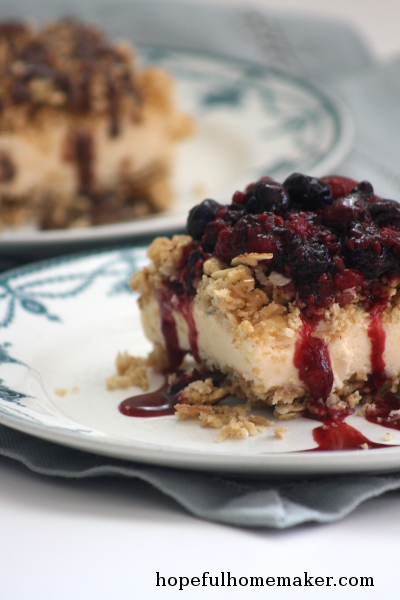 I hope you'll try this dessert for yourself, and I hope it saves you time and stress!  If your family is like mine, you'll be making it for years to come.
Happy hosting!
Jennifer