Homemade Cherry Ice Cream
I've been dreaming of homemade ice cream for a couple of weeks, and my wonderful husband gave me an ice cream maker for my birthday last week.  It's small, compact, inexpensive, and makes up to 4 quarts!  So last night for dessert we made some homemade ice cream.
I know that most recipes call for egg yolks in them, but due to my pregnant state we decided to try a recipe without eggs.  Just to be safe.
Start with two cups of heavy whipping cream.  Pour into a mixing bowl.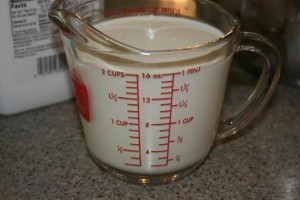 Then add one cup half and half.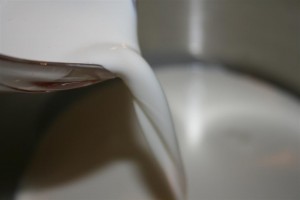 Next comes 3/4 cups sugar.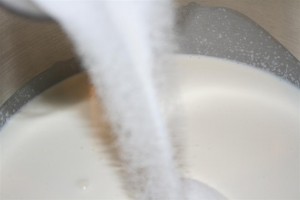 Now stir until the sugar is dissolved.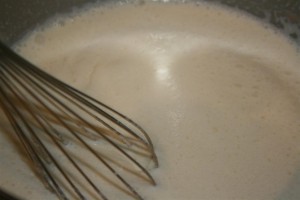 We then added one Tablespoon of vanilla and mixed again.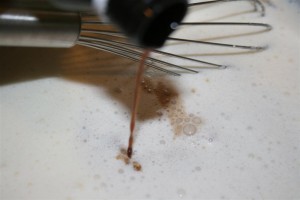 We put some pitted cherries in a food processor to chop them up,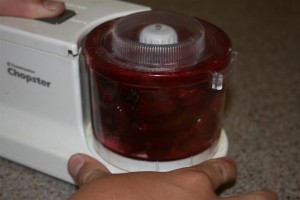 and added them to the cream mixture.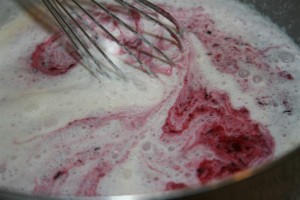 So pretty!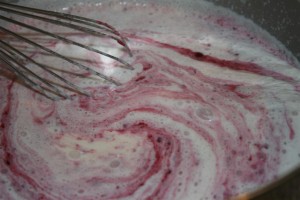 Then we poured the mixture into the canister.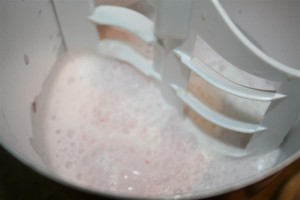 Follow the manufacturer's instructions to attach the motor correctly.
Then layer with ice and rock salt and let the machine do it's magic.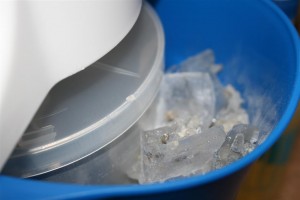 When it's finished, the machine should stop on its own.
We doubled the recipe and got about 3 quarts, and it took only 35 minutes.  Not too bad!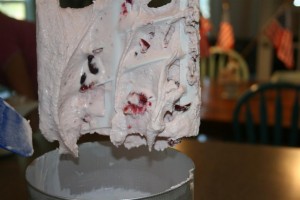 Looks delicious!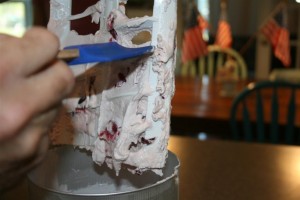 If you want to eat it right away, you can, but the ice cream is extremely soft.  We scraped ours into a container and put it in the freezer to harden a little bit more.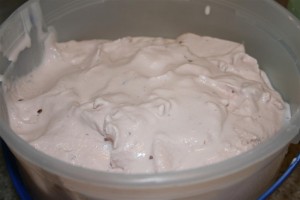 The kids had a hard time with this step, but in the end we were glad.
Having the ice cream a little bit harder made it even better.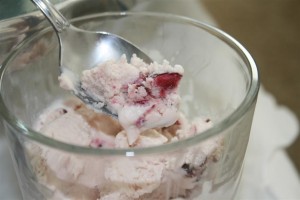 Homemade Cherry Ice Cream

(you can substitute any kind of fruit for the cherries)
2 cups heavy whipping cream
1 cup half and half
3/4 cup sugar
1 Tb. vanilla
2 cups fresh sweet cherries, washed and pitted
ice and rock salt (if  your ice cream maker requires them)
In mixing bowl, combine cream and half and half.  Add sugar and stir till dissolved.  Add 1 Tb. vanilla.
In blender or food processor, puree cherries.  Add to cream mixture.  Pour into ice cream canister.  Attach motor and add layers of ice and salt.  Freeze according to manufacturers directions.  When ice cream is finished, either enjoy or scrape into container to freeze and harden more.
Makes about 1- 1/3 quarts of ice cream.