Look up!
This afternoon I decided to brave the heat (yes I'm being a wimp but I have a good excuse) and clear my front porch of all the kid clutter that they've left behind.
As embarrassing as it is to admit, I'll list some of the items I found there:  socks, toys, empty cups with spoons in them from yesterday's snow cone adventures, trash, jewelry, and a selection of Dad's tools from this morning's skateboard workshop.
It's nice to get things put away, swept up, and looking a little more inviting.
As I was walking around the house to put something away, I looked up.
And something wonderful happened.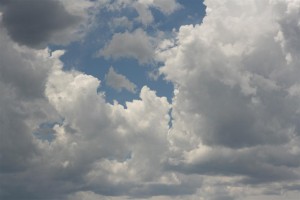 I was instantly struck by the beauty of the sky:  the gorgeous blue and fluffy white clouds everywhere.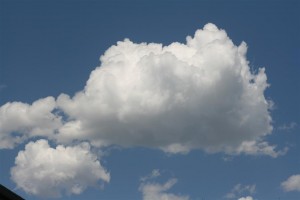 It reminded me of a quote I memorized years ago:
"The sky is the daily bread of the eye."
I paused to turn around in a circle and drink in the beauty in every direction.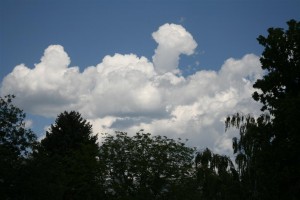 I realized what a blessing it can be to look up in life.
My day was enhanced by simply absorbing a bit of beauty that had been there for the taking for who knows how long.
I'm so glad I didn't miss it.  I wasn't aware that my heart was hungry for such a sight.
I realized how often I get my head down, focusing only on the task at hand, on getting through or just enduring.
Sometimes all it takes is a few minutes to look up and drink in the big picture, remembering that there is much of beauty and life and happiness to be enjoyed.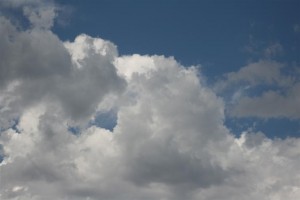 Much of our experience is a matter of perspective.
In raising my eyes today, my perspective was enlarged.
I felt more appreciative of the simple abundance around me, more aware of the gift of life.
I walked inside feeling like a happier person than when I walked out.
I wonder how many times a day God has gifts like this just waiting for us?  How often has He prepared something of great beauty to buoy us up on our journey?  Do we notice?  And if we do, do we let it change us?
How can we receive his gifts if we don't see them?
My invitation today:  look up!  Look around!  Notice the simple gifts that are waiting for you, and partake.
Have a wonderful day!
HH