Whole Wheat Rolls
Think freshly ground wheat transformed into delicious warm rolls!
It can't get much better than that.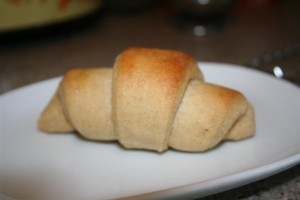 In my Bosch, I combined 3 cups warm water, 2/3 cups vegetable oil, and 4 large eggs.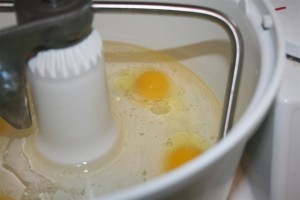 Blend together, then add 1/2 cup powdered milk,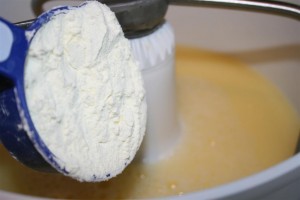 and 1/2 cup honey.  (I didn't have time to go get honey from my basement, so I used honey powder.  Just pretend this is a nice gooey pile of honey going in.  The powder works fine, too, in case you have some.  I really like it.)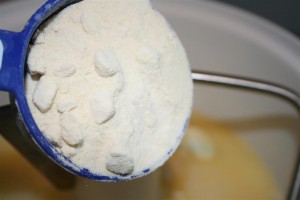 and 1 Tablespoon salt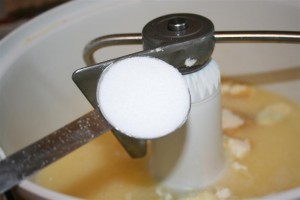 Mix well, and now it's time for the whole wheat flour.
This flour is straight from my grinder.  It doesn't look very dark because it's white wheat.
Using white wheat means I don't have to add any white flour to the dough because it will be nice and light on its own.
If you're using red wheat, you will probably want to have at least 1/3 of the flour be white flour.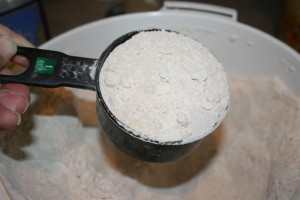 I digress.  Add about 4 cups of wheat flour to the mixer.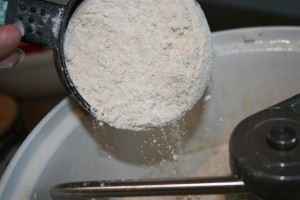 And 2 1/2 tablespoons SAF Instant Yeast.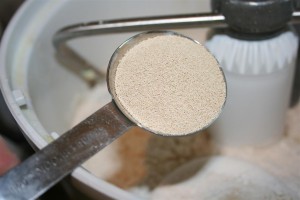 Turn on the mixer and blend until well incorporated.
Add another 3 cups of flour and watch so see the consistency of the dough.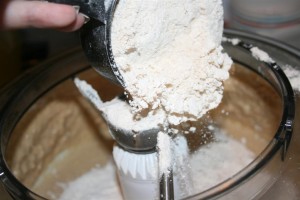 You might need to add another cup or two, but you don't want to add too much.
You want the dough to begin pulling away from the sides of the mixer.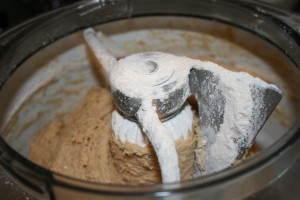 Cover and let knead for 5 minutes.  Remove the dough hook and cover again.
Let rise for 10-15 minutes.  Then remove dough from mixer, divide into 4 pieces, and roll each piece out (one at a time, of course) into a large rectangle.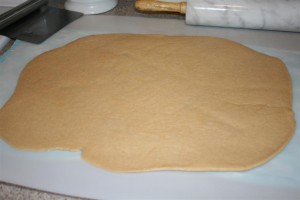 Using a pizza cutter, cut in half lengthwise.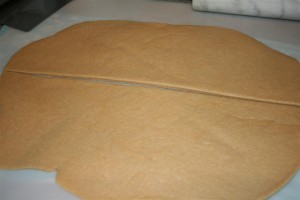 Then cut each half into triangles.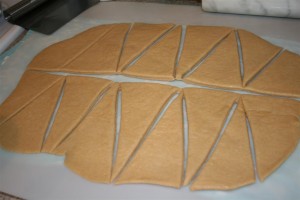 Roll into crescent roll shapes.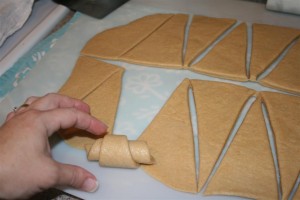 Place on baking sheet to rise.  Cover and let rise another 10-15 minutes.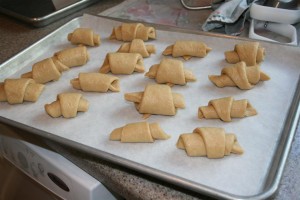 Bake at 400 for 8 minutes or until tops are just beginning to brown.
Remove from oven and brush with butter.
Enjoy with butter, or in our case this time, homemade cherry jam.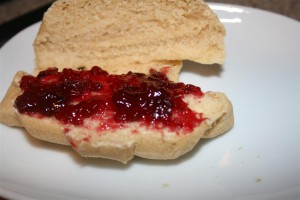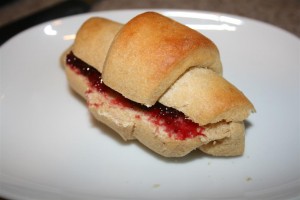 Talk about homemade goodness!  Yum!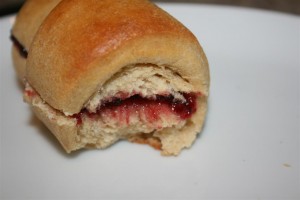 Whole Wheat Rolls
3 cups warm water
2/3 cups vegetable oil
4 large eggs
1/2 cup powdered milk
1/2 cup honey
1 Tb. salt
7-9 cups freshly ground white wheat flour
2 1/2 Tb. SAF Instant Yeast
In mixer, combine water, oil and eggs.  Mix well.  Add powdered milk, honey and salt.
Mix well, then add 4 cups flour and the yeast.  Mix again and continue adding flour until dough reaches proper consistency.  Let knead 5 minutes.  Remove dough hook and cover.  Let rise 10-15 minutes.  Roll into rolls, cover and let rise another 10-15 minutes.  Bake at 400 for 8-9 minutes.  You can also bake at 375 for a few minutes longer depending on your tastes.  They're delicious either way!