Dining Room: Victory Claimed or Defeat Admitted?
Almost two years ago, a day or two before Thanksgiving, I slapped some coats of glossy black paint on an old table I'd picked up at a thrift store.  I remember that it was RIGHT before the holiday because one, I was 8 months pregnant and trying to paint was not the most comfortable experience and two, I remember asking my Dad to finish the project for me after they got to town for the holiday.
It all worked out just fine.  We used folding chairs around the table for Thanksgiving dinner that year.  Then, over the next 8 months or so, I started collecting chairs with a shield back.  For a while I had the serendipitous experience of stumbling upon them all over the place.  Before I knew it, I had 8 of them, and I don't think I paid more than $20 for any of them.
But they were old, the seats were covered with a variety of garish fabrics, and all of them were stained brown.  Remember, my dining room table is black.  So  they went to the basement for me to refinish them.
Fast forward to last week, and they were sitting in the very same spots I put them in when I purchased them.  The only change was in the boxes that had since been stacked on top of them.
Knowing what kind of crowd we were going to have in town and around for the weekend, I decided it was time to get the dining room chairs out.   I picked up some cheap slipcovers from Bed Bath & Beyond and tried them on.  Not the best fit, because the backs of my chairs aren't rectangular, but a fit nevertheless.  So the covers went on, the bows were tied, and felt placed  on the bottom of each leg.
Here is the final product: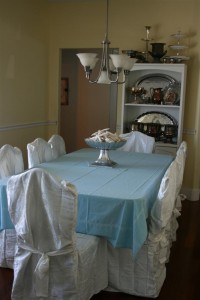 You know, it's actually very pretty, and I love having chairs around the table.  They look elegant with the covers on them.  Good thing, because they'll probably stay that way for a while.
Here, then, is the question.  Did I claim a victory or admit defeat?
Victory:  I have dining room chairs around my table.
Defeat:  In bringing the chairs to the dining room in this condition I might be conceding that they will never be refinished.
The answer, I suppose, could be both.  For now I'll call it a victory, and only time will tell if it is, indeed, defeat.  For now, I'm a step closer to the dining room I want.