I wish… or perhaps someday
The day I decided to try my hand at what I call a "real" quilt (meaning something other than patchwork) was an important day in my life.   I've made many things since, and have many projects in various stages of progression.  I think that on most occasions I would even call myself a quilter.
Until I saw this quilt the other day, and wondered if perhaps I still deserve the same kind of ranking that I gave myself years ago.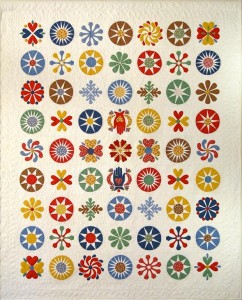 I found this at

American Jane

, and I love it!  It's called Mothers and Daughters.
I love the colors, the pattern, everything.
But I'm pretty sure it's way out of my league.
I find myself wishing that I was a REAL quilter.  And then I think that someday, just someday, I might be.