Hat Hunt
Yesterday I took my baby to the doctor for her 2 month checkup.  She is now 10 pounds!
She's still such a little thing, and yet big at the same time.  She's certainly not a newborn anymore.
She is such a doll.  A doll in need of  a great hat.
I went hunting yesterday, but didn't come up with much.  I think I was hoping for something pretty, or crocheted, or something along those lines.  Something with a great shape to it and not necessarily something that would hug her head.
In the end all I could find was a little beanie hat.  Bummer.  I'll have to keep looking.  The problem is that a lot of the cute boutiques aren't open every day.  I have to remember when they're open and try to pop in.
Then it hit me that I could put a big flower on a beanie hat and I might be able to stand it.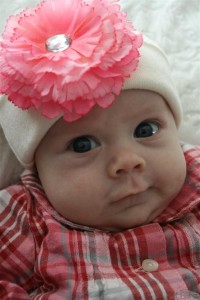 Works for now.  And just look at this sweet pose.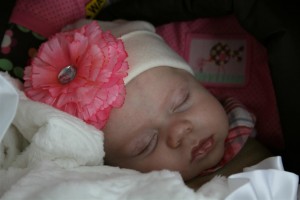 It felt good to pamper her a little bit today.  A new hat, a big flower, a clip for the pacifier.
And the blanket I sewed for her.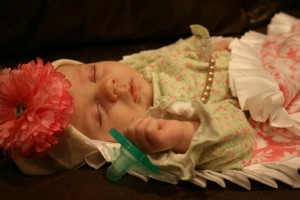 I think she likes it.  The only problem is that the hat seems to make her feel so warm and cozy that she's a little sleepy.
Today she's got stubble on her head like a 2 day old beard.  I look forward to having the prickly feeling become soft again when I touch my cheek to her head.  I know that it is silly, but somehow her haircut made her face seem lost in her head, like all I could see was the big bald part, and the hat helps me find her face again and feel like she's still herself.
I'm working through

the hilarious but not at all funny feelings

from Sunday.  This morning I'm doing a little better.  I put the headband back on.  It didn't help on Sunday night, but this morning I can handle it.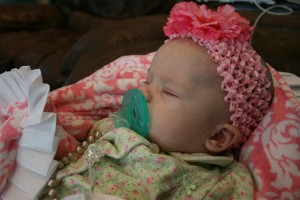 So, while we'll watch for a great hat for the winter, I think I see the light at the end of my emotional baby hair tunnel.  And that's  a good thing.