Raspberry Pretzel Dessert
This dish is yummy as a refreshing dessert, and occasionally I serve it as a side dish at a holiday dinner.  It's one of those recipes that most everyone has, but this one has some little changes to make it a bit lower in fat.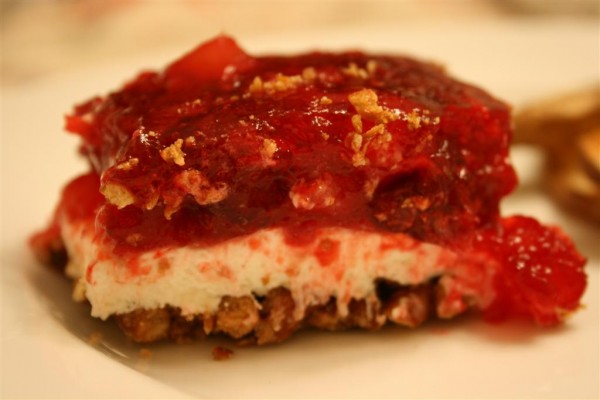 It's not difficult to make, but you have to make it in advance.
Put 2 cups crushed pretzels in a bowl and add 3 Tablespoons sugar.  Melt 3/4 cup margarine and pour it over the pretzels and sugar.  Mix together and press into the bottom of a 9×13 inch pan.
Bake at 400 degrees for 18-20 minutes, then remove from the oven and cool completely.  When the crust is cooled, mix 8 oz. cream cheese (1/3 less fat kind) with 1/2 cup sugar and 1/2 cup sugar substitute (like Splenda, or of course you can just use 1 cup sugar if you'd like).  Then carefully fold in 8 ounces fat free whipped topping.
Gently spread over pretzel crust and refrigerate to cool.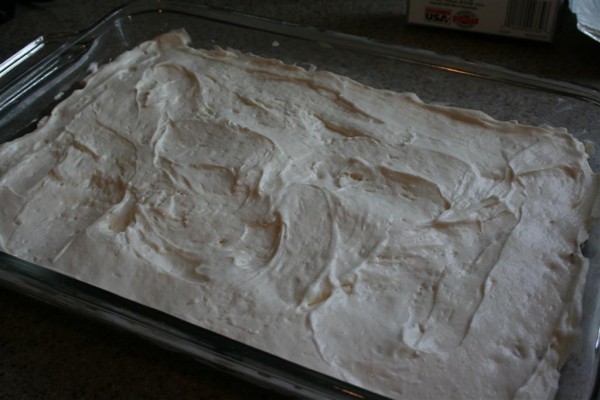 Drain the juice from a 20 ounce can of crushed pineapple and add water to the juice to equal 1 cup.
Pour the pineapple juice into a small saucepan and bring to a boil.  Meanwhile, place the contents of 2 packages (.3 ounces each) of sugar free raspberry jello into a bowl.  Pour boiling pineapple juice over jello and stir to dissolve.
Now you can add 1.5 cups cold water to the jello and then wait for it to partially set.  Or, if you're like me and you're pretty sure that the timing will get messed up because you'll get busy doing other things, you can put 1 cup of ice cubes in a measuring cup and then add water until it measures 1.5 cups. Then pour it into the jello mixture and mix until the ice cubes melt.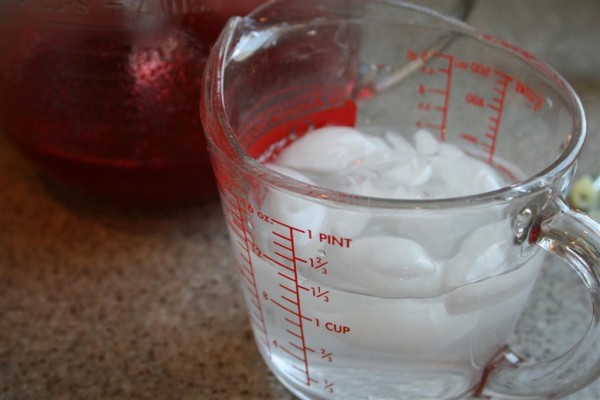 When the jello is thickening a little bit, add the can of crushed pineapple and 12 ounces thawed frozen raspberries.  Stir well.
Refrigerate this for a few minutes until it's thick enough to spoon over the cream cheese layer without running.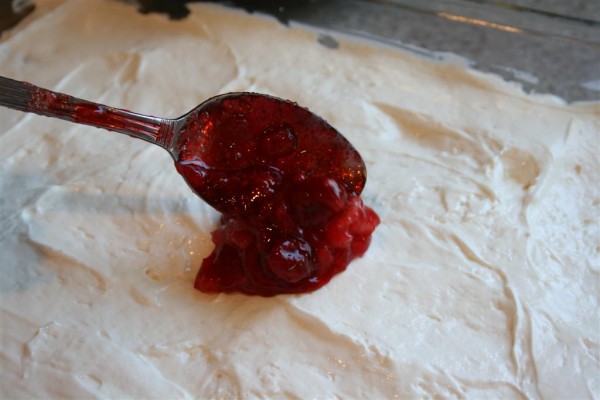 Continue until you've used all the jello.
Now refrigerate for a few hours before serving.  So yummy!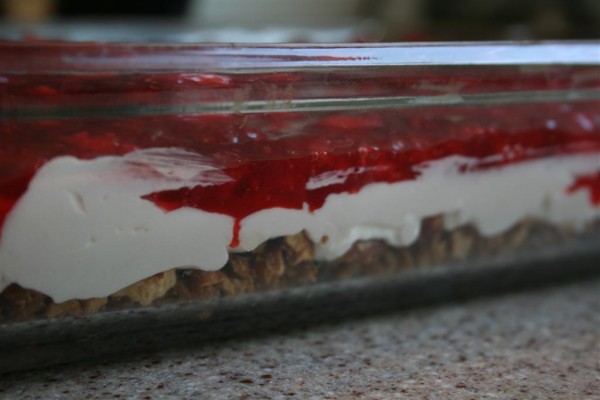 This dessert is also delicious with strawberries and strawberry jello.  Enjoy.
Raspberry Pretzel Dessert
Crust:
2 cups crushed pretzels
3/4 cup margarine, melted
3 Tb. sugar
Combine pretzels, margarine and 3 Tb. sugar.  Press onto bottom of 9×13 pan.  Bake at 400 for 18-20 minutes or until set.
Filling:
8 oz softened cream cheese (I use 1/3 less fat kind)
1/2 cup sugar
1/2 cup sugar substitute
8 oz fat free whipped topping
Combine cream cheese, sugar and sugar substitute.  Mix well.  Fold in whipped topping.  Carefully spread over cooled crust.  Refrigerate.
Jello layer:
1 can (20 oz) unsweetened crushed pineapple
2 pkg (.3 oz each) sugar free raspberry jello
12 oz frozen raspberries, thawed
Drain pineapple, reserving juice.  Add water to juice to equal 1 cup of liquid.  Place juice in saucepan and bring to boil.  Pour into bowl and add jello, stirring to dissolve.  Add 1 1/2 cups water to jello and refrigerate until partially set.  Stir in crushed pineapple and raspberries.  Carefully spoon over whipped topping.  Cover and refrigerate 2-4 hours or until set.  Enjoy!