Bakerella's Peach Crunch Cake
If you've never checked out Bakerella's site, you need to.  So cute.
When she posted this recipe, I was intrigued.  It's the peach cobbler recipe that so many people use, but with a couple of ingredients added to it.  Because I had all of them in my house, I decided to try it out.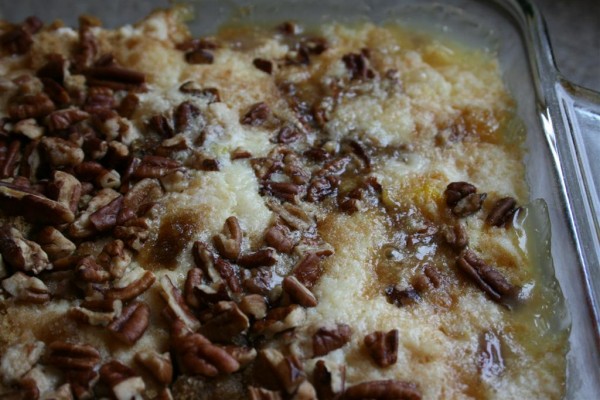 Ingredients: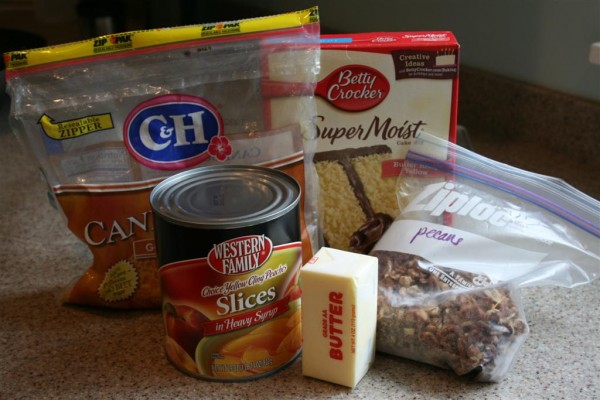 Start by pouring a can of sliced peaches (I used a 29 ounce can) into a 9×13 inch pan.  Don't drain them!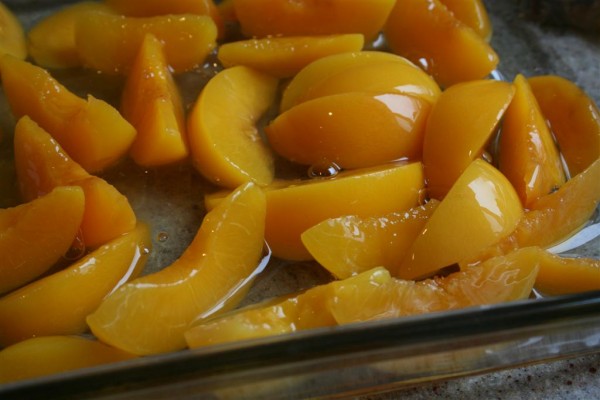 Cut them into bite sized pieces.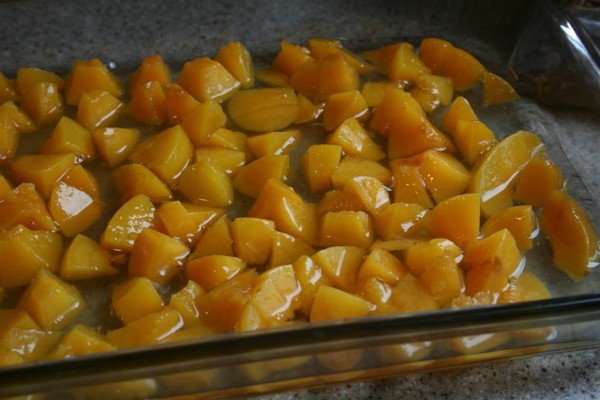 Sprinkle a box of yellow cake mix over the peaches.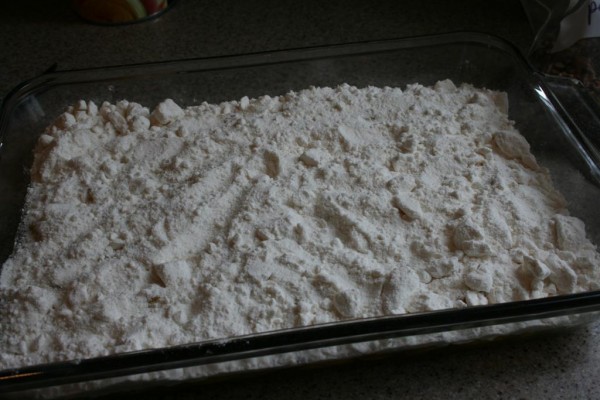 Cut 1/4 cup of butter or margarine into little pats and place them on top of the cake mix.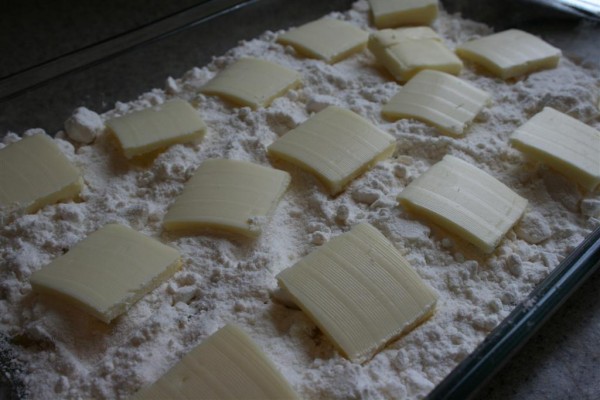 I just have to pause here and say that at this point I had such a powerful memory hit me.  I felt like I was 10 years old again, and my mom had just handed me a cake mix, a can of cherry pie filling, and a stick of margarine and asked me to make dessert.  I felt like I'd been transported back to her kitchen, and I was standing at the end of the counter making dessert in the midst of a large family emptying the dishwasher, setting the table, and preparing the meal.  The dessert I made looked just like this.  Wow, memory is a powerful thing.
The last two steps in Bakerella's recipe are what made me want to try it.  Next you sprinkle 1 cup of brown sugar over the butter.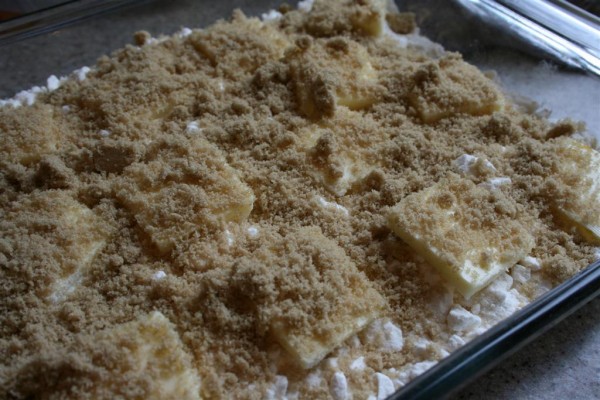 And finally, a cup of chopped nuts.  Bakerella used walnuts.  I used pecans.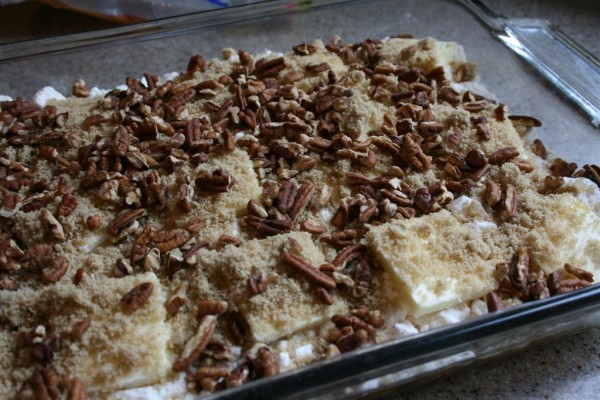 Looks yummy!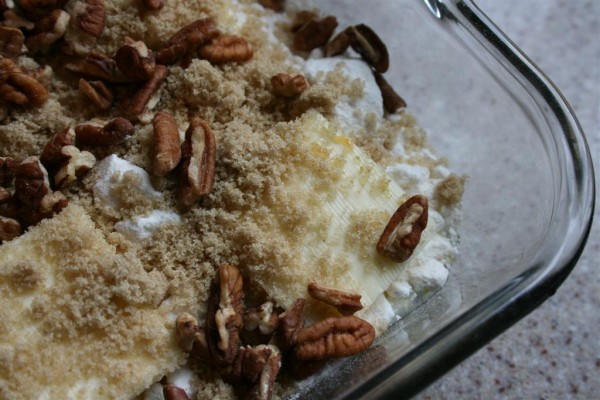 Bake at 350 degrees for 40 minutes.  Remove from the oven.  It should look something like this.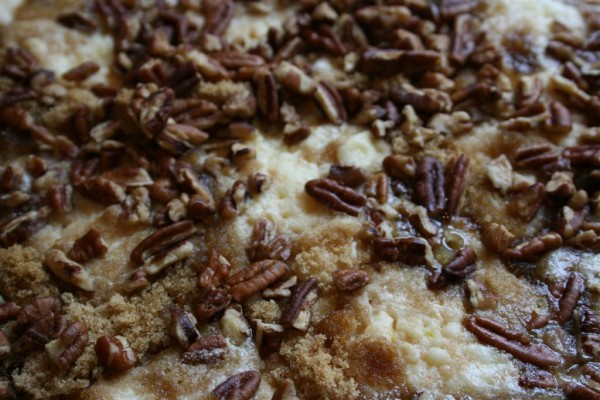 How did my family (and the extra 12 year old boys we had on hand) like this recipe?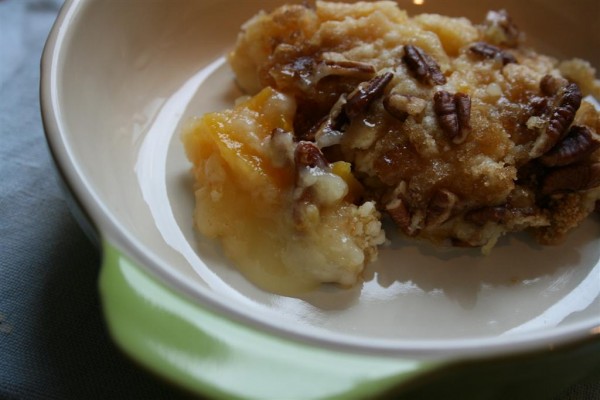 Judging by the speed with which it disappeared, it's a keeper!  Personally, I really liked the crunch that the nuts brought to a dessert I've eaten many times.  It added a layer of texture and flavor that I enjoyed.  Thanks Bakerella!