Chirp Chirp Quilt Top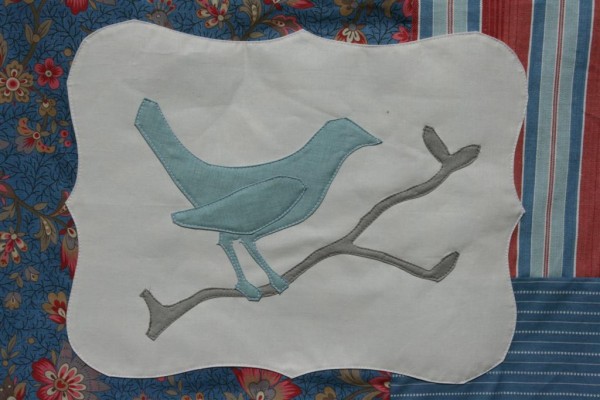 I put together this very basic quilt top in an afternoon.  The pattern comes from the Spring 2010 issue of Quilts and More.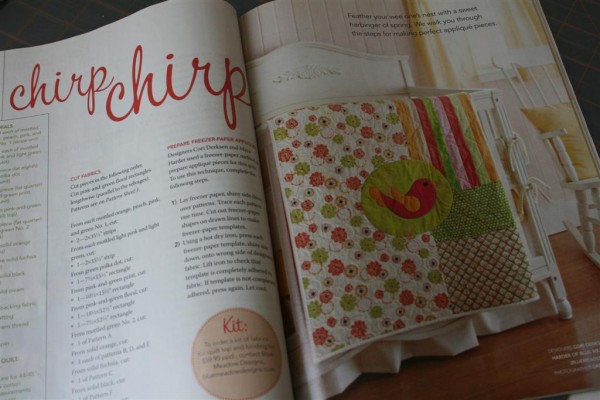 Instead of piecing together strips of solid colored fabric for the stripes, I swapped in a striped fabric that I absolutely love.  Doing this meant that piecing the quilt top (excluding the applique) required only 5 seams.  Talk about easy!  Sometimes it's nice to work on something simple in between more complex projects.  While I loved the idea of a large bird on the quilt, the bird in the pattern wasn't my style, so after a bit of brainstorming, I changed the background shape and drew a bird on a branch.
This is my finished quilt top.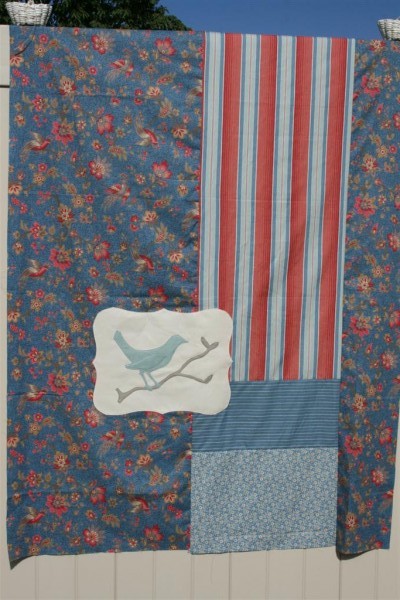 I love the way fabric choices and a bit of tweaking can change the way patterns look.  The original quilt in pastels is lovely, but I also love the way the deep blues make it more sophisticated.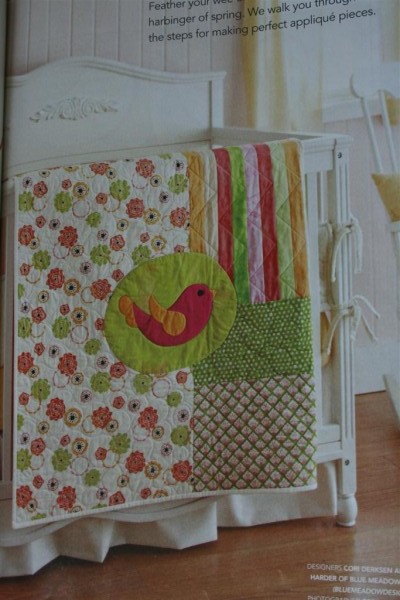 The fabric I used for this quilt is, once again, Rural Jardin by French General for Moda.  Part of my motivation was to make a quilt using the bird print in the deep blue colorway, which is my favorite print in the collection.  Scrapping the oval in favor of a more modern shape was a fun twist.   I simply drew the shape, bird and branch and used some featherweight interfacing to stabilize them.  Instead of doing the applique by hand as I did in my

Faith Sings quilt

, I decided to work on my machine applique skills.  Overall I'm very pleased with the results, and I also like how the fabrics work together.  It was fun to use some of the Rural Jardin wovens.  They're even lovelier than they look in pictures.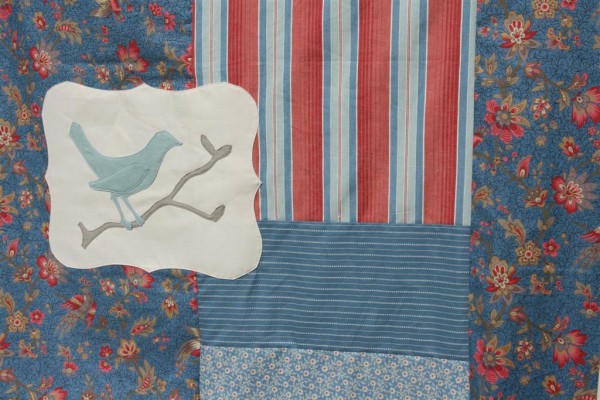 Because it's so small, this project should be fun and fairly simple to quilt.  It's my third quilt top in the lineup, so I'd better get quilting.
Thanks for stopping by!
Jennifer