Vintage Tablecloth: Red with White Fruit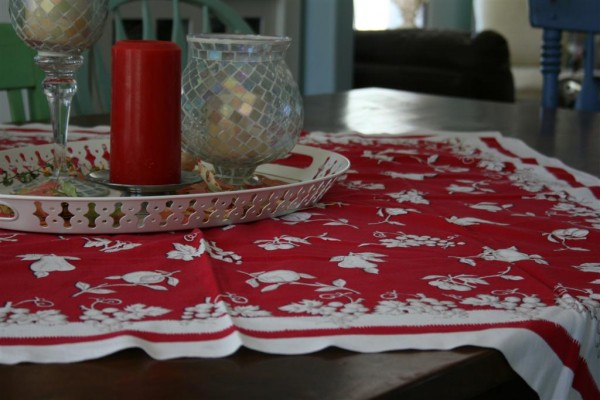 This tablecloth was one of the first pieces I bought when I discovered vintage linens.  I love the rich, deep red in this cloth.  It hasn't faded at all and the white remains crisp and bright.  The simple color scheme makes this a cloth that looks lovely year round.
Printed with white fruit shaded by small brown hash marks and black outlines, I love its simplicity.  It features grapes, pears, peaches, cherries and apples.  Measuring 44 inches by 49 inches, it is  a perfect size for the center of my table.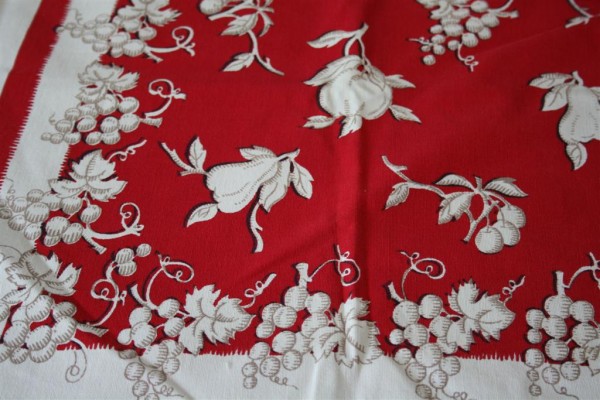 As you can see, perfection is not my main objective where these linens are concerned.  I simply pull them out of my cupboard and spread them on the table without ironing.  There's no point in having them if we don't use them, and if I make using them a complicated process then I'll never get them out.  So we enjoy them with a few wrinkles, and their beauty is undiminished by it.   Spreading a tablecloth on my table is like a breath of fresh air in my day, reminding me to pause and enjoy simple beauties.  Gracious living doesn't have to be complicated.  Little things make all the difference.
What little thing can you do today, to offer gracious living to your family?
Hopeful Homemaker