Spiderweb Brownies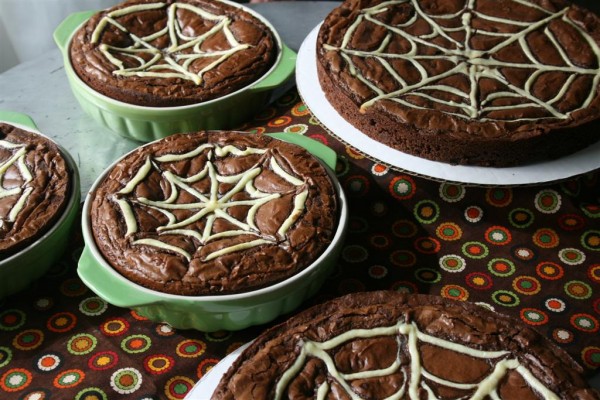 Need an easy Halloween themed dessert?  These brownies fit the bill.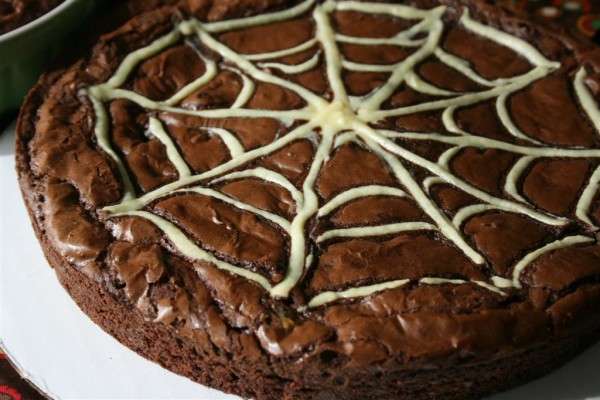 Baked in round cake pans with spiderwebs drawn in a cream cheese mixture, they look fun and taste great.
You have two options: use a mix, or make them from scratch.
For this experiment  I tried a new homemade brownie recipe which I'll share in another post.   This post is just to show you how to make them with a mix.
First, mix up a batch of your favorite brownie mix from a box, following instructions on the mix.  If you have a mix that will make a 9×13 inch pan, then you'll get two eight inch brownie circles.   I also made these using 6 inch round pans and each batch made 3.
To be sure that I could easily remove my brownies from the pan, I traced the bottom of the cake pan on a sheet of parchment paper, then cut out the circle and placed it in the bottom of the pan.  I then lightly sprayed the sides of the pan with baking spray.  Repeat with the second pan.
Pour the brownie mix into two cake pans.
Now for the filling.
Ingredients:
4 ounces cream cheese
2 Tb. sugar
1 egg yolk
1 Tb.flour
Mix together and put into a frosting bag or ziploc bag.  Cut corner off bag and carefully pipe a circle in the center of your pan with more circles moving out to the edge of the pan, about 1 inch apart.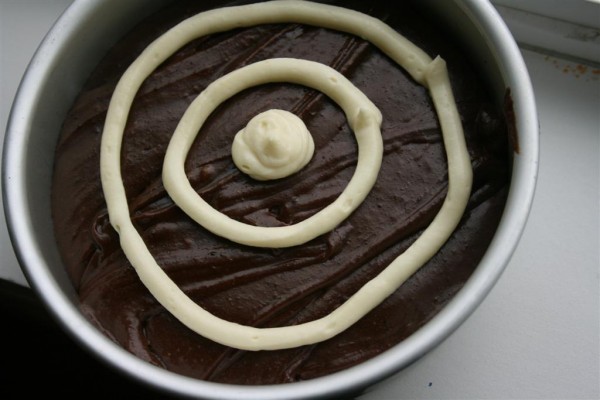 In the picture above I was using my 6 inch cake pans.  On the 8 inch pans I made a third ring around the pan with cream cheese.
Wet the tip of a knife, and beginning in the center, gently cut through the brownie to the edge of the pan.  This will pull the line toward the edge, making it look more like a spider web.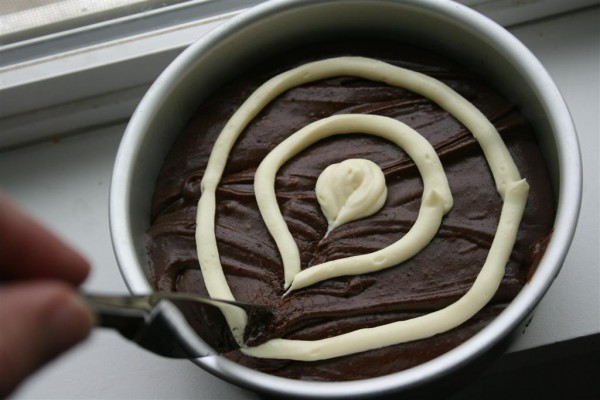 Repeat, going around the entire pan.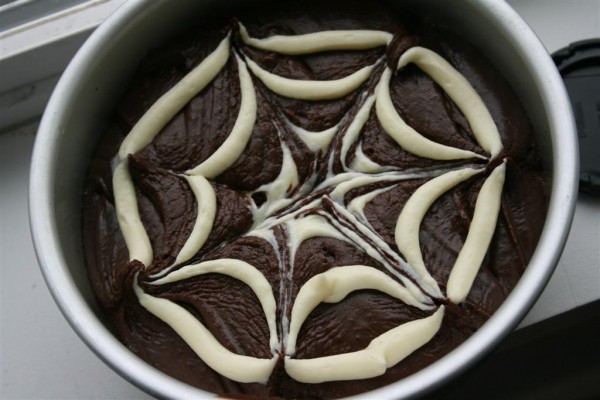 Now trace your cut lines with more cream cheese, and you're ready to bake!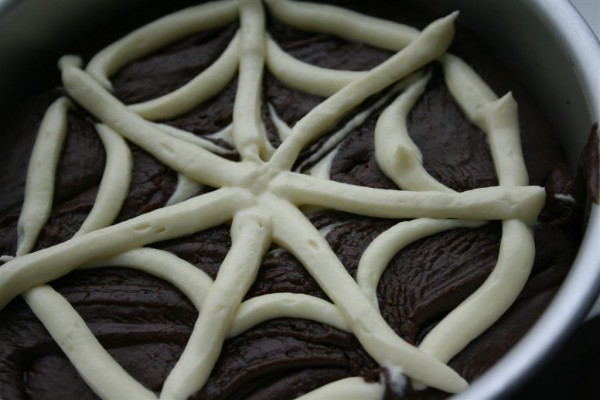 Baking time will depend on the recipe you used. I made a homemade brownie recipe (it's a new one and it's fabulous and I'll post it soon) which was a little more dense than many of the box mixes.  Consult your mix and adjust baking time accordingly.  For mine, I set the timer for 20 minutes and then watched it every couple of minutes after that.  I found that both my 8 inch and 6 inch pans needed 20+ minutes.  If I was using a box mix I would probably set my timer for 15 minutes and go from there.  You can also test for doneness using a toothpick near the center.
Remove from oven and let cool in the pan. When the brownies are cool, carefully run a knife around the edges to release.  If you've used parchment paper, the brownies should easily slip out of your pan.  Remove parchment paper from the bottom and place on whatever dish you're using.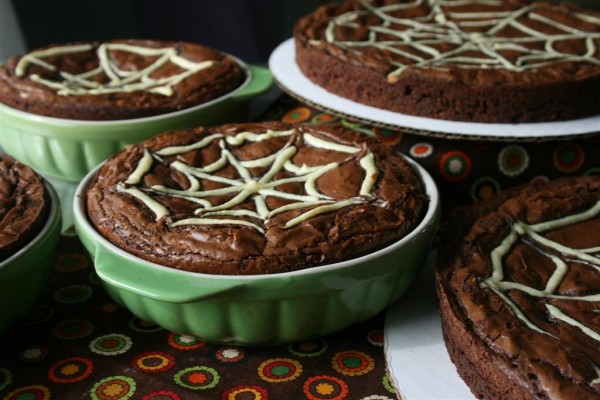 I've been baking a lot of these little treats this week to use as gifts.  I found some cute green dishes at the dollar store that, alas, aren't oven safe, but if I gently push on them I can fit a six inch brownie cake into them.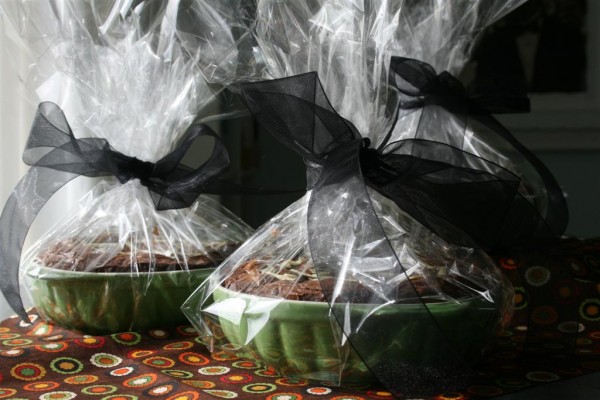 Wrapped in cellophane and tied with a black ribbon, they're ready to go!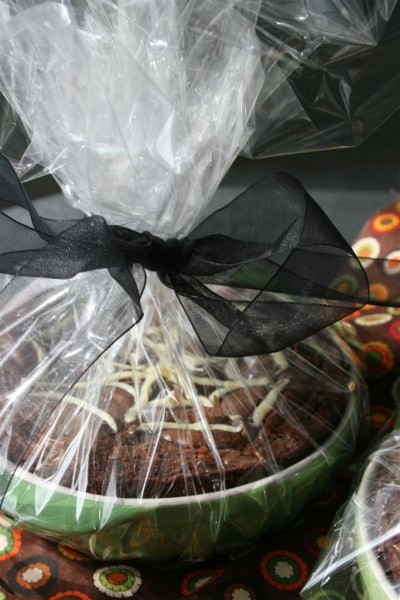 It's a good thing they're all headed to other houses.  I saved one for my family to eat on Halloween.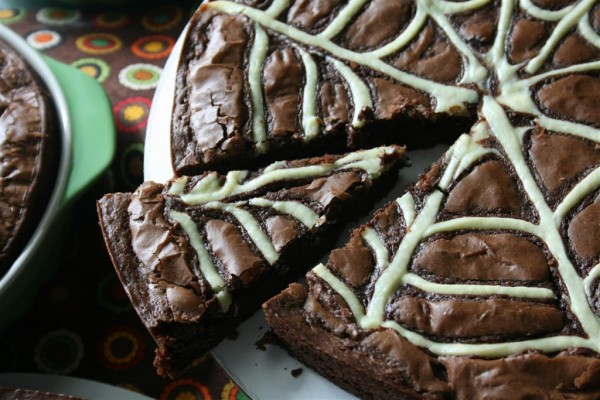 YUM!
Happy Halloween!
Hopeful Homemaker