It's a start.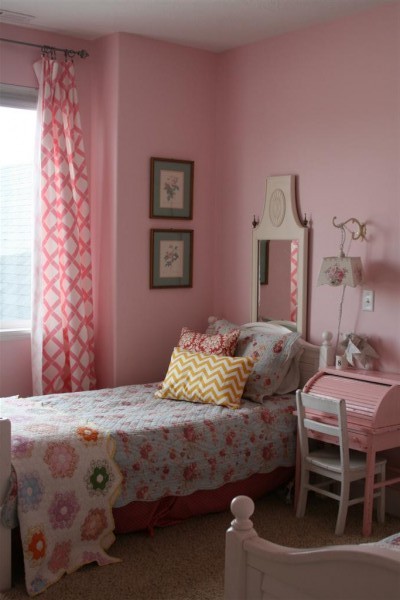 Three girls sleep in this room.  We store clothing for four girls in this room as well.
I'm sorry to say it, but we don't often see the carpet in here, especially since all three of them are still in the stage of changing outfits five or six times a day.
While they were at school yesterday I decided to excavate.  We cleaned, scrubbed the walls, washed the bedding, etc.  Then I took everything off the walls and started fresh.  All I kept was the furniture, bedding and the vintage grandmother's flower garden quilts at the foot of the beds.
I bought the pink and white lattice fabric for the curtains a year or more ago.  It's finally up, and I love the strong geometric feel it adds.  I also love that it's a different pink and doesn't "match" the walls.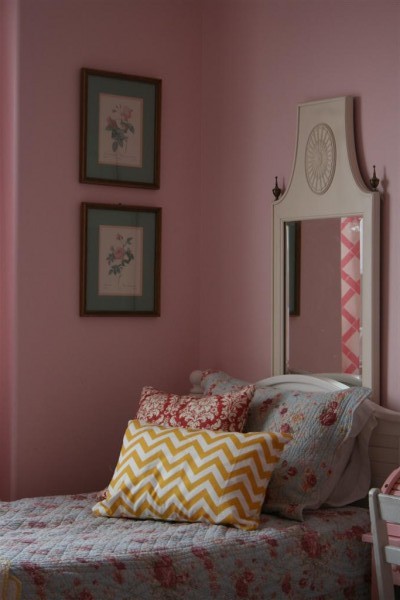 The vintage pink miniature roll-top desk I bought for my daughter when she turned three, I think.  I'm still so glad I scored it.
The mirror is actually one of two.  They're vintage and I've had them in four different places in my bedroom over the past few years.  They're taller than they look, but I hung them down behind the beds so they look just right.  I think they've found their permanent home.
The rose prints are also vintage, purchased a year ago at the thrift store for $2.  Surprisingly, the gold frames don't bug me, and I love the way the robin's egg blue mats work.  I raided my fabric stash to whip up two bed skirts (there's another identical twin bed on the other side of the room) and the yellow and white chevron pillow also came from fabric in my stash.
Two walls are still bare and in need of help, but I have a few ideas and will see how things gel in the next few weeks.
Half of the room is now updated.  Not too shabby for a couple of hours and not a penny spent.    And I, for one, am relieved to have action follow

inspiration

.
What do you think?
Jennifer