More Inspiration
You've probably seen the

new basement room

designed for Stephanie Nielsen of the

Nie Nie Dialogues

by

Alice Lane Home.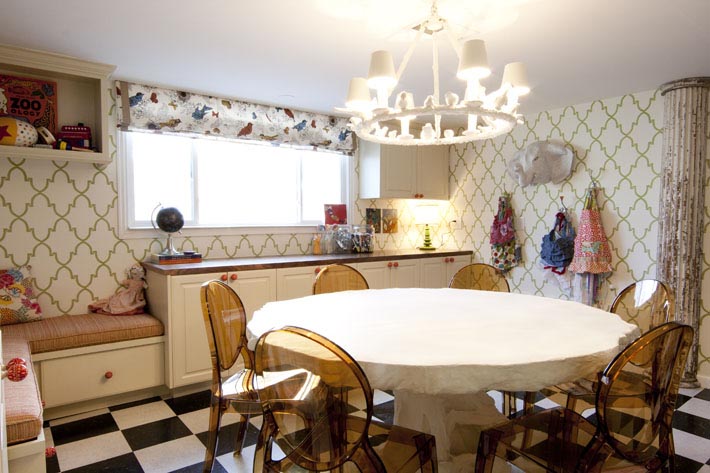 I can't help but look at some of the things I love about this room, especially after falling in love with

this room

.
First up, there's a black and white floor here, as well.  I still prefer the chevron rug, but I love the way black and white on the floor gives this room so much personality.  Hmmm.  Perhaps I'm developing a taste for black and white floors?
Secondly, I love the products from Oly Studio.  Love the chandelier, love the table.  They are amazing.  I love the way they take center stage.
Thirdly, I am completely smitten with the wallpaper.

I mean I really like this pattern.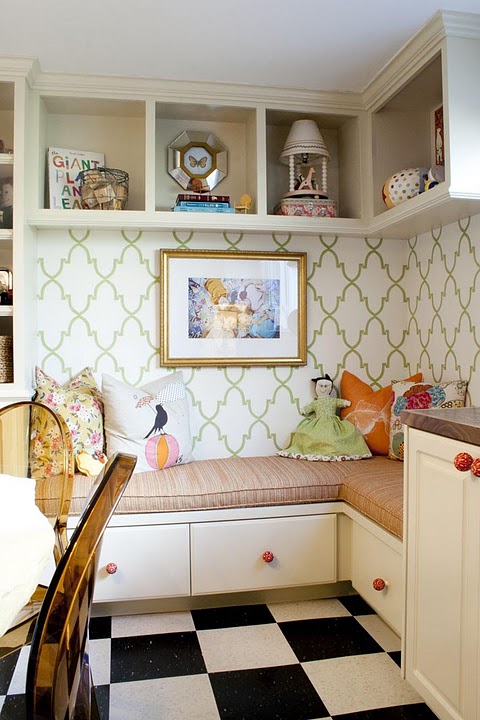 As in, I keep mentally running through a list of rooms in my house in case I can think of one that I could wallpaper in this pattern.  I've always avoided wallpaper, but oh man, is this tempting!  (Not that I need another project.  I've only got 3,872 laying around the house.)
Fourth, the antique columns (see first picture) are incredible.  I've seen that column in the shop, and wished I knew what to do with one.  Now I know.  Split one in half and attach it to the wall like that.  Gorgeous.
Fifth, the fabric on the window shade is beautiful.
Last, that paper covered elephant head makes me smile.
In all, I like it because it's such a blend of old and new, design and personal taste.  There are a lot of great patterns and colors at work in this room, yet it doesn't bother my eye.  You'd never know it was in a basement.  I certainly wouldn't mind if it was in mine!
If you want to read more about the room, visit

this post

on the Nie Nie blog.  You can also see a breakdown of some prices and sources on products used in the room

here

.
Do you have a space that has inspired you lately?
Hopeful Homemaker