Orange Creamsicle Cupcakes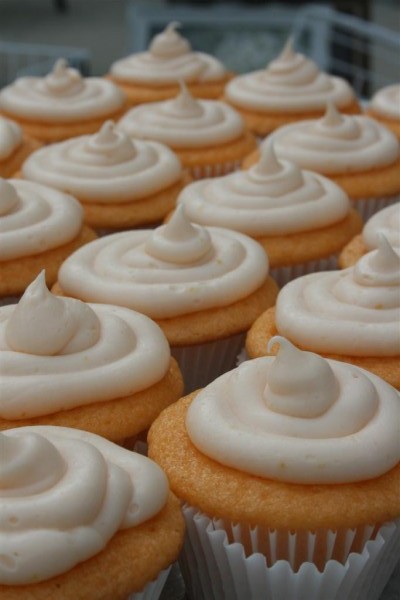 When the children wanted a bake sale at our yard sale last week, I knew which cupcake recipe I wanted to try first.  Orange Creamsicle cupcakes.   They really do taste like orange creamsicles and they're simply delicious.
The recipe is a Better Homes and Gardens recipe that I found here.
Want to make some?  (Trust me, you do.)  Here goes:
Ingredients:
1 white cake mix
1 small box (3 oz) orange flavored gelatin
1 small box (3 oz) cheesecake pudding mix
1 1/4 cups orange juice
4 eggs
1/3 cup vegetable oil
1 tsp. vanilla
** Set aside 2 teaspoons orange gelatin to save for the frosting. **
In a bowl, mix together cake mix, orange gelatin (minus the 2 tsp.), and cheesecake pudding mix.   Add orange juice, eggs, vanilla and oil.  Mix until combined.
Preheat oven to 350 degrees and place cupcake liners in pan.  (This recipe made 2 dozen regular sized cupcakes plus a dozen mini cupcakes.)  Fill muffin cups 2/3 full with batter.  Bake for 18-20 minutes or until done.  Cool completely.
Frosting:
8 oz. cream cheese
1/2 cup butter
2 tsp. reserved orange gelatin
1 tsp. orange zest
2 tsp. vanilla
5 – 6 cups powdered sugar
orange food coloring (if desired; I didn't use any.)
Soften cream cheese and butter at room temperature for at least 30 minutes.  In a large bowl beat together butter, cream cheese, orange gelatin, orange zest and vanilla until light and fluffy.  Add in powdered sugar 1 cup at a time until you reach desired consistency.  Decorate cupcakes.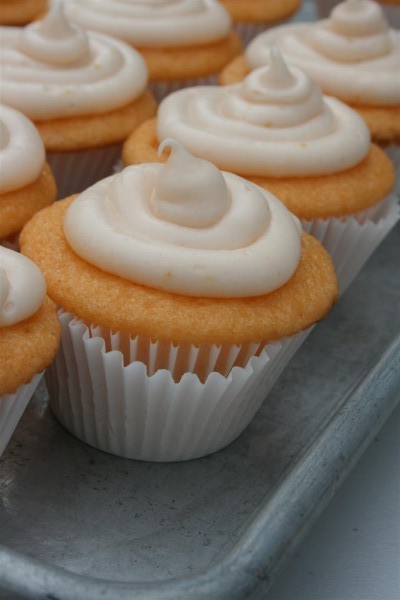 These cupcakes were a huge hit.  We had one couple buy one, get in their car to drive away, then turn off the engine and come back to buy a dozen.  We will certainly be making them again soon.
This little one liked them, too: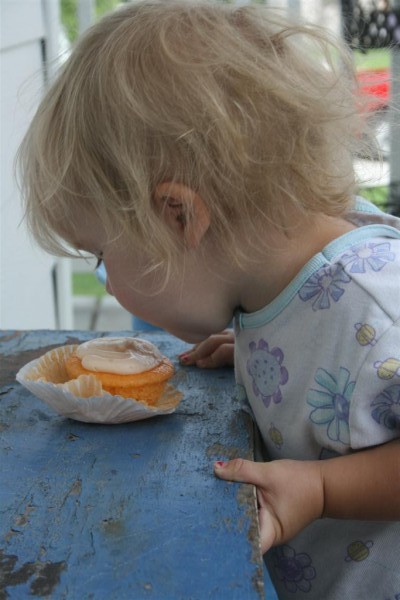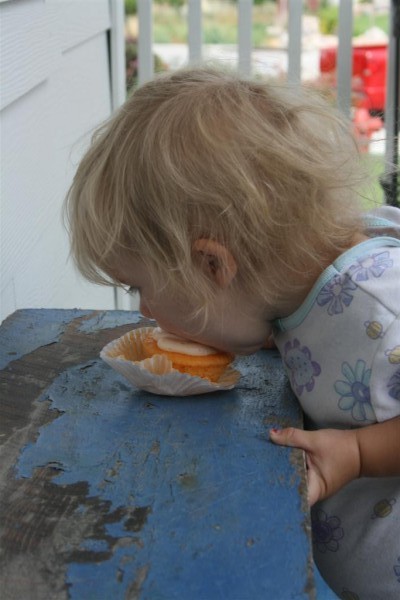 She makes me laugh.
HH