Elsie's Blessing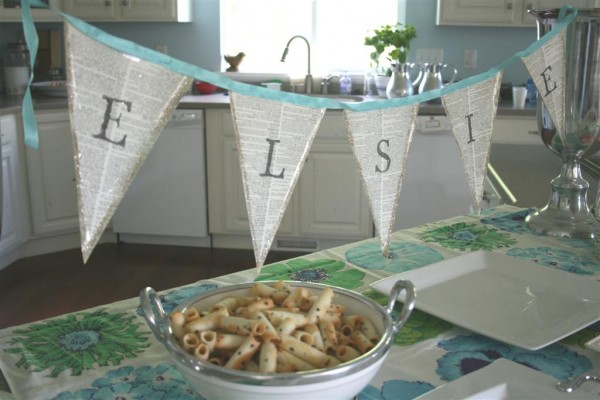 A couple of weeks ago when my brother got married, I mentioned that we also hosted a gathering for another brother.  He and his little family traveled from Mississippi to be with us, and while they were here they blessed their new little baby, Elsie.  We were honored to host the blessing in our home, and it was so kind of Christa's family to come here and join us for the event.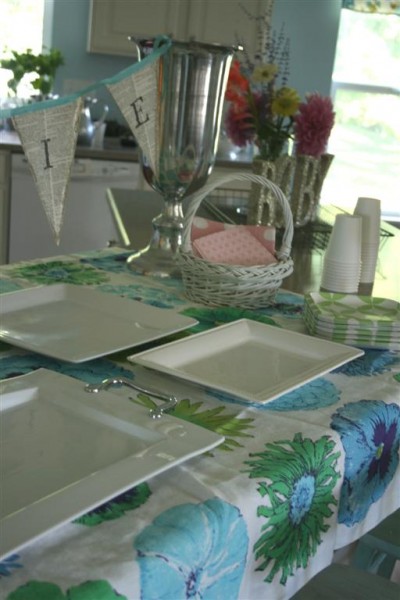 I knew I'd only have a few minutes to prep for the blessing but I wanted it to be nice.  I wanted to do something for Brent and Christa that showed them we love and support them, and I wanted things to look nice for Christa's family.  That can be tricky when you also have three other four other families staying with you, but I think we managed.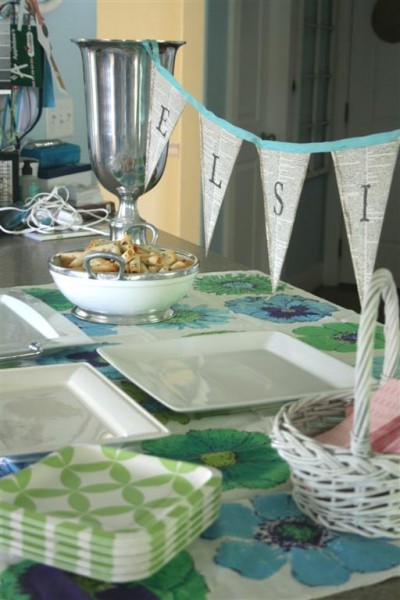 I built the decor around two things, the vintage tablecloth with green and turquoise flowers, and the Elsie banner.  I used all white dishes, simple plates and napkins, and we had milk and water to drink.  Too late I thought about finding some little milk bottles to serve drinks in, with striped paper straws.  It would have been perfect, but I couldn't find what I was picturing, at least not disposable or cost effective.
Christa's family brought the food, so we had it all prepped before they came and it only took about 3 minutes to arrange.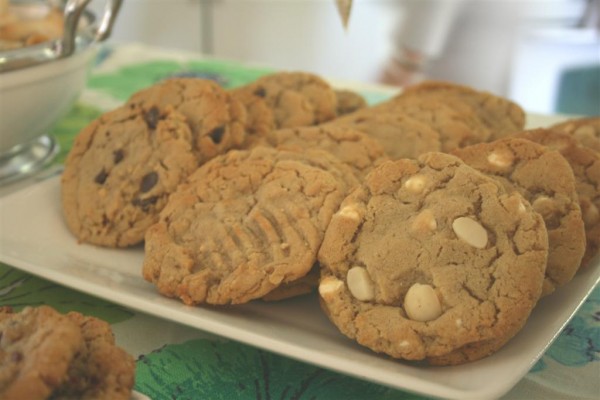 Much as I love cupcakes, it was kind of nice to see something as simple as cookies being served.  They were delicious, and a variety of cookies were offered.  My personal favorite:  molasses.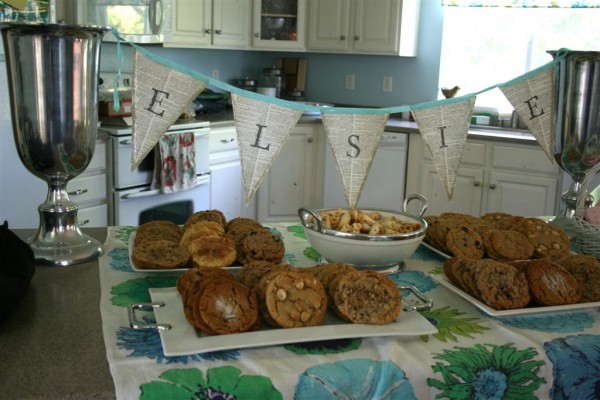 The banner was fun and easy to make.  I tore some pages out of my vintage dictionary and cut them into triangles.  I then glued some glitter to the edges and stamped the letters with rubber stamps and ink.  We simply stapled them to the aqua ribbon and I used the large silver urns to anchor them on each side of the food.  They provided just enough height for the banner to hang over the cookies.  At the end of the evening I put both the banners in a bag and sent them home with Elsie's family.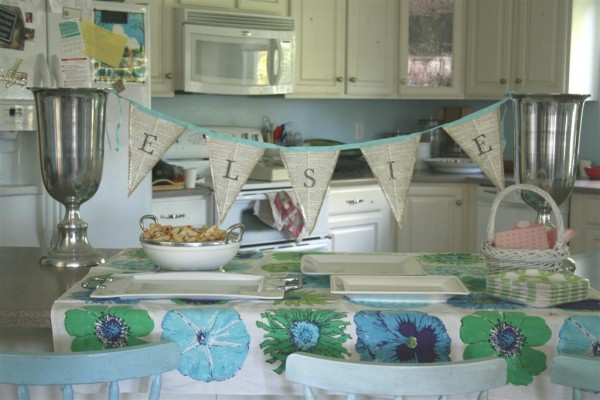 We made a second banner and set up a second table in the backyard for the children and others who would want to sit out there.  I set up a couple of tables with chairs and tied aqua sashes around the chairs.  And then I forgot to take a single picture.  I guess that's what happens when you get busy playing hostess.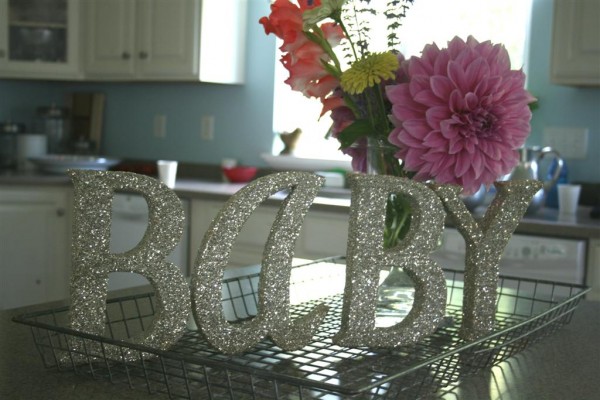 On the other end of the counter near the drinks I got out my silver glittered baby letters and took a walk around the yard for some fresh flowers to cut.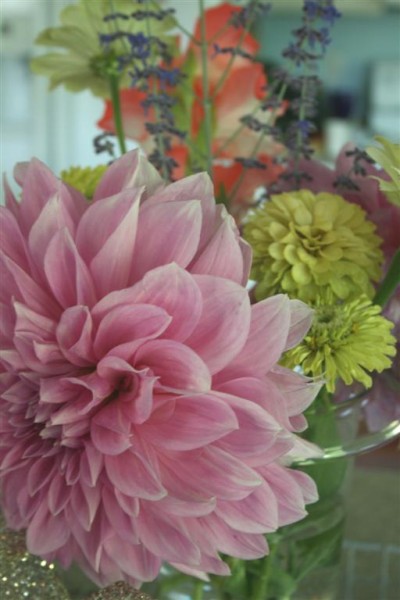 In the end, I think everyone had a great time.  People visited and lingered, and seemed to enjoy themselves.  It was such a great day.  And my payment for it all?  Holding beautiful little Elsie.  Oh, she is precious.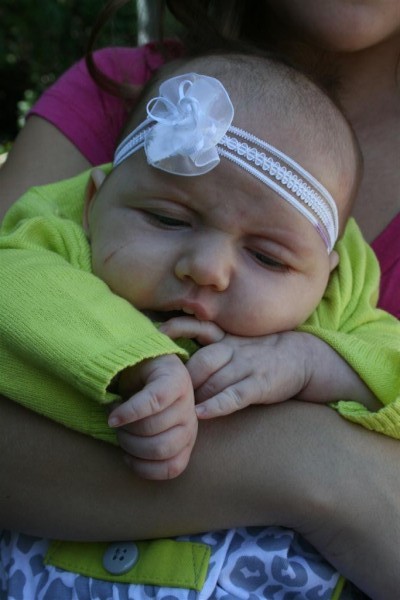 Brent and Christa, thank you so much for sharing such a special day with us!  We love you and miss you and think you're amazing.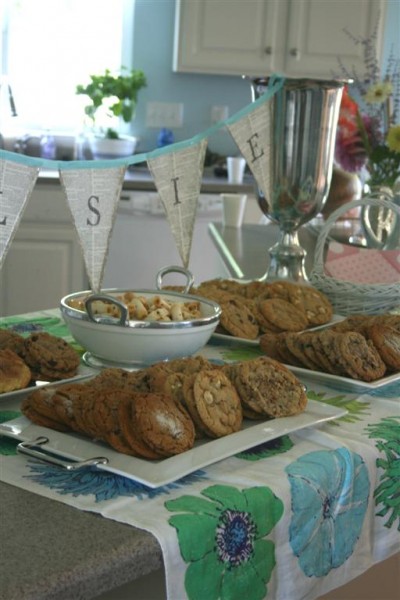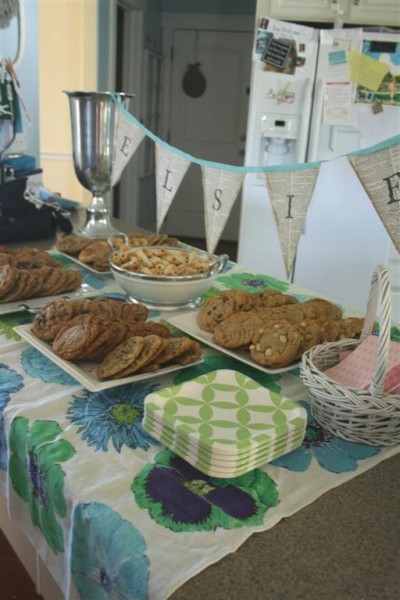 Jennifer