Pumpkin-Ricotta Stuffed Shells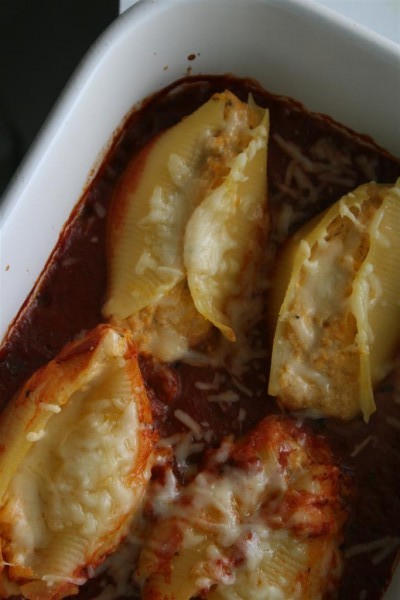 I saw this recipe on page 124 of the October 2011 issue of Country Living magazine and have had it sitting on my kitchen counter ever since.  One of my favorite things to do every fall is try new pumpkin recipes (as well as make old favorites) so this was a great opportunity.  I also love finding ways to use pumpkin in savory ways as well as sweet.
And so, last week I served this pasta to my family for dinner.  Honestly, I wasn't sure what they would think, especially my husband, but they all raved about it and were relieved I had made two pans full.  I guess that means it's a keeper!
So here is the recipe, in case you don't have the magazine.  My family recommends that you try it!
Pumpkin-Ricotta Stuffed Shells

Ingredients:
24 jumbo pasta shells
1 Tb. olive oil
22 ounces fat-free ricotta cheese (2 1/2 cups)
1  (15 ounce) can pumpkin puree  *make sure you don't get pumpkin flavored for pumpkin pie!
3/4 cup plus 2 Tablespoons (2 1/2 ounces) grated Romano cheese
1 large egg white (I just used a whole egg)
2 garlic cloves, minced
1 cup fresh basil, chopped  (you can certainly cut back on this if you don't love basil)
1 Tb. fresh sage, finely chopped (I used dried)
1 tsp. salt
1 tsp. ground pepper
1 (26 ounce) jar store-bought tomato sauce (I used spaghetti sauce)
Preparation:
Cook pasta shells according to package directions.  Drain and transfer to a baking sheet (or piece of aluminum foil) and drizzle with oil.  Let cool.
In a medium bowl, stir together ricotta, pumpkin, 3/4 cup Romano, egg, garlic, basil, sage, salt and pepper.  Mix well.
Spread spaghetti sauce in bottom of a 9×13 inch baking pan.  Fill each pasta shell with about three tablespoons pumpkin-ricotta mixture.  Arrange shells in pan.  Cover with foil and bake at 350 for 30 minutes.  Remove foil, sprinkle with remaining cheese and bake 15 minutes more.  Serve and enjoy!
Note:  I prepared this dish the day before, stuffed the shells and stored them between layers of plastic in an airtight container overnight.  On the day I served them, my only prep was to pour the spaghetti sauce in the pan, arrange the pasta and bake!  They tasted delicious, and the few we had left were delicious the next day as well.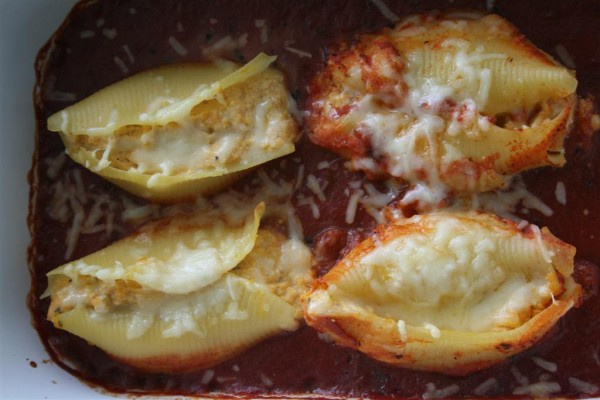 This was a delicious recipe.  It's meatless and relatively low in fat, considering that it's mostly "cheesy".  According to the nutrition information provided by Country Living, one serving contains 321 calories, 22 grams protein, only 9 grams fat, 39 grams carbohydrates, 6 grams fiber, 977 milligrams sodium and 19 milligrams cholesterol.
I hope you'll try it!
Hopeful Homemaker