Chocolate Fudge Cake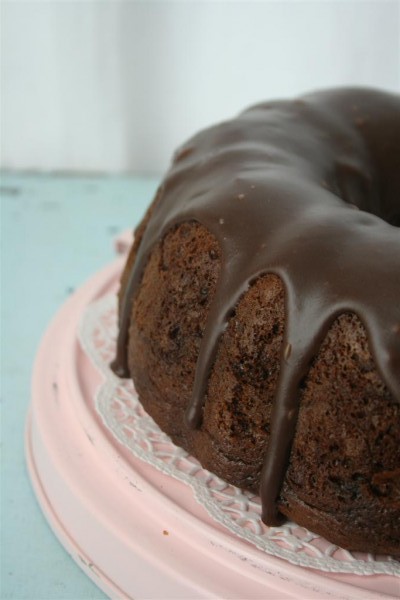 After my little

comparison between cakes and life

yesterday I figure the least I could do is share with you the recipe.  It's one of those cake-mix-gone-gourmet recipes and we won't even talk about how fattening it is.  We'll just talk about how incredibly moist and flavorful it is and you can just file it away in your mind as an easy, sure-win Valentines Day dessert in the next few weeks.  It's really good.  {And I'm lucky we have ten people to share with in my house; it means I can't eat too much.}
I got the recipe from Bonnie at

Cotton Way

, but I did make a small change, which I'll tell you about.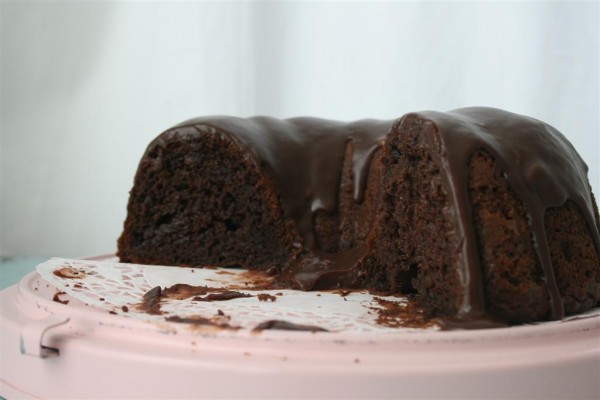 Here's what you need to make this luscious cake.
Chocolate Fudge Cake
1 fudge cake mix
4 eggs
1/2 cup oil
1/2 cup water
1 large box instant vanilla pudding
1 cup sour cream
1 3/4  cup milk chocolate chips, divided
1/4 cup butter
3/4 cup whipping cream
If you're like me you got to the pudding and sour cream and in your mind you said, "Yep, moist!"  Oh yes, very moist.
In a mixing bowl, combine cake mix, eggs, oil, water, pudding and sour cream.  Mix together for 5 minutes.  Add one cup chocolate chips and stir in.  Grease a bundt pan and spoon batter into pan.  Bake at 350 for 55 minutes.  Cool in pan for 15 minutes, then invert.  Cool completely (at least another 30 minutes).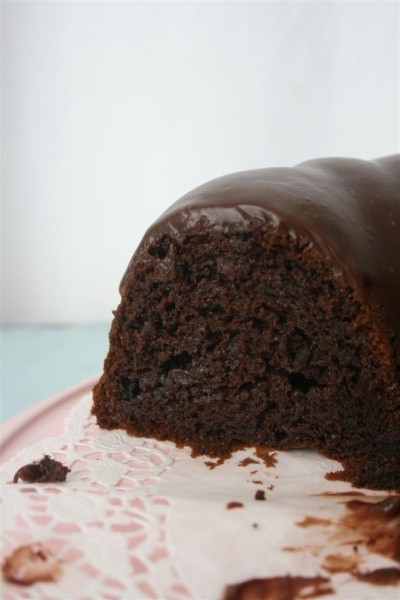 Here is where I diverted from the recipe.  It calls for a can of store bought chocolate frosting, and without offending any store bought frosting fans, I'll just say that I don't buy it.  Period.  So we needed another alternative.  I had some whipping cream in the refrigerator that needed to be used, so I whipped up some chocolate ganache.  It was fabulous, a great pairing with this cake.
For the ganache:
3/4 cup whipping cream
1/4 cup butter
3/4 cup chocolate chips  (I usually use semi-sweet, but since I had just opened a bag of milk chocolate chips for the cake I used them instead, and surprisingly, it didn't taste too sweet.)
In a small saucepan, heat cream and butter until just before it boils.  Remove from heat.  Place chocolate chips in a bowl and pour hot cream mixture over the chocolate chips.  Whisk until chocolate is completely melted and the ganache is smooth.  Let sit, stirring occasionally, while it cools.  You want it to cool to a good drizzling consistency, still warm enough to meander down the sides of the cake, but cool enough that it goes very slowly and doesn't puddle.  It takes a little while, but it's worth waiting.
Let the ganache set and serve that cake!  I hope you love it.  And here's just one more picture of an incredibly moist cake with ganache on top.  I love the way it shines slightly in the light.  YUM!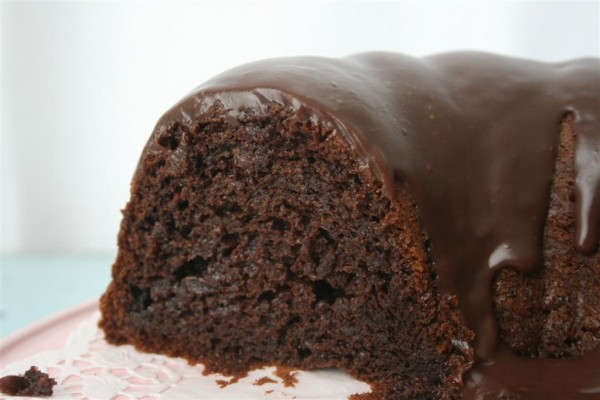 Oh, we've been embellishing some mini notebooks this week over at

Sisterview

.  It's a fun way to get the creative juices flowing, and would be a fun activity with the kids too. You could turn it into a Valentine as well.  Check them out!
Have a great weekend!
Hopeful Homemaker