Cranberry Florentines
I found this cookie recipe in Matthew Mead's Christmas publication and intended to make it but didn't get to it until January.  These cookies are amazing!  They're different, not overly sweet, chewy and have great flavor.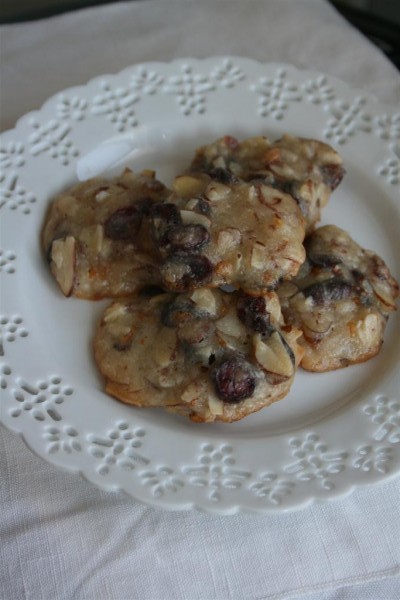 The method of preparation is unlike any cookie I've made, which intrigued me.   It might intrigue you, too.
Ingredients:
1/2 cup heavy cream
1/2 cup granulated sugar
4 Tb. butter, divided
1 cup sliced almonds
1/2 cup dried cranberries
2 Tb. chopped candied orange peel (optional)
1/3 cup flour
1/4 cup chocolate chips
Preheat oven to 350.  Line baking sheets with parchment paper.
In a saucepan, combine the cream, sugar and 3 Tb. butter.  Bring to a boil.  Add almonds, cranberries, orange peel and flour.  Stir to combine.  Remove from heat.
Drop cookies by the teaspoon at least 2-3 inches apart on baking sheet.  These cookies spread during baking, so space them well.  Bake for 8-10 minutes or until the edges are brown and crisp.  Let cool on baking sheets for 5 minutes, then remove to cooling racks.
Melt chocolate chips with remaining 1 Tb. butter.  Drizzle chocolate over cookies.  Serve and enjoy!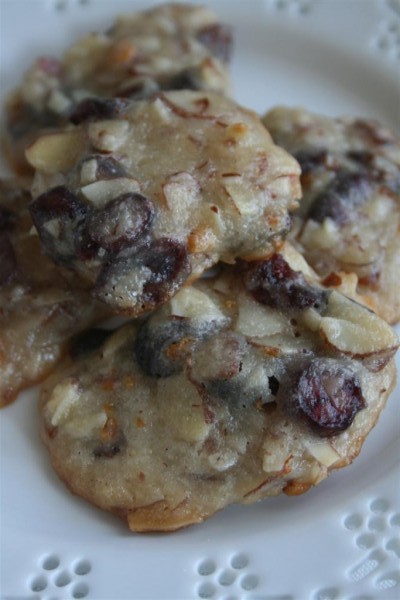 A few notes:
I've made this recipe twice, once with candied orange peel and once without.  I was the only person who could taste a difference.  It doesn't make or break the recipe.
I dropped my batter by the tablespoon.  I got 2 1/2 dozen cookies by this measure.
The first time I made them I drizzled chocolate on them.  The second time I didn't.  They're delicious both ways.  I liked them so much that I skipped the chocolate on the second batch.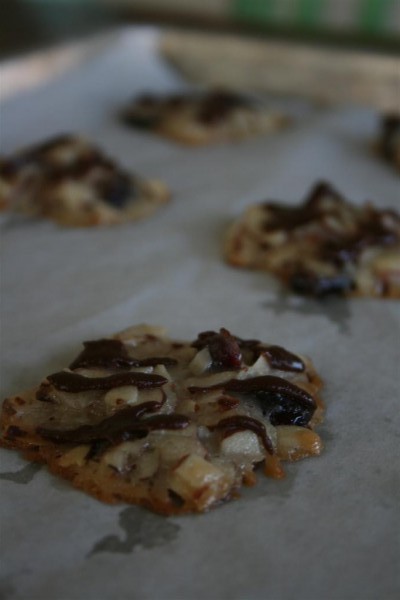 I'm happy to add this recipe to my cookie recipe file.  It's unlike any other cookie I've tried.  I hope you try them!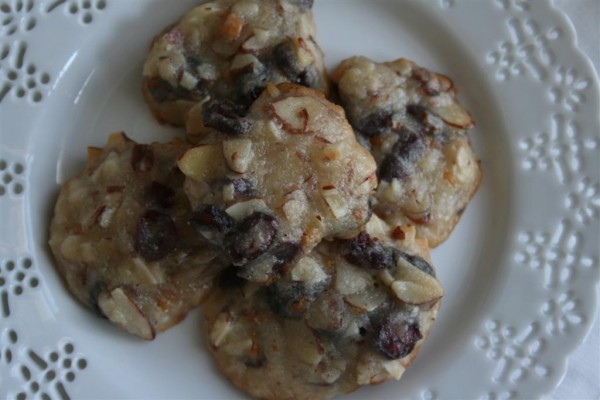 Jennifer