A Sewing Class
Well, it's February.  I've turned the page on January's list of goals to begin a new month.  My sister and I signed up to take an online sewing class together this month, a class on sewing curves, taught by Rachel at Stitched in Color.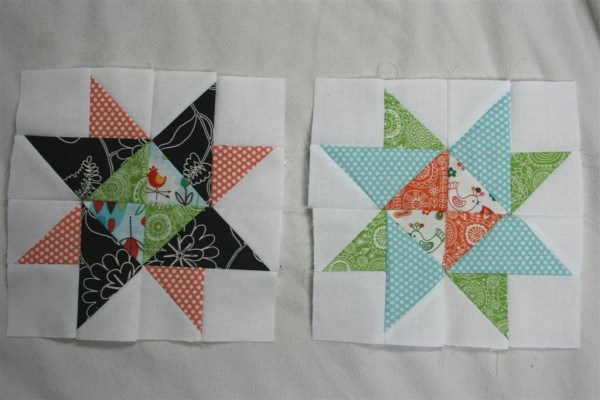 I'm really excited about the class.  I've taken sewing and quilting classes before but this is the first online class I've been involved in.  I think I've sewn just one curved seam in my life, so this will be a good thing for me to learn.  Learning new skills is part of my goal for 2012, to feel more joy.  When I'm learning I am happy because I'm growing.  The moment that cinched the deal on paying for the class was when I saw this retro flowers quilt.  I want to make one and so I'm going to learn how to sew curves.
My biggest worry with this class is that I really don't have time for it.  The lull on our calendar during early winter has disappeared and life is in full swing at our busy home.  I hope I'll be able to find the time to master this skill and make some great things along the way while still keeping life running smoothly.  That's why my sister and I signed up together, so we can make sure we get our projects done and keep life balanced as well.  I'm super excited to take the class with her.
For those here visiting from the class, I'm a stay-at-home mom  who would love to actually be able to spend more time at home!  I have eight children ranging from age 14 to 2 and yes, they're all mine.  (Hence my nervousness about not finding time to master this like I hope to.)  Sewing has become one of my favorite hobbies, something permanent that I can do in a home where everything seems to be undone 2.5 seconds after I finish it.  I love color, texture, pattern and using beautiful fabric seems to fill a creative need in my life.  Honestly, my skills are probably somewhere in the novice circle, but I'm not bothered by it.  I know I'll get better over time and make a lot of useful things along the way.  I try to spend a few minutes every day or two at my sewing machine, even if it's just for ten minutes.
I've always loved to make things and hope I'll learn to make some great new things this month.   So welcome, February!
What are you going to do this month?
Jennifer