The Way of Tulips
My husband gave me tulips for Valentines Day.  I love tulips, love them so much.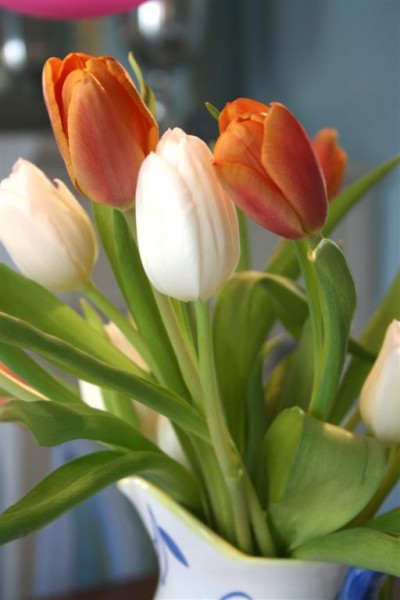 There is something about the way tulips bend and reach that speaks to my heart.  They lean on each other, they reach out and around to bend toward the light.  Sometimes they bow in the middle yet the flower so often lifts its head.  I love how gracefully they do this.  They are graceful yet strong.  They communicate movement, change and pose all at the same time.  I love it.
I don't feel like I've been very graceful lately.  I've been overwhelmed by some of the challenges of motherhood, worried sick about some of my children, tired, anxious.  I want to follow the example of my tulips.  It's ok to bend and to lean, but it's best to still lift your head to the light.  So what if I have some things I'm not happy about?  That's all the more reason to seek happiness, to lift my head, to calm my heart and find peace in doing my best, in doing what is most important.  All the more reason to put a smile on my face and a bounce in my step, to find delight in little things.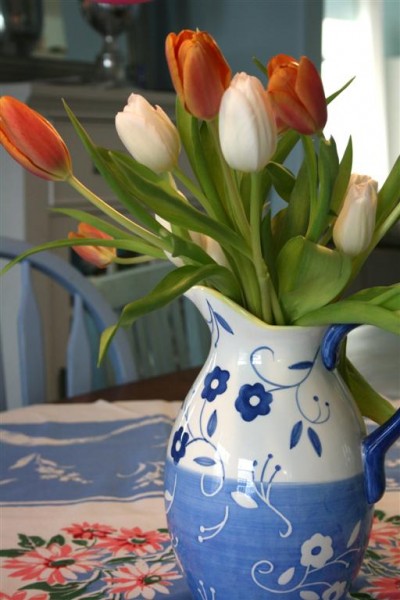 As I've watched these flowers for the past week, I've been reminded of my favorite Shaker hymn, "Simple Gifts."
Tis the gift to be simple, 'tis the gift to be free
'Tis the gift to come down where we ought to be,
And when we find ourselves in the place just right,

'Twill be in the valley of love and delight.

When true simplicity is gain'd,

To bow and to bend we shan't be asham'd,

To turn, turn will be our delight,

Till by turning, turning we come 'round right.
I guess one of life's great lessons is coming down happily where we ought to be, even though it isn't where we thought we'd be, bowing and bending with grace and not shame, trusting that we'll come 'round right in the valley of love and delight in the end.  And trusting God even when the turning feels more like spinning.
Jennifer