Heart Shaped English Toffee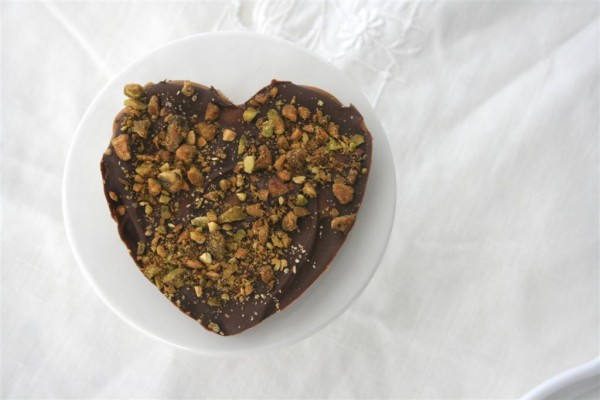 It's becoming a tradition for me to make a batch of English toffee for my husband every Valentine's Day.  He loves English toffee, but I don't make it very often so it's a thoughtful gift.  This year I wanted to try something other than broken shards of toffee in a bag or tin, so I sprayed some non-stick spray in some heart shaped metal pans and poured the hot toffee in them.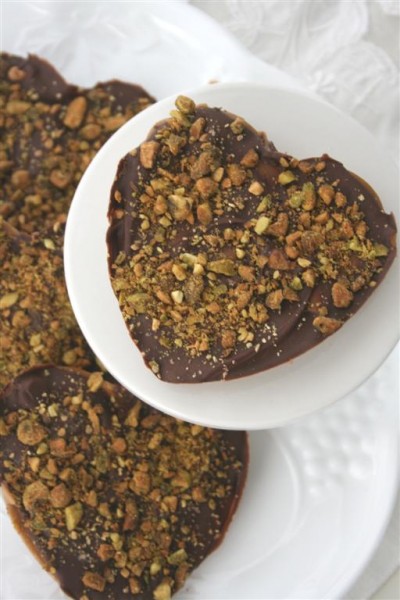 I then sprinkled the hot toffee with chocolate chips, let them melt a little, then spread the chocolate and pressed chopped pistachios into the cooling chocolate.  I worried that the toffee might be difficult to release from the pans, but they came out very easily and none of them broke.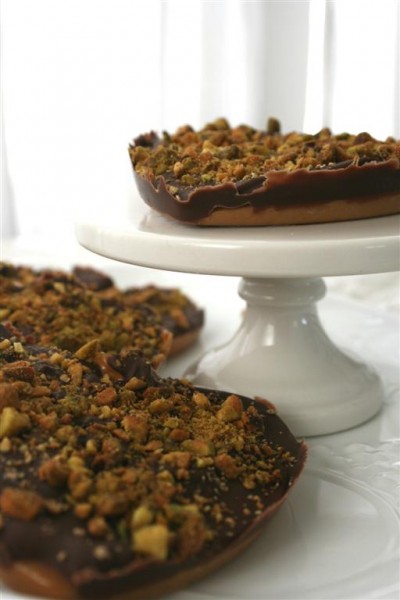 I don't think my husband cares what shape the toffee comes in, but I enjoyed trying something new.   Sometimes the best treats are common things in a new shape.
If you're wondering, this is the toffee recipe I use:
English Toffee
Ingredients:
2 cups butter
2 cups sugar
1/4 tsp. salt
2 cups semisweet chocolate chips
1 cup finely chopped nuts (I used pistachios)
In a large heavy bottomed saucepan, combine butter, sugar and salt.  Cook over medium heat, stirring until the butter is melted.  Allow to come to a boil, and cook until mixture becomes a dark amber color and the temperature has reached 285 degrees F.  (My recipe says to stir occasionally, but I've found that if I don't stir pretty frequently the bottom sometimes burns.)
Line baking pan with aluminum foil or spray with non-stick spray.
When toffee reaches proper temperature, pour onto prepared pan.  Sprinkle chocolate chips over the top and let set a minute or two to soften.  Spread chocolate into thin even layer.  Sprinkle nuts over chocolate and press in slightly.
Place toffee in refrigerator, if desired, to speed setting.  Break into pieces and store in an airtight container.
Enjoy!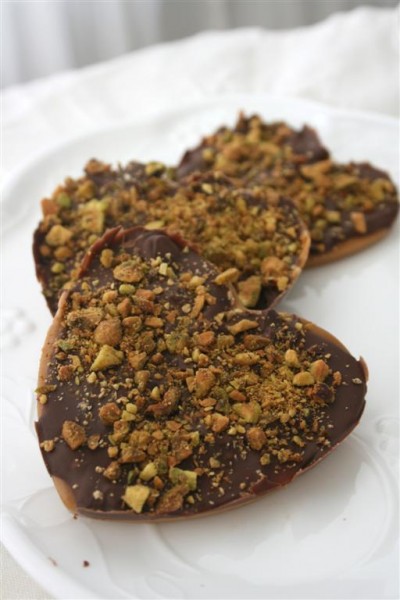 Hopeful Homemaker