Yuck.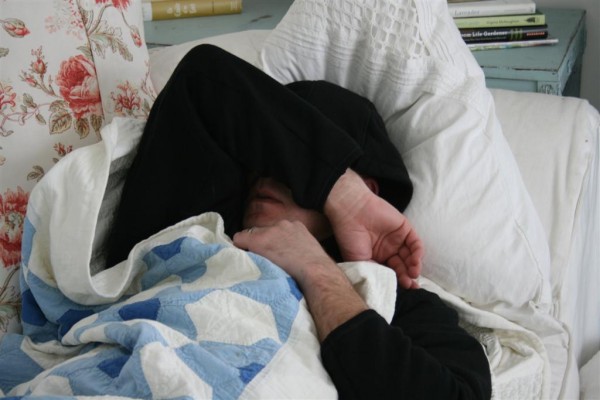 I love this picture, taken Sunday afternoon, of my husband napping in the living room.  It makes me smile for many reasons.  I love that he loves his naps, and almost always gets one on Sundays, no matter what else is going on.  I love the sight of him all bundled up in his black hoodie under one of my favorite quilts.  I love the memory of him sleeping with his arm over his face to block the sunlight filtering through the all-white room and also to mute the sound of our 14 year old son playing the piano a few feet away.  And yes, he was playing because he wanted to wake up his Dad and play a game of ping pong.
Of the ten of us, all except for that funny 14 year old boy has had a day or two like this on the couch.  We've had a fast-moving flu bug going through the family and yesterday was my turn.  I always feel bad for my children when they're sick, but this one seemed to be quick and fairly light because several of the children threw up once, slept a little, and were fine.  Not so for me!  There's nothing like suffering it yourself to increase your compassion for your children who have already been through it.  And there's nothing like being completely sick to make you incredibly grateful for the competent help of a 13 year-old daughter who ran the house and took care of the children all day.
Gratefully, I'm mostly back to the land of the living today, and we only have one child home from school.  I'm really hoping that it's about run it's course and that we'll be back in the swing of things by the end of the week… just in time for spring break!  My goal for the week (before so many of us got sick) was to get the house clean and organized so that spring break could feature less work and more play.  I feel more buried than ever but I'll do my best to catch up!
I feel a little anxious about Easter.  There was so much I planned to do that I haven't touched because we've been playing sick again.  More than anything I want my children to feel the spirit of Easter and have their hearts rejoice in Christ.  Creating those moments takes time and planning and my week has certainly been short on both thus far.  We have been doing one thing every night which has brought a wonderful spirit into our home at the close of each day.  We've been

watching some of these videos

before bedtime.  They're a great way to review highlights of the Savior's life and teachings in anticipation of watching the videos of his suffering, crucifixion and resurrection.  I highly recommend them!
So I'm off to pick up the trail of two-year-old clutter all over the house, figure out how to catch four students up on their homework before the break, and pull our house and lives back together… now that it's Wednesday afternoon!  What do you do when you're crazy behind?
HH