Turquoise Star quilt top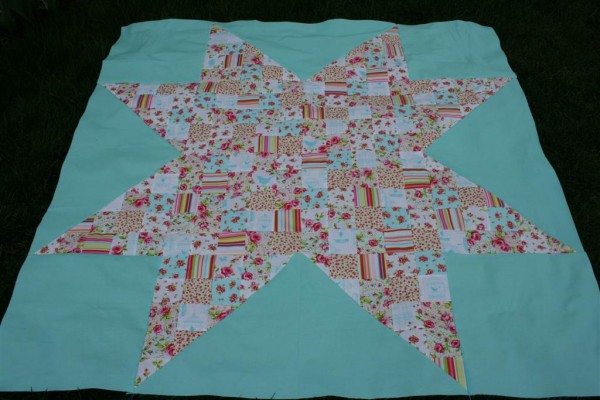 My little squares of cheery fabric have become a finished quilt top.  I used the instructions found at Pins and Bobbins for the Made in Cherry Quilt Along.    I made the smaller 60 inch size, which actually made this a super fast project.  Once I got all the squares lined up on the bed, I broke it into small sections and was able to work at it in 10-15 minute segments until I had it all pieced together.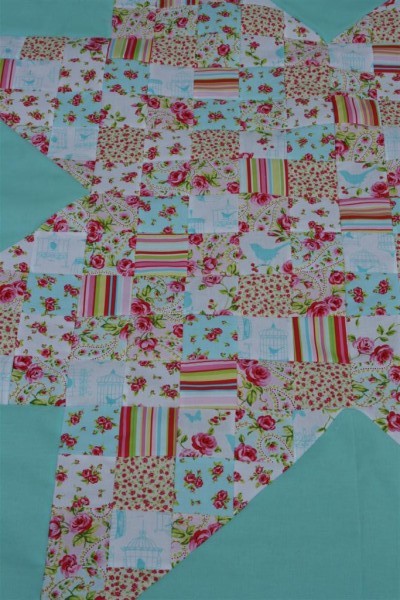 For this project I cut into a small stack of prints from the Tweet collection by Timeless Treasures.  (You can find some of them here.)  The turquoise solid I had in my drawer just happened to match and I thought it was good for me to use a solid other than white for a change.    I'm proud of myself for cutting into relatively new fabric instead of fretting about having the perfect project for it.
This is the fourth project I've finished in 2012 that is still waiting to be quilted and finished.  I did baste the Little Man quilt top and made a couple of passes for quilting, but am unhappy with it and need to pull it out and start again.  Ugh!  I wonder if I'll get it done in time for the baby to still use it!  (I know, I know… it would certainly get done if I worked on nothing else in those stolen 10 minutes each day.)
Sooo, I'm off to clean bathrooms so I can perhaps find a few minutes to spend with my seam ripper later tonight.
Have a great day!
Jennifer