Joy, week 20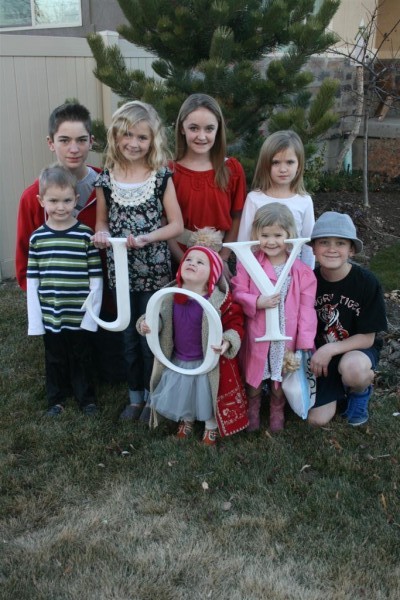 It's almost completely dark outside and the children have turned off all the lights except for two lamps.  Six of them are gathered around their Dad on the couch watching videos of tornadoes after asking some questions about them.  My little one is curled up next to me, laying her head on her shoulder and whispering things to herself while I type.  Dogs bark outside and the cool air wafts through open windows.  It's a happy, cozy night.
We watched the solar eclipse tonight.  Clouds masked it from view for a while but we got some good looks at it, which was exciting.  It was fun to be outside with so many neighbors, all set with their various tools for watching.  My 11 year old's scout leader gave him some glasses for viewing the eclipse which turned out to be by far the most effective tool.  He was generous and shared them with all of us as well as letting 2 or 3 other families take turns.  I'm grateful someone keeps track of these things (I don't!) so we can see such things.
We had a good week, but not enough was accomplished.  We finished up two soccer seasons and now have tryouts to deal with.  I'm more than a little worried about what needs to be done this week.  So much on the calendar, so many things to wrap up at school, recitals, and so forth.  We're so close to being done, but the excitement won't hit until we're through these woods.  Some things I'm already counting:  only 39 more lunches to pack and then I'll be down to just packing a lunch for my husband.  THAT will be nice!  Only 8 days left of school.  I have so much to do in that time!
Tonight I feel very humble.  The migraine has continued and I find myself worn down by the pain, a bit on the emotional side, and very tender hearted.  I'm so grateful for the days when I feel good and am anxious for one of those days to hit.  I am grateful for good friends and for the patience of my family during these past few days.  I am so blessed.
The many goals I have are on the back burner while we survive this month.  I'm excited to slow down, re-evaluate, and get back on course.
The whispering of my two year old has given way to the steady breathing of sleep.  Across the room on the couch, bodies have curled up and sunk into more relaxed positions and the four year old is sound asleep in the middle of the pile.  Night is upon us and we're going to get some extra sleep before facing life tomorrow.
Good luck to all of us!
Jennifer