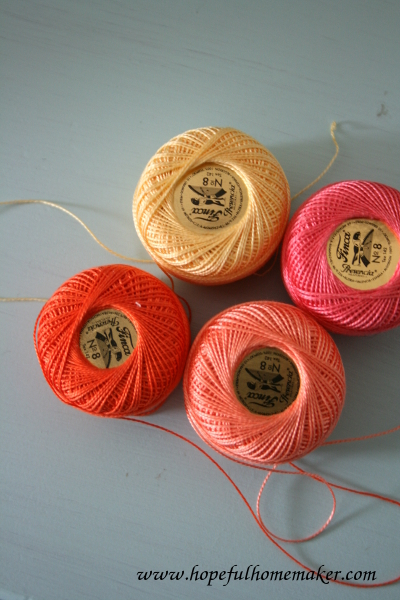 I'm really loving these colors lately – yellow, gold, peach, coral, pink.  They remind me of a sunrise as glowing colors chase away darkness, full of promise and clarity for the coming day.
There was a pause in my afternoon that could only be properly filled with a prayer of gratitude.   I began the year with a burning desire to conquer myself, to seek self mastery and discipline in the deepest parts of myself where my particular bundle of characteristics, gifts and gaps leave me lacking and

especially

in those areas that affect my family.   For the first time in years I haven't spelled out specific goals, seeking instead a destination that I don't see yet but sense is there waiting – beckoning – to me and my family.   Like those first golden rays of day, I feel like I'm at the beginning of something wonderful.   It seems like there should be a destination, but what really beckons me isn't a what or a place but a WHO.  My calling at church right now has me flying back and forth through my scriptures – Genesis to Galatians, then to Helaman and on to Revelation, then back to Abraham and in the end I sit in the center of it all, my mind spinning and reaching and reeling.  And yet still.  Perfectly still and centered on the reality of Jesus Christ and his Atonement.  His atonement for me.  For my family.  For the lady sitting in the pew behind me who I've never met but when I introduce myself tells me her story and has me in tears before the meeting starts.  For all of us.  And like Hannah, I think to myself, "There is no other rock like our God!"
He is where the sunrise comes from.  I've been on my knees more, seeking help with challenges much bigger than I am, trying to place EVERYTHING on the table and hold nothing back, almost desperate for the recipe – both ingredients and ratios – he has for my family.  I feel willing to change anything he tells me to change if it means my children will be drawn closer to Him.  It's so interesting to pray, try, fail, pray, try, fail and then suddenly to have more clarity than I can act on in one day.  It happened this weekend and it felt like a sunrise.  It would be easier if there was an overall need to pull in, or the prompting to push out in all directions – a simple shrinking or expansion of a circle.  Instead it's a pull in here, a stay steady there, a bump out in one spot and a major push in another.  I think I understand my instructions but get going and make a mess anyway, then go back for more instructions.  The thought occurred to me this week that maybe the Lord is drawing a circle after all; I just never knew how misshapen mine was to begin with.  I look around at other parents who have seen teenagers through the tunnel of adolescence and into the light of adulthood and wonder if this intensely personal experience is really a rite of passage for all parents, the quiet that lives behind the gritted teeth and quiet determination I've sometimes sensed.
Here I go again making everything solemn and serious and important (one of those fundamental parts of me that I'm trying to master).  There's so much more to it than that!  As I type this, my 16 year old son laughs and chases his 11 year old sister across the room to pick her up and swing her in a circle.   My oldest daughter sits at the piano working on her piece for an upcoming recital and I remember that not once have I asked her to practice and yet her music elevates everything, adding a layer of beauty to us all.  My 13 year old curls up with a book while the younger three girls sit quietly drawing.  The almost eight year old boy who never eats dinner asks if he can make another sandwich.  The dishes are done, the floor is swept, rooms are tidy.  If you walked in our door right now you might feel like you've entered a storybook of sorts because

in this moment

we have a beautiful family culture.  But it wouldn't tell the story of this afternoon's fight between two brothers, of the food that flew across the kitchen during dinner from the wildly waving fork of that youngest boy.  You would have missed the ill-timed nap of the four year old who awoke an emotional wreck or the accusations of teenagers about how unreasonable their parents are.  You never saw the girl whose cell phone isn't working right nearly hurl it across the room.  The mess I made preparing dinner is gone and the stress of getting everyone up an hour earlier for school in the morning (daylight savings time)  has been delayed a day thanks to some random day off of school.  Which is precisely why I'm relaxed enough to sit here and type instead of being militant about bedtime.  I'm reminded of something Howard W. Hunter said many years ago about the story of Jarius who sought Jesus as his little daughter lay near death:  "I pray thee, come and lay thy hands on her, that she may be healed; and she shall live."  President Hunter said, "These are not only the words of faith of a father torn with grief but are also a reminder to us that whatever Jesus lays his hands upon lives.  If Jesus lays his hands upon a marriage, it lives.  If he is allowed to lay his hands on the family, it lives."
I want my family to live.
The bubble has burst and the moment is gone like the last traces of sunset in a now dark sky.  Someone is screaming and someone else is poking their neighbor in the back.   I think back over my week and see pieces of many things:  A conversation with a friend who carries an invisible but crushing burden with such grace and faith that she looks glorious to me, a school teacher reaching out to a struggling child, a boy weeping over his struggles, a little girl curled up on my lap fighting a fever.  I wish I'd kept count of the number of women I watched as they went about doing good, each of them teaching me something.  I did some things right and a lot of things wrong.  I talked too much (another fundamental flaw).  Yesterday I needed to repent and felt so good when I'd done it.  I remember teen-aged boys showing up at my house for lunch, another boy being humble enough to do what was asked of him, a little girl who worked hard to earn a privilege that was important to her.  I ran into a friend and my heart broke to hear firsthand her journey in recent months.   My heart felt broken for my little sister.  A far away friend shared a touching summary of recent months for her family.  Again and again I was struck by how hard life is for all of us, by how tremendous our burdens are, but also how perfectly tailored they are for our development and increased happiness.  I heard determination, faith, optimism and hope fighting their way to the front of their lives (those glowing colors again!) as they, too, reach for the promise and clarity that Christ has to offer.
He is where the sunrise comes from.  The beginning of everything good.  A journey worth taking.