Cherry Tart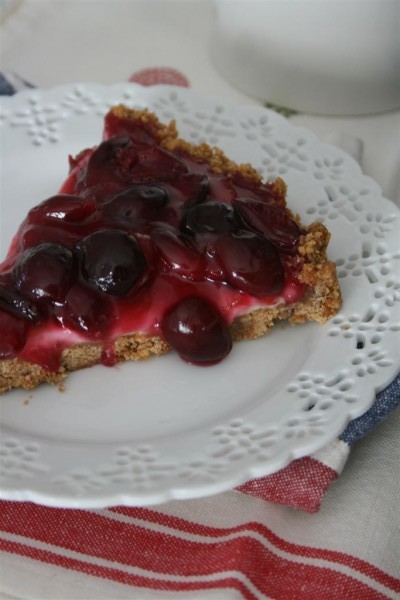 I did manage to make something fabulous with our cherries before we froze and dehydrated all that we hadn't eaten fresh.  It's a new recipe, and most definitely a keeper.  It wasn't difficult to make but had great flavor.  It was gone so quickly that I only got a picture of the last slice!
Fresh Cherry Tart
(adapted from a Southern Living recipe)
2 cups graham cracker crumbs
4 Tb. sugar
1/2 cup plus 1 Tb. melted butter
3 1/4 cups fresh cherries, pitted
1/2 cup sugar
4 1/2 Tb. corn starch
4 1/2 Tb. water
2/3 cup orange marmalade, divided
2 Tb. butter
8 oz cream cheese, softened
1/3 cup sugar
For the crust:
Crush graham crackers into crumbs until crumbs measure 2 cups.  Add sugar and stir.  Melt butter in separate bowl and pour into graham cracker mixture.  Mix until combined.  Press into 10 inch round tart pan and bake at 375 for 6 minutes.  Remove from oven and cool completely.
In heavy sauce pan, combine cherries, 1/2 cup sugar, corn starch and water.  Cook over medium heat, stirring constantly.  Bring to boil and cook for 1 minute or until thickened and bubbly.  Remove from heat.  Stir in 1/3 cup orange marmalade and 2 Tb. butter.  Cover and chill for 2 hours.
While cherries chill and crust cools, mix cream cheese, 1/3 cup sugar and remaining 1/3 cup orange marmalade together in medium bowl.
To assemble tart, spread cream cheese mixture on bottom of tart crust.  Cover with cherry mixture.  Chill if desired or serve immediately.  Enjoy!