Joy, week 37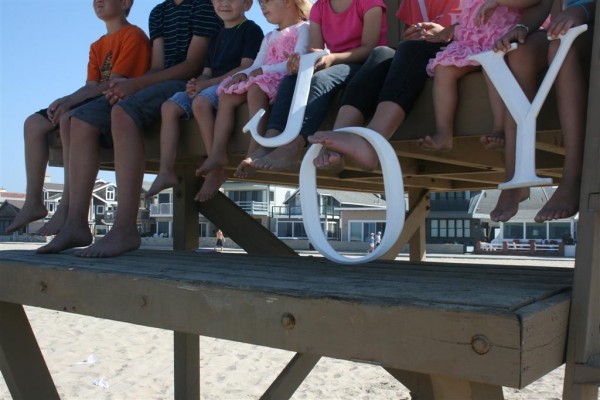 Another breathless week and I'm having a hard time facing the reality of Monday morning.  My son asked me a few minutes ago how long he's been in school and it surprised me to tell him that it hasn't quite been a month.  What a long month it's been!  On the one hand it's flown, but I feel like we've been doing this for a long time already…
Victories for the week:  I had a deadline to take care of early in the week that worked out, I think.  I was able to spend an afternoon at my brother's house helping my sister-in-law re-cover her kitchen chairs with new fabric.  It was fun for my little girls to play with their baby cousin and I loved talking to her.  So rarely do people actually ask you to help with a project you offered to assist with, I had to jump on this one!  I did better with planning/executing meals this week, especially on the crazy nights.   I had a meeting to go to Thursday night which turned out to be an opportunity to talk to some old friends.  It also provided an opportunity to say hello to individuals whose actions hurt me very deeply a long time ago, and while I haven't avoided these individuals, I certainly haven't sought them out.  I've prayed a lot for those feelings of worry and hurt to give way to forgiveness so when the opportunity presented itself, I said a little prayer and extended something of an olive branch.  Gratefully it was well received and I walked away from the night feeling like I had chosen to grow a little, to become a better person in those minutes.  It felt good.
In other positive areas, I had a better grasp on keeping things moving the way I wanted them to when we were at home.  The children spent more time practicing the piano, doing little jobs around the house, and generally helping out.  I hope it will continue.  I exercised more.  I conquered the laundry room.  I think my planning/execution worked more smoothly although I want to get much better at putting first things first.  Even so, by Friday morning I was wound up again! (Just like last week.)  My elementary students have a half day of school on Fridays so they're kind of worthless as far as errands, projects, and even much housework.  Once again I used part of Friday morning to relax a little and calm myself down.  At first it annoyed me, but as I thought about it I realized that it's probably the best time for me to tank up emotionally.  Our weekends are very intense right now and anything but restful, so I decided that if I need to pencil in some down time to pull myself together then Friday morning is probably a great time.  It's nice to head into the weekend feeling cheerful and not run down.  Saturday morning I went to a local Modern Quilt Group and walked away feeling so happy it surprised me.
On the down side, I feel like I'm struggling with my goals to maintain healthy friendships.  That goal suffered considerably over the summer as well.  I suppose it just came with the territory given what I had on my plate at the time.  I find myself watching as the season gradually changes before my eyes and feeling a bit melancholy.  Summer is when people are outside, when neighbors connect and strengthen friendships, but I feel like I've hardly seen some of my closest friends.  I need to reach out more.  I'm making progress on the house but at a pace I'd like to improve.  I haven't touched the yard and it's sadly in need of attention.  The list of random things to take care of is so long that I have to be careful how often I let myself review it.
But I'm raising a family.  In all these details that can be so overwhelming I remind myself that being here is what matters most.  So I baked a lot of their favorite zucchini bread this week and had it waiting when they came home from school.  I was flexible enough that we were able to squeeze in a lot of time for friends.  I took three of my girls on a special outing while my husband took the other five to a separate destination and we all had a great time.  I showed my girls the house my dad grew up in and my daughter said, "Someday I'll be a mom and I'll show my kids the house you grew up in too!"  That night my four year old looked at me and said, "This is like a mother/daughter date, isn't it?  Mom, this is the best day in the whole world.  I love you!"  and I thought to myself that I can handle all the weeds, all the stresses, all the dirty laundry if I just don't miss these moments.  We had late nights talking with the teenagers.  I tried to look into their eyes and listen more.  I watched my son advance two ranks in Boy Scouts.  I watched my daughter disappear into a book, unaware of everything we said to her for hours while she was carried away.  I watched another daughter prepare most of dinner tonight.  Yesterday we wandered through our gardens, picking this and that and today we made two batches of fresh salsa.  The children spent the afternoon around the dining room table with paper, crayons, pastels, paint and pencils having art contests, giggling and laughing and enjoying life together.
It was a breathless week, but as I review all these precious moments in my mind I'm amazed that we fit so much in!  (Much easier to do because we don't watch television.)  I'm grateful to the Lord for giving us so many opportunities to connect, to tickle, to hold, to help.  Oh, we've got a lot of work to do in essentials, but we are so richly blessed I can hardly believe it.  Having a large family is a lot of things, and one of them is enjoying the company of marvelous people all of the time.  It's never, ever lonely here.  What a gift!
So the new week dawns and my heart is ready to sing with joy and gratitude to God for this journey that is mine, hard as it sometimes feels and as beautiful as I have eyes to see.  The darkness outside is now thick.  Indoors there are only two voices left for the others have gone to sleep.  My dishwasher slowly works for me as I type and all the creatures chirping outside don't miss a beat.  Before I know it another week will be gone, but if I still have all these people I love so much, everything will be just fine.
Have a lovely Monday!
Jennifer