Joy, week 48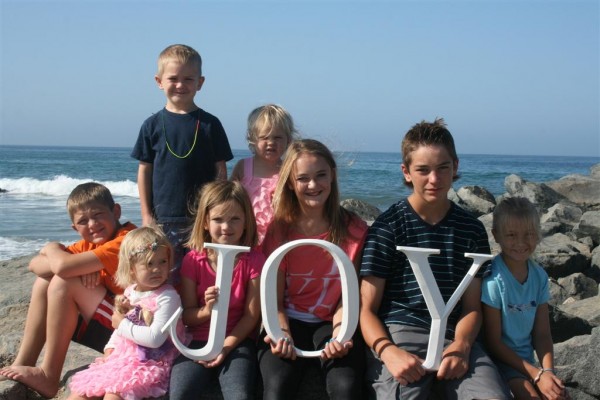 The lights in our house are dim.  A small Christmas tree in the other room glimmers cheerfully.  Downstairs I hear my parents playing ping pong with my children.  In a few minutes we will all gather together to listen to our Church leaders speak about Christmas and then the season will really feel like it's begun.  We'll sit together, some of us wiggly and some of us content, all piled together with popcorn and Christmas quilts and bask in just being together.
What a great weekend it's been!  My parents flew to town and we've loved every minute of being with them.  Our son who turned twelve received the priesthood this weekend and it was very special.  I'm so proud of him.  We've also enjoyed spending time with my brother and his family and my sister and her husband drove down from Logan to spend time with us as well.  We did a bit of shopping, lots of talking, lots of shaking our heads and laughing at the two teenagers in my home who have passionate opinions about everything that anyone says or does.
I was able to finish a few gifts and give them away early and it felt great.  In the past I often "save" a gift until Christmas, but in the last few weeks I've been giving more gifts right now, just for fun, and it has been wonderful.  I'm grateful to have a few things crossed off my list and taken care of, which gives me renewed energy to work on the projects I haven't finished.  I'm still hoping to make each of my children a quilt for Christmas.  I have four quilt tops finished, one of them partly quilted, two more quilt tops cut out and waiting to be pieced, and two that I'm a bit stumped on so I haven't even started them.  They're all VERY simple in design and construction, but the funny thing is that all my children care about is that there's minky fabric on the back.  So I'm going to keep working on them and hope I can finish.  Getting up an hour early to sew before waking everyone has worked well so far and if I can keep it up I should be ok.
I've found myself a little wound up again lately with stress, which has probably shown in these posts.  Stress over so many things that I can't really control, and others that I can only partially influence.  I've been discouraged that the emotional equilibrium I found had escaped me so suddenly.  I found that there were moments when the stress was paralyzing me, when I was standing there with a stomach ache instead of dismissing the things I can't control and prioritizing my efforts in my circles of influence.  Calming down and having the faith in the Lord to at least not feel sick has been a major objective this week, and I'm grateful to say that it worked.  Things will work out, not likely how I hope they will, but somehow things always work out.  The knot in my stomach is gone and there's gratitude instead.  For instance, I was feeling stressed about an expensive dental appointment coming this week; now I feel grateful that we have the chance to do this for our children.  I've been reminding myself, "this is why God gave us money."  So here I sit, with a heart at peace again, wondering a little at that gift, the "peace which passes all understanding" and thinking that of all the things I enjoy, this one is one of the most valuable.
I realized that I haven't written a thing about the JOY books I started for my children in January.  I kept it up well until we had our injuries.  First my son's ankle and then my husband's knee, and during all that time escaped me and before I knew it I was two months behind.  I thought about starting them again at the end of the summer but never got the habit back in place.  In fact, much of my record keeping this year has been very sporadic; even posts on this blog have been infrequent in stages.  While I don't feel like beating myself up over it, I do feel sad.  I've lost a precious layer of my life, and of my children's lives, by not recording it.  Lately I've found myself craving that layer, that sense of perspective and appreciation that comes with journaling.  I need to figure out what to do with the starts of those joy books and then start again.  I really love the idea, and I love what it did to my perception of them when I was writing every day.  So that goal has been a flop.  Bummer.
I want so much for this Christmas season to feel special for my children and I want it in the old-fashioned, cost-nothing way.  I hope that the next few weeks will be infused with happiness, service, being together.  That will be tricky and will take careful planning to work around recitals, concerts, deadlines and the mandatory science fair project we have to finish start.  I've said it before and I'll say it again:  I HATE science fair projects.  Passionately.  But we do them anyway and life goes on.
I am grateful to be alive.  I'm grateful, even, for the twists and turns that make life so unpredictable (and sometimes frustrating) but which also provide opportunity to take a deep breath and become a better person in our response.  I'm so thankful for my family and this sense of belonging we all have.  What a gift it is!
And so the season is upon us, and here comes Christmas!  Let's enjoy it!
Jennifer