Joy, week 49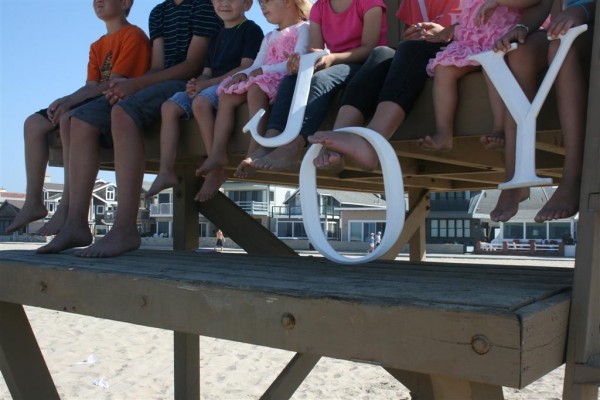 Week 49.  Week FORTY-NINE!  Am I the only one who's a little bit stunned by that number?  I can hardly believe that the year is almost gone.  And yet, there is still so much to savor.  Perhaps that's part of the gift of this season… we have so much to enjoy that we can't get too caught up in what's ending.  I still have 22 days of loving my family to go in 2012.  What a gift!
As I type this, the children have been put to bed.  Not that they're asleep, of course.  Behind me sit my husband and our oldest two children all piled together on the couch watching old videos of them snowboarding.  While I'm not watching, their hearty laughter makes me laugh too.  Time.  Such a precious thing, and it's been a wonderful day where time is concerned.
I've thought a lot about Christmas this year and decided that while I have a long list of goals ranging from tasks around the house to gifts to make and give to events to attend and everything in between, all I really want is for it to FEEL like Christmas.  Everywhere I go this month people have been saying that it doesn't feel like Christmas because it's so warm outside.  Part of me has been tempted to agree, but as quickly as that comment rises to my lips my heart yells out, "No!"  The feeling of Christmas can't depend on snow… too many people celebrate Christmas happily in warm climates for that to be true.  So it must be that I alone am responsible for whether it feels like Christmas to me.  With that thought foremost in mind, we're doing all we can to make it feel like Christmas here, and that has meant slowing down, hanging out together in the family room, playing lots of ping pong, reading a lot of stories and cranking the Christmas music.  Dim lights and a Christmas tree in the room are a huge bonus.   My lists are taking second place to the feeling we want in our home and while I feel many moments of distress at how "behind" I am, I can't help feeling "ahead" when I'm sitting on the couch with several children leaning on me, all of them fallen asleep during the last Christmas story of the night.
Today several of us took long naps on the couch.  The little ones played song after song as they danced in front of the tree.  We listened to our children play the recital pieces they've been working on.  We were standing in the kitchen when we all looked at each other and decided on the spot that it was the perfect night to scrap the planned menu and make breakfast for dinner.  And so we did, pancakes, homemade buttermilk syrup, machacas (I have no idea how to spell that), hash browns, yogurt and, of all things, Pomegranate 7Up to drink.  I loved having the children help me cook, loved singing along with them from the kitchen while they danced.   Even my fifteen year old son did an unexpected solo performance for his little sisters that drew hearty laughter from around the house.  I looked around mid-way through my preparations and thought, "This is joy.  This is Christmas."   So I told them all how it felt to me, that this feeling is all I want for Christmas, and that we are so incredibly blessed to have such a feeling in our home.   When we sat down to eat our feast that same goofy fifteen year old said, "Thanks, Mom!  This is the best Christmas ever!"  Of course that was followed by plenty of hints as to what he wants for Christmas, but I hope at least they heard what I was saying.  We lingered at the table as our oldest daughter shared with us the dream she had last night, in which we had gone to the beach house for our vacation and as we took the children to the water I said to them in a very kind, sweet voice, "Now be careful while you're swimming because there are sea serpents in the water."  She said she didn't want to go in and I said, "But you have to!"  So she went to the water's edge, lifted the wave like the sheet on a bed, and looked under the wave to see all the serpents scurrying around like a colony of earwigs when their hiding place is uncovered.  She applied the old poem about colors on snakes to figure out which serpents were poisonous before deciding the whole thing freaked her out and she turned to run.  Oh, we all laughed so hard!  Everyone else started sharing stories of their strange dreams and it was just so funny, so healthy, so… perfect.
Let's see… what did the week hold?  A return to physical therapy for my daughter whose pain is back.  Two children  home from school sick this week.  A quick hour spent with my two sisters before one of them flew back home to Denver.   My husband and I enjoyed a quick date to watch our daughter's choir concert.  A Christmas party with our ward (church congregation), during which I enjoyed two heartfelt conversations with friends.  A bit of Christmas shopping.  Lots of driving.  Lots of laundry.  Many moments when I honestly looked at my life and saw how inadequate I am, and yet things worked out with the Lord's help.
Three times in the past week I've had a friend stop by my house unexpectedly.  The circumstances were different every time.  With one friend we stood on my driveway in the dark and just talked.  With another we stood in my entry.  Another came in and we chatted while my girls ran in circles and she kindly ignored my very dirty house.  All of them were sacred pauses in my life, islands in the sea of busy that sweeps us away.  All of them were sincere, heart-to-heart, full of love and compassion, tears-brimming-over conversations.  I've had the strongest feeling this week that I do not deserve this. I don't deserve these wonderful women in my life, and yet I love them all fiercely and am determined to give more.  I've been reading a great book about giving and am trying to give more freely, in more meaningful ways.  To be on the receiving end of these treasured encounters was, quite simply, priceless.  To have the opportunity to sit with women I admire and vocally express our faith in God and in his plan, complicated as it sometimes seems, was a fire by which we warmed our hearts.
I really do have a lot to get done this next week.  I'm full of hope that I'll be able to get some basics taken care of.  I'd like to finish my Christmas shopping, and I still haven't got my Christmas cards in the mail.  Lots to do, but it's good stuff.  Oh yeah, and we have a science project to do.  A necessary evil in my opinion.  We have some big things in the air and we're hoping some of the balls fall this week.  It would be nice to have a better idea what the future looks like.  Either way, our future is bright as long as we're together and as long as we trust the Lord.  Which we do.  And that, also, is joy.
Wishing you a joy-filled, Christmas-ey week,
Jennifer