Heart Mini Quilt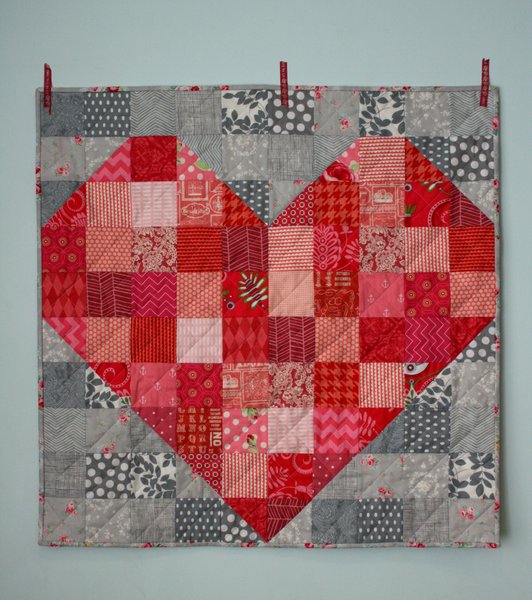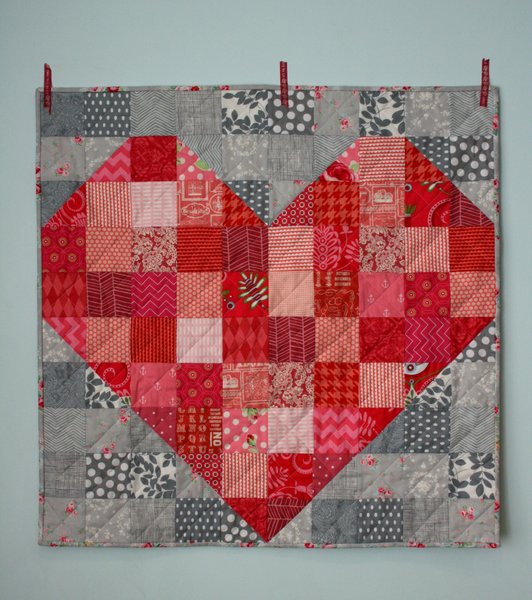 What a fun project this little quilt was!  When I realized I'd gone a little crazy cutting pink squares for my Scrappy Swoon Quilt, I decided to use them right away instead of tossing them in the scrap bin.  With Valentine's Day approaching, a heart came to mind and I had just enough squares to put it together.  I decided to use grays for the background squares.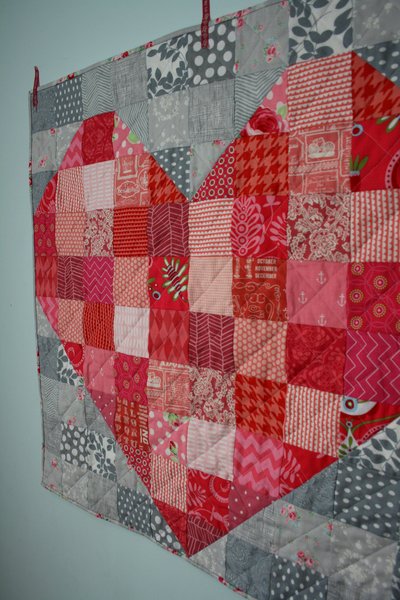 Once it was pieced and basted, I quilted it in straight lines on both diagonals.   Simple and cheery, it's adding a bit of festivity to our wall.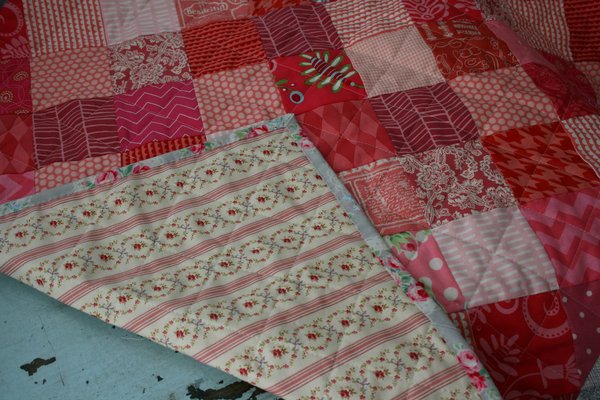 I backed the quilt in an old Anna Griffin ticking stripe print I had on hand, and the binding is a Flower Sugar print from Lecien.
A few quick stats on making one if you're interested:
fabric needed:  48 – 3.5 inch squares various pink or red fabrics for the heart, 9 – 3 7/8 inch squares of both pink AND gray fabrics, and 34 – 3.5 inch squares of various gray prints for the background.
Pair each 3 7/8 inch pink square with a 3 7/8 inch gray square and make 18 half square triangles using a scant 1/4 inch seam allowance.
Lay your squares out as follows,

from left to right

:
Top row:  10 gray squares
2nd row: 1 gray, 1 half square triangle block, 1 pink, 1 HST block, 2 gray squares, 1 HST square, 1 pink, 1 HST, 1 gray
3rd row:  1 HST, 3 pink, 2 HST sqaures, 3 pink, 1 HST
4th row:  10 pink squares
5th row:  10 pink squares
6th row:  1 HST, 8 pink squares, 1 HST
7th row:  1 gray, 1 HST, 6 pink, 1 HST, 1 gray
8th row:  2 gray, 1 HST, 4 pink, 1 HST, 2 gray
9th row:  3 gray, 1 HST, 2 pink, 1 HST, 3 gray
10th row:  4 gray, 2 HST, 4 gray
Sew each row together (1/4 inch seam allowance, of course).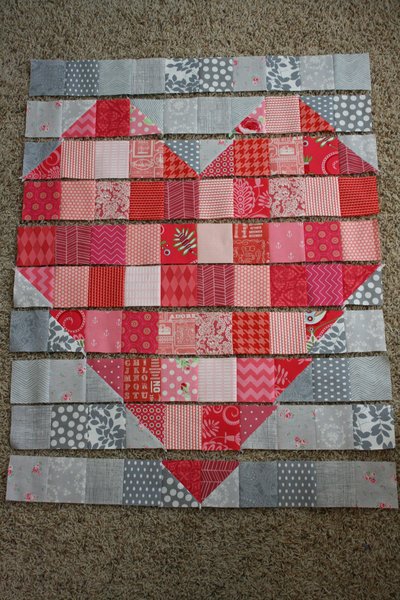 Sew strips together to complete quilt top: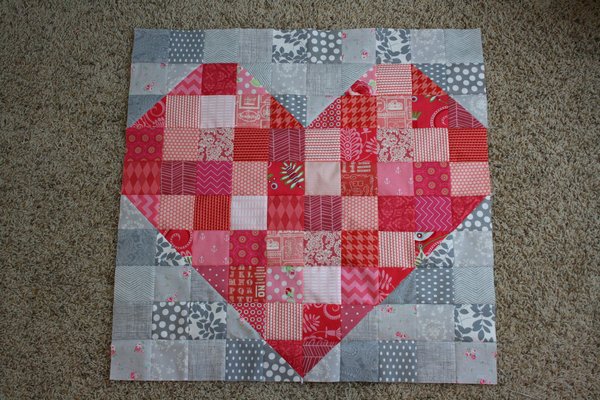 The quilt top should measure 30 inches square.  Choose a backing, then quilt and bind according to your taste.  Done!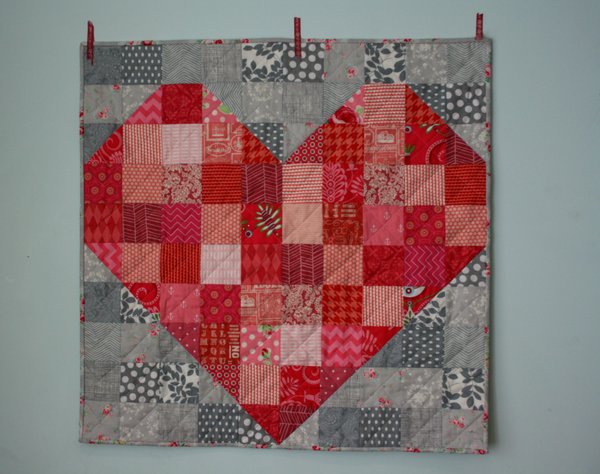 With all the projects I'm in the middle of right now, it was a pleasure to put together a quick little project just for fun.  It's also my first finished quilt of 2013.  It will keep a smile on my face this month when I walk past it, and that's no small thing on gloomy February days!
Thanks for visiting,
Jennifer