Scrappy Trip Around the World Quilt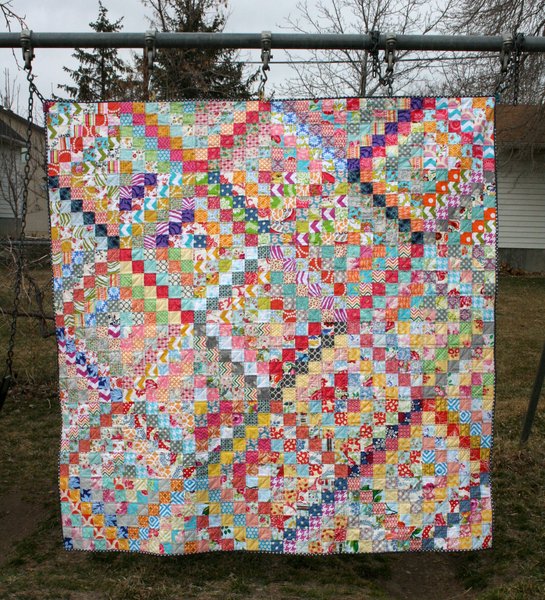 Yay!  My Scrappy Trip Around the World quilt is finished!  When I planned the quilts I'd like to make in 2013, this was nowhere near my list, but as the pictures on Instagram (#scrappytripalong) began to pour in, I decided to make one.  I'm so glad I did.  This quilt is busier and more colorful than those I've made in the past, and it was perhaps the most enjoyable quilt I've ever pieced.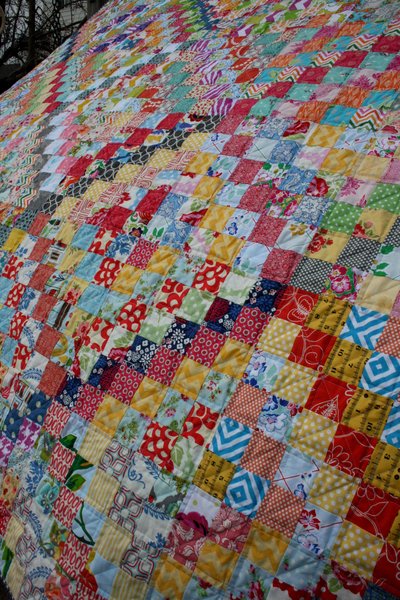 "No fabric is sacred" was my mantra as I pulled and cut strips for this quilt.  If I didn't have an immediate need for it, then it was fair game.  I didn't use any black, but let navy blue and gray be my dark colors, and there are only a few red prints in the quilt.  There is more yellow and orange than I usually use, and I love how bright and cheery it is.  Unlike many, I wasn't concerned about using a fabric more than once, so most of the prints I picked show up twice because I could cut two from one strip of fabric.  Lots of pinks, blues and greens.
I made 36 blocks, so the quilt is 6×6 blocks and measures 72 inches square.  It's the second 72 inch square quilt I've finished in the last few weeks.  My

Scrappy Swoon

is the same size.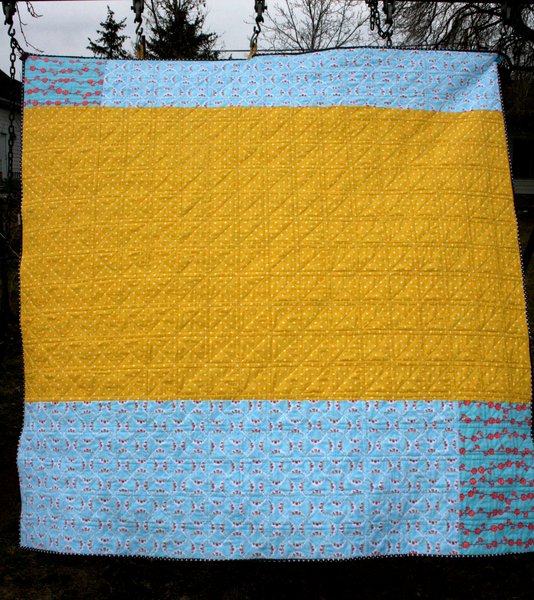 I pulled some flannels for the backing and love how soft it feels.  Once more I chose straight line quilting.  I quilted on both sides of the seam every other block both horizontally and vertically, then went back through and quilted on the diagonal in both directions through the grid made by my first set of lines.  It seemed to take forever, but as soon as I finished I was glad I did it.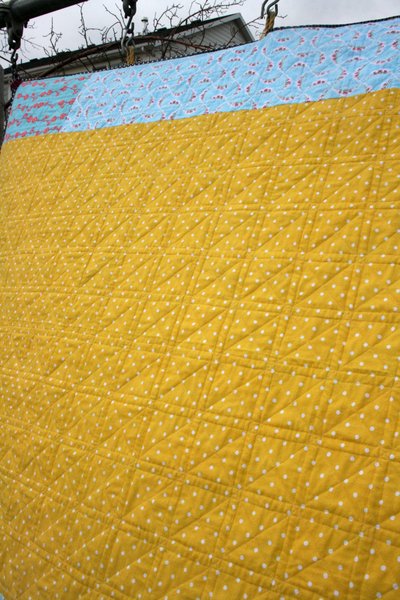 I used my first black and white binding on this quilt.  I went to 5 different quilt shops in search of a black and white stripe with no success.  I didn't want to wait for shipping time so I settled on a white on black safety pin print by Monaluna and I think it did the trick.   It does feel good to use what you have.  I didn't buy a single thing for this quilt.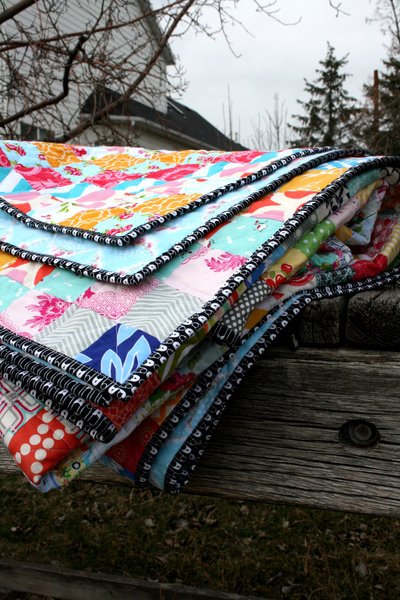 It now hangs from the corner post of my bed and has already been used on our first night this year of leaving the windows open while we sleep.   A bit chilly, but cozy!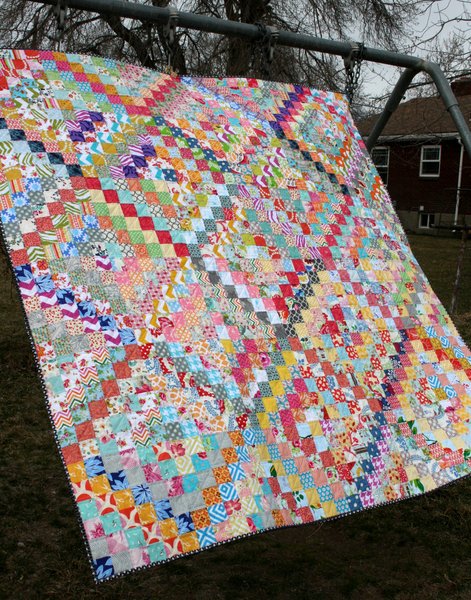 Everything about this project was spontaneous and it was a very pleasant and healthy creative experience.  It makes me smile.  I think we should always have something we're working on that brings a smile to our face.  I hope you have something to smile about today!
Jennifer
Tutorial for the Trip Around the World block

found here.

Linking

here.