Medallion Quilt Top: Border 4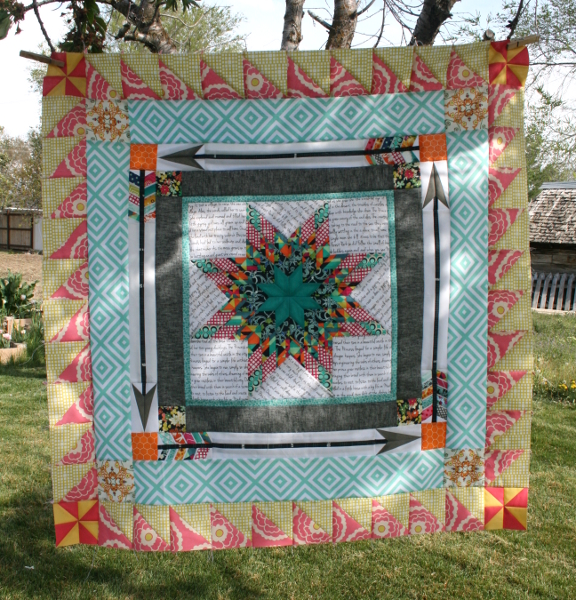 I managed to get the 4th border on my medallion quilt, and that's no small accomplishment at this time of year!

(My 15 minute approach

was what made it happen.)
For this border I went with half square triangles made from two of the prints in the Carnaby Street collection by Pat Bravo.  I really like how the pink and citron are so unexpected.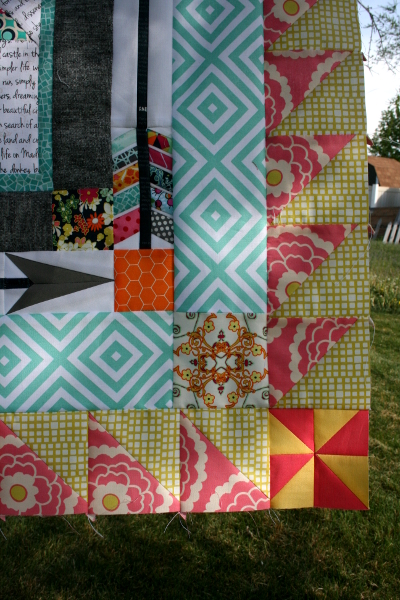 For the corner blocks I made a simple pinwheel using solid fabrics.  The pink and yellow are similar but a little brighter and I'm pleased with how the corners stand out without competing with the rest of the border.
How I made it:
Half square triangles:  cut 20 – 4 inch squares of two contrasting fabrics.  Use these squares to make 40 half square triangles.  Trim them to 3.5 inches square.  Sew 10 squares together.  Make four strips.  Strips should be 3.5 inches wide and 30.5 inches long.
Corner pinwheels:  cut 8 – 2 5/8 inch squares of two contrasting fabrics.  Make16 half square triangles.  Trim to 2 inches square.  Sew four squares together to make pinwheel.  Make sure pinwheel block is 3.5 inches square.  Sew a pinwheel block to both ends of two of the half square triangle strips.
Attach the border:  carefully pin and sew a strip of pinwheels to one side of your medallion quilt top.  Press.  Attach a second strip to the opposite side of the medallion.  Carefully pin and sew a strip with pinwheels to one of the remaining sides.  Repeat with remaining border.   The quilt top should now measure 36.5 inches square.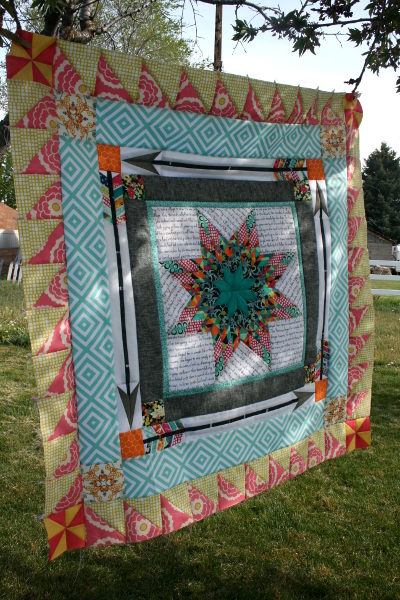 This is a medallion quilt of my own creation.  You can see previous posts, including measurements and other instructions (including where to find the paper pieced arrow pattern), in these posts:

Lone Star Medallion center


Lone Star medallion center tutorial


Paper Pieced Arrow


Arrow Border and Border #3

I've started working on border #5 and am excited to see how it looks.  This quilt top is turning out to be one of the most fun projects I've ever worked on.   And my

Marcelle Medallion

?  Still hanging in the sewing room, waiting for the flying geese border.  Hopefully I'll get to it soon.
Happy Sewing!
Jennifer
Linking to

Freshly Pieced