Flags
The 4th of July has always been a favorite holiday of mine.  I have a deep appreciation for the Revolutionary generation and the singularity of what they accomplished.  Add to that a love of history (particularly biography) and a life long weakness for the colors red, white and blue and well, I suppose it's no surprise.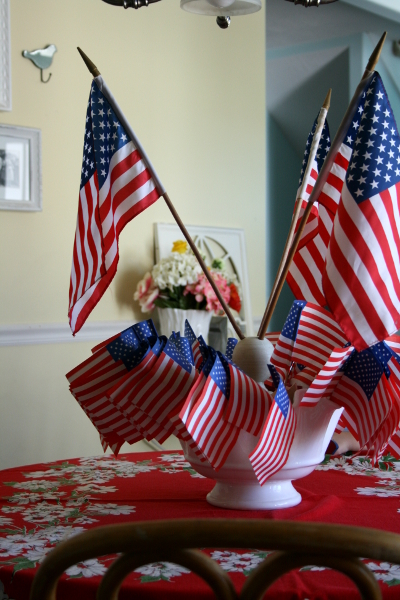 As our family grows and gets busier all the time, I find myself wanting to decorate for holidays but having only a few minutes to do it.  Every summer I look to my vintage tablecloth collection and my flags to bring a happy, patriotic feeling to our home but try to find a new way to use them.  This year I put a flag holder in my scalloped bowl and surrounded it with the vintage paper flags that I scored a few years ago.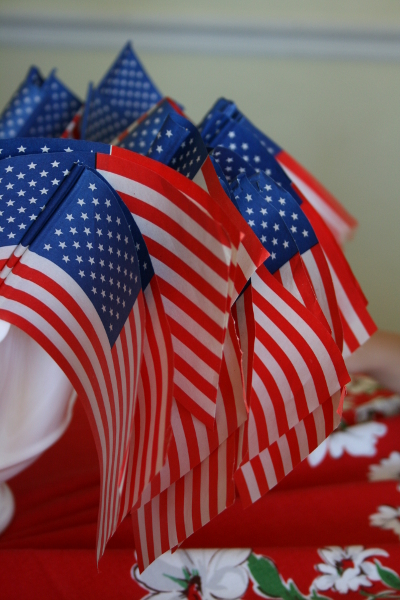 It got me thinking about decorating for a holiday.  More and more I seem to prefer using everyday objects, grouped in new ways, over hauling a box out of the storage room to unpack.  And every year there's a DIY project or two that I'd like to try, thanks to pinterest, blogs, and now instagram.   I'm also trending toward less decorating in general as I try to keep our daily lives running smoothly.  Now I'm curious:  what is your approach?  Do you do any decorating for Independence Day?