Taste The Rainbow Game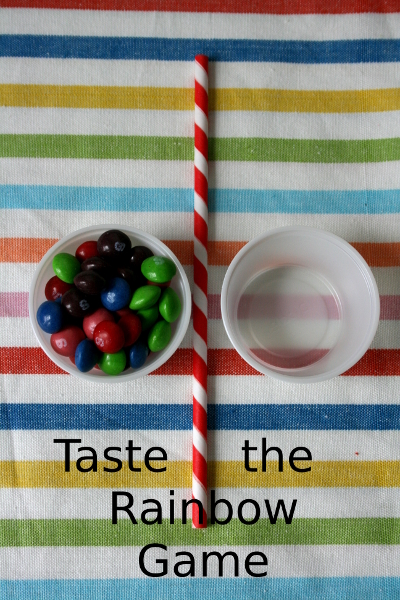 My five year old daughter and I are planning a birthday party and the first game she requested is Taste the Rainbow.  It's a really simple game which can be easily used at any kind of party.  We first tried it at one of the parties I hosted in May for a 10 year old soccer team.
Here's how you play:  Each person will need two small cups, a straw, and enough Skittles candies to fill one of the cups.  Leave the second cup empty.  The cups I used are little condiment size cups like you find at restaurants.  I bought a huge box of them years ago at Costco and we still haven't run out!  They measure about 2 inches across and are only about an inch deep, so they're quite small.  If you can't find something like it you could use little ice cream cups, nut cups, or even sturdy cupcake liners might work.  You should have at least 20-25 candies in the cup so the players are less likely to run out mid-game.  I bought two 14 ounce bags of candy for a group of 12 girls and had about 2/3 of one bag left after the game.  I think you could safely plan on one 14 ounce bag per every 10 players.
The goal of the game is to see how many skittles you can move to the empty cup using your straw in 30 seconds.  Someone needs to be the timer who calls out go and stop.  I'll never forget the first time we played it hearing one sweet girl exclaim, "Oh!  You're supposed to suck in!  I was blowing."  So funny.  We ended up playing it over and over again as the girls wanted to beat each other's best number.   When you're done everyone gets to eat their candy (another good reason to keep the cups small).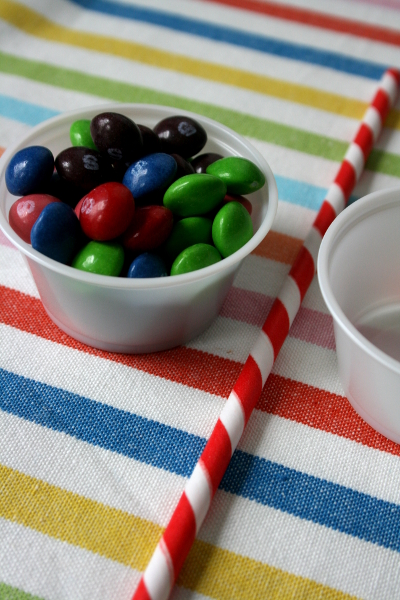 At our soccer party I used this for the last activity of the night.  It kept the girls gathered around my kitchen table while parents arrived to pick up their daughters and made ending the party a little less chaotic.  Those whose parents hadn't arrived yet simply played another round.
One more thing I like about this game is that it works for groups of people who aren't the same age.  It would be fun to use for family night, a reunion, a classroom party… anything you want!
Have fun!
Jennifer