Coffee Cake Cookies
I wish I'd kept count of how many years my friend Marilynn has been hosting her annual cookie exchange.  Over the years it's become a holiday tradition for everyone who attends, and we all look forward to it.  After at least 8 years of exchanging cookies, lots of recipes have been used and this year I really wanted to find something new, something none of us has made before.
I found

this recipe for Coffee Cake Cookies

on Pinterest and decided to give it a try.  The idea of making a cookie that is like eating just the top layer of a coffee cake sounded delicious!  Because I don't prefer store-bought cookie dough I decided to combine recipes and make my own version.  9 dozen cookies later, I can promise you'll love them!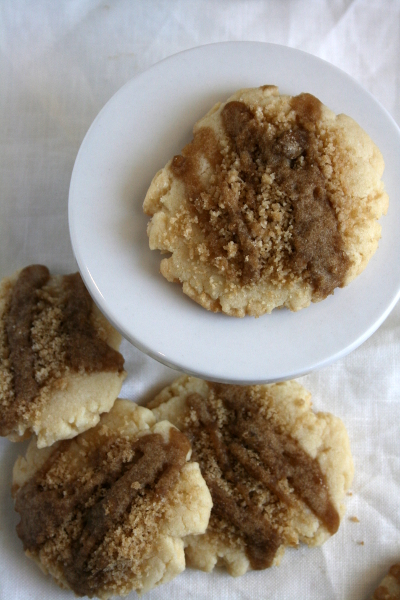 These cookies require three steps:  the cookie itself, the crumb topping, and the brown sugar glaze, so they take a bit of time to make, but are totally worth it.
Ingredients:
Cookie dough:
1 cup softened butter
1 cup granulated sugar
1 tsp. vanilla
1 large egg
2 – 1/2 cups flour
1 Tb baking powder
Crumb Topping:4 Tb. butter
1/2 cup packed brown sugar
1/2 cup flour
Brown Sugar glaze:
1/2 cup packed brown sugar
1 tsp. vanilla
1 – 1/2 Tb. water
To make the dough:In a mixer, beat butter with sugar.  Add vanilla and egg and mix well.  Add flour and baking powder and mix until combined.  Dough should be soft but shouldn't stick to your fingers.
Roll cookie dough into 1-1/2 inch balls and place on cookie sheet 3 inches apart.  Flatten cookie dough with the heel of your hand.
To make crumb topping:
With a hand mixer, combine butter, brown sugar and flour until crumbly.
For glaze:
In a small bowl, combine brown sugar, water and vanilla and stir until smooth.  Glaze should be easy to drizzle but not runny.  If it's too thick, add a few drops of water until consistency is right.  If it's too runny, add another spoonful of brown sugar.
To prepare cookies:
Bake at 375 for 5 minutes.  Remove cookies from oven and gently press the back of a spoon into the center of each cookie to make a subtle indentation.  Sprinkle approximately 1 Tb. crumb topping into indentation of cookie.  Return to oven for 5-7 minutes, or until edges of cookies are just beginning to turn golden brown.  Remove from oven.  Let cool on cookie sheet for 2-3 minutes, then transfer to cooling rack.  Drizzle with brown sugar glaze and allow to completely cool.  Enjoy!
Makes 2 1/2 dozen cookies.
Recipe adapted from

Oh, Bite It.